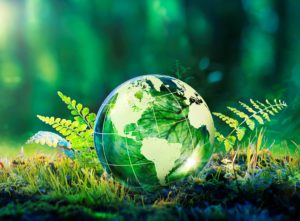 As sustainability goals become a bigger priority for OEMs, with a focus on reducing carbon emissions and using renewable energy at their factories, perhaps small businesses can take note of ways to reduce their carbon footprints and make environmentally sustainable choices.
Honda and Ford, for example, plan to become carbon neutral worldwide by 2050. Ford has also said it will begin using 100% locally-sourced renewable energy at its plants by 2035 and eliminate single-use plastics from its operations by 2030. General Motors plans to reduce its operational energy intensity by 35% by 2035, use 100% returnable packaging made from sustainable content and produce zero waste by 2030. Both plan to eventually reach zero emissions. "Nissan Ambition 2030" is an initiative by the company for "a cleaner, safer, and more inclusive world" that includes the announcement last week that the company plans to invest $500 million at its Canton, Mississippi vehicle assembly plant to "preserve and upskill" 2,000 jobs by transforming it to produce two new all-electric models beginning in 2025.
Honda on Feb. 23 announced it will present its Honda and Acura Environmental Leadership Programs, or "Green Dealer Program," learnings during the panel "The Future Dealership is Green" at this year's National Automobile Dealers Association (NADA) Show on March 11 in Las Vegas in an effort to "provide a framework for fellow automakers that want to enhance their dealers' environmentally responsible operations," according to Annika Swenson, Green Dealer Program manager and American Honda Motor Co. sustainability analyst.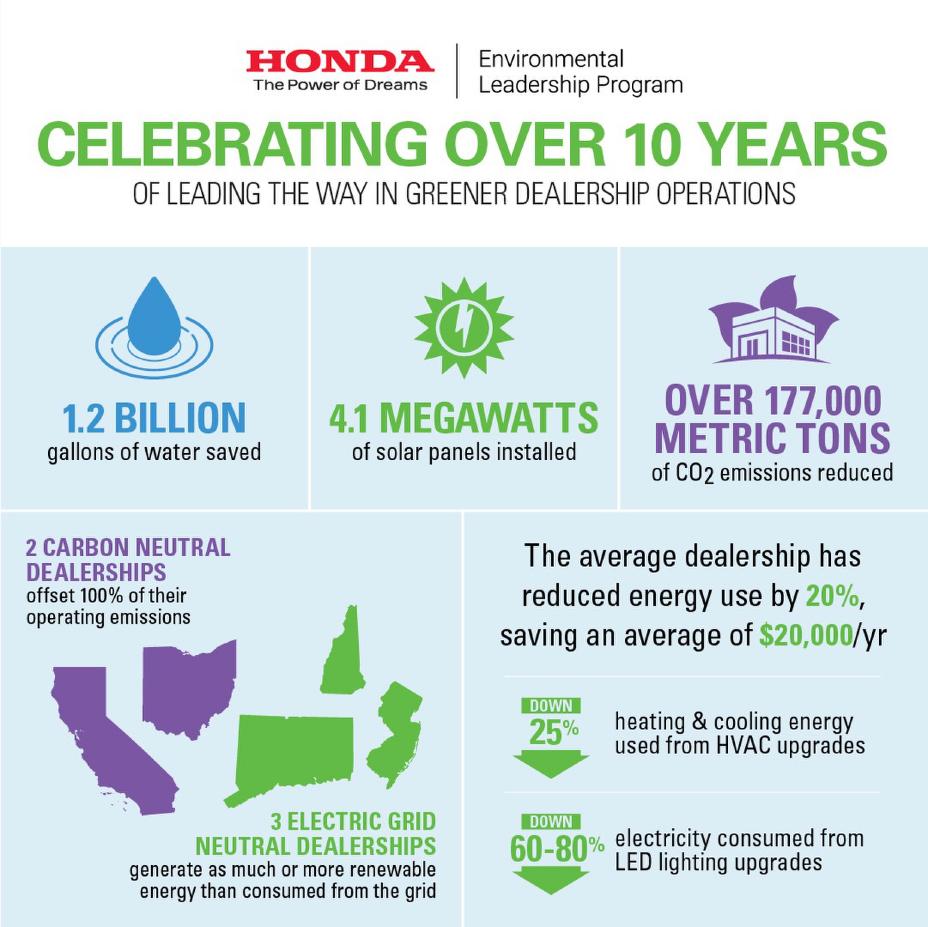 The program has helped more than 600 Honda and Acura automobile, powersports, and power equipment dealers across the U.S. collectively reduce CO2 emissions by more than 177,000 metric tons, according to a Honda Motor Co. statement. "That reduction is equal to eliminating the annual CO2 emissions associated with electricity use by over 21,000 homes."
The program began in 2011 and contributes to Honda's goal to achieve carbon neutrality globally for its products and operations by 2050.
"High impact" dealership improvements that collision repairers could consider carrying out include:
Using high-efficiency water fixtures;
Upgrading to LED lighting, which can consume 60%-80% less electricity, according to Honda;
Upgrading HVAC systems to reduce the energy required for heating and cooling;
Installing solar panels to offset energy use; and
Install electric vehicle (EV) chargers.
The Honda Green Dealer Program recently recognized Culver City Honda in Culver City, California, as a carbon-neutral dealership, meaning it has offset 100% of its operating emissions, according to Honda. The dealership installed an energy management system, interior and exterior LED lighting and controls, drought-resistant landscape to conserve water, high-efficiency water fixtures, and multiple EV charging stations including Level 2 and DC fast chargers.
Honda's Green Dealer Program guidelines are listed on the company's website and cover energy, water, and site practices that businesses can use to reduce their environmental impact. Honda's new Green Dealer savings calculator is also available to calculate potential savings based on energy-efficient upgrades.
IMAGES
Featured image credit: RomoloTavani/iStock
Honda Environmental Leadership Program flyer (Provided by Honda)
Share This: