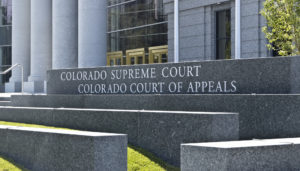 Colorado Supreme Court finds policyholder can't sue Allstate adjuster for 'bad faith' decision
By on
Insurance | Legal
A March 14 Colorado Supreme Court opinion states policyholders can't hold individual adjusters accountable for bad faith decisions; rather, only the insurer can be sued over unreasonably delayed or denied insurance benefits.
The opinion stems from a lawsuit filed against Allstate by Alexis Skillett, who was involved in a car accident on July 3, 2020, in which the driver that allegedly caused the wreck was underinsured with respect to Skillett's injuries, damages, and losses, according to the complaint. Skillett contends that adjuster Collin Draine was wrong in his determination that she wasn't entitled to underinsured motorist benefits and that Allstate acted in bad faith by denying her the benefit, which she alleges also breaches her insurance contract. Skillett accuses both Allstate and Draine of violating state insurance law that allows for action against insurers by policyholders whose benefits are unreasonably delayed or denied.
The suit states Draine found that Skillett was adequately compensated by a nearly $28,000 settlement she reached with the other driver involved in the wreck and his insurer, Nationwide.
In its answer to the suit, Allstate agreed that Skillett didn't cause the wreck but denied that the other driver was underinsured. Allstate didn't confirm or deny that Skillett was injured because the "said allegations call for a medical opinion, an opinion the Defendant is not qualified to form." Allstate goes on to say that any injuries and damages of Skillett's "may have been pre-existing" or "may have been caused by a subsequent, non-related event for which Allstate is not liable." The company also denied that they failed to pay Skillett what she is owed under her policy and that the investigation was incomplete and has delayed benefits being paid out.
Allstate argues that Draine can't be sued under state law and that if he is removed from the suit, litigation can proceed in federal court. However, Allstate did go ahead and remove the case to federal district court, which ruled that the insurer "raised an important, unsettled question of Colorado law" and certified to the Supreme Court "whether an employee of an insurance company who adjusts an insured's claim in the course of employment may for that reason be liable personally for statutory bad faith under Colorado Revised Statutes Sections 10-3-1115 and -1116," according to the Supreme Court opinion.
The high court accepted the case because it raised conflict between two previous cases – Riccatone v. Colorado Choice Health Plans in which an appeals court ruled that "the Statutes provided a cause of action only against an insurer and not against individual employees of an insurer" while a federal district court ruled in Seiwald v. Allstate Property & Casualty Insurance Co. that "the Statutes could plausibly be interpreted to create a cause of action against an individual insurance adjuster."
The Supreme Court reviewed the semantics of the insurance law in question, which states, "A person engaged in the business of insurance shall not unreasonably delay or deny payment of a claim for benefits owed to or on behalf of any first-party claimant." That portion of the law is why Skillett included Draine in the suit. And within it, the definition of "person" includes adjusters.
"We note that Skillett is correct that section 10-3-1102(3) includes 'adjusters' among 'persons,'" the justices wrote in their opinion. "But that section does not make its definitions absolute. Rather, those definitions apply 'unless the context otherwise requires.' § 10-3-1102. Throughout sections 10-3-1115 and 10-3-1116, the context makes clear that first-party claimants whose insurance claims have been unreasonably delayed or denied may bring suit against their insurers, but not against individual claims adjusters.
"Most importantly, section 10-3-1115(2) establishes the standard by which a cause of action for unreasonable delay or denial of insurance payments is measured, explaining that, 'for the purposes of an action brought pursuant to this section and section 10-3-1116, an insurer's delay or denial was unreasonable if the insurer delayed or denied authorizing payment of a covered benefit without a reasonable basis for that action.' (Emphases added.)"
The court ruled that allowing for adjuster liability under the provisions "leaves unnecessary statutory gaps" and while the actions of adjusters would be left up to a court, there aren't any laws to evaluate their conduct.
"Because the insurer—not any individual employee—authorizes payment, this language indicates that an action for unreasonable delay or denial of insurance benefits is triggered by a decision of the insurer, not the adjuster."
The Supreme Court returned the case back to the U.S. District Court for the District of Colorado.
Requests for comment from the attorneys representing Skillett and Allstate weren't returned to Repairer Driven News by the publication deadline.
IMAGES
Featured image credit: RiverNorthPhotography/iStock
Share This: