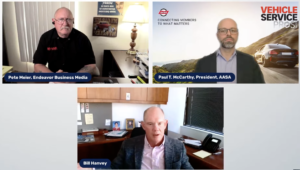 Representatives of the aftermarket industry on Monday sought to build support for H.R. 6570, also known as the "Right to Equitable and Professional Auto Industry Repair," or REPAIR Act. But the sentiments they expressed did not always seem to be in alignment with the text of the bill.
During a 42-minute live webcast presented by Vehicle Service Pros, Bill Hanvey, president and CEO of the Auto Care Association (ACA), and Paul McCarthy, president and COO of the Automotive Aftermarket Suppliers Association (AASA), argued that the REPAIR Act is necessary to protect the ability of the aftermarket to maintain and repair vehicles.
During the webcast, the panelists offered some reassurances on aspects of the bill dealing with privacy and cybersecurity, though some of the language they used does not appear to be reflected in H.R. 6570.
Hanvey and McCarthy acknowledged that that access to repair and maintenance information has been protected by a national memorandum of understanding (MOU) signed by vehicle manufacturers in 2014. However, they argued that telematics technology gives OEMs the ability to restrict access, despite the MOU's guarantee that owners and independent shops will have access to the same tools, software, and repair information available to franchised dealers.
"In 2021, 50% of the vehicles had these connected capabilities and by 2030, 95% of all new vehicles will have these telematics systems that in effect, will be able to bypass that OBD-II port and send the diagnostic car information [and] vehicle owner information back to the automaker, and in effect would be able to shut our industry out from being able to access that data through the OBD-II port," Hanvey said.
McCarthy agreed, adding that telematics technology provides "a million ways that the ability to repair vehicles can now be blocked."
In fact, the MOU, and Massachusetts Chapter 93K, Section 2 Paragraph (f), which it's based on, specifically guarantee access to diagnostic and repair information delivered through telematics, and not just the information available through a specified diagnostic port. The relevant portion states:
With the exception of telematics diagnostic and repair information that is provided to dealers, necessary to diagnose and repair a customer's vehicle and not otherwise available to an independent repair facility via the tools specified in paragraph (1) of subsection (c) and paragraph (1) of subsection (d), nothing in this chapter shall apply to telematics services or any other remote or information service, diagnostic or otherwise, delivered to or derived from a motor vehicle by mobile communications; provided, however, that nothing in this chapter shall be construed to abrogate a telematics services contract or other contract that exists between a manufacturer or service provider, an owner or a dealer. For the purposes of this chapter, telematics services shall include, but not be limited to, automatic airbag deployment and crash notification, remote diagnostics, navigation, stolen vehicle location, remote door unlock, transmitting emergency and vehicle location information to public safety answering points and any other service integrating vehicle location technology and wireless communications. Nothing in this chapter shall require a manufacturer or a dealer to disclose to any person the identity of existing customers or customer lists.
Contacted by Repairer Driven News, the Alliance for Automotive Innovation, which represents the great majority of the OEMs, did not comment on the presentation.
John Bozzella, CEO of AAI, said after the REPAIR Act was filed on Feb. 2 that the national MOU "continues to work and ensures that all information needed to repair and diagnose a vehicle is available."
"The auto industry continues its long-standing commitment to consumer choice for vehicle repairs. And that commitment remains the gold standard for other industries, with competition thriving as the aftermarket performs 70 percent of post-warranty work on today's vehicles," Bozzella said at the time.
The MOU has been cited by the Federal Trade Commission as a model for other industries dealing with the right to repair issue.
During Monday's webcast, Hanvey told viewers that the REPAIR Act is a way "for us to be able to access the vehicle repair and maintenance data. That's it, by the way – no personal data, no nonsense, repair and maintenance data at the point of the vehicle."
Yet the bill does not contain a specific exemption for personal data. It stipulates that "any vehicle-generated data" could be shared with owners and their designees. Access to "critical repair information and tools" would be guaranteed to repairers, but also to aftermarket parts manufacturers and aftermarket parts remanufacturers, with no stipulations that spell out owner permission as being required.
The relevant portion of the bill, Section 3, Paragraph a, Subsection 2, states:
REQUIREMENT TO PROVIDE MOTOR VEHICLE DATA TO OWNERS.—A motor vehicle manufacturer shall—

(A) effective on the date of enactment of this Act, provide for motor vehicle owners or their designees, without restrictions or limitations (including a fee, license, or requiring use of a device mandated by the motor vehicle manufacturer to decrypt vehicle-generated data), to have access to vehicle-generated data;

(B) beginning not later than 1 year after publication of the final rule issued under section 5(b), if the motor vehicle manufacturer utilizes wireless technology or telematics systems to transmit any vehicle-generated data, make available vehicle-generated data described in subparagraph (A) to the motor vehicle owner and its designees, directly and wirelessly from the vehicle through a standardized access platform; and

(C) effective on the date of enactment of this Act, make available to motor vehicle owners and their designees, aftermarket parts manufacturers, aftermarket parts remanufacturers, and motor vehicle repair facilities, and their distributors and service providers without restrictions or limitations, any critical repair information and tools related to the motor vehicles it manufactures at a fair, reasonable, and nondiscriminatory cost.
Hanvey said supporters of H.R. 6570 are advocating for a system that would involve the use of an authorized scan tool to access diagnostic and repair information.
"We would be able to access that data through our secure standardized platform off the vehicle, not having to rely upon the OEM cloud. Where you could plug in or utilize your registered diagnostic tool and be able to access that information. And the way that we would do that is through a series of ISO standards that are already being utilized by many of the automakers to keep their system secure. So it's not an unproven technology. It is not an unsafe technology," Hanvey said.
"The automakers say, 'Oh my goodness gracious, we can't allow access to this data, because there's a risk of cybersecurity threats.' Well, what we're proposing is a technology that is being utilized today by many of those automakers, so that that argument by the automakers is unfounded. And it's just a matter of us being able to access that secure standardized data at the point of the vehicle, rather than through the OEM cloud."
The bill appears to make no reference to such a limitation. In fact, it would require OEMs to "make available vehicle-generated data described in subparagraph (A) to the motor vehicle owner and its designees, directly and wirelessly from the vehicle through a standardized access platform."
OEMs would be required to "notify motor vehicle owners either via an on-vehicle screen or through a mobile device that vehicle-generated data is being accessed. Notifications shall specify whether each such access by the motor vehicle owner, a designee of the motor vehicle owner, or the motor vehicle manufacturer, includes the ability to send an in-vehicle command or software update in order to complete a repair."
One provision of the bill, which would prohibit OEMs from mandating or seeming to mandate any particular brand of parts, tools, or equipment outside of recall and warranty work, was not discussed during the webcast. McCarthy made one passing reference to the provision, saying that the bill is "about consumers and just giving them that choice on where and with what parts they can get their vehicles repaired."
Section 3, Paragraph a, Subsection 2 of H.R. 6570 states,
PROHIBITION ON CERTAIN MANDATES BY MOTOR VEHICLE MANUFACTURERS RELATED TO REPAIRS.—Outside of recall and warranty repairs, a motor vehicle manufacturer shall not, within repair or maintenance service procedures, recommendations, service bulletins, repair manuals, position statements, or other similar repair or maintenance guides that are distributed to consumers or to professional repairers—

(A) mandate or imply a mandate to use any particular brand or manufacturer of parts, tools, or equipment; or

(B) recommend the use of any particular brand or manufacturer of parts, tools, or equipment unless the motor vehicle manufacturer provides a prominent notice immediately following the recommendation, in the same font as the recommendation and in a font size no smaller than the font size used in the recommendation, stating that: "Vehicle owners can choose which repair parts, tools, and equipment to purchase and should carefully consider their options."
Aaron Schulenburg, the executive director of the Society of Collision Repair Specialists (SCRS), offered his perspective on the presentation.
"The sentiments described in the webinar today look a bit different than the much broader language that we've seen in the REPAIR Act," Schulenburg said in a response to RDN.
"Consumers should be able to choose quality repairs, performed in accordance with the specific procedures detailed by the vehicle engineers, with the confidence that all of the specified repairs were performed. They should have the right to be able to do so in an independent repair facility that has invested in the training, equipment and skillset development to meet the rigorous demands of sophisticated, modern vehicles," he said.
"The reality is that these choices are not being limited today by automakers.
"The reality is that the collision repair industry is varied and quite competitive, with nationwide, multi-store networks and independent shops jockeying for vehicle owners' business. Collision repair businesses have opportunities to participate in a variety of networks, including certified collision repair networks offered by automakers and Direct Repair Program networks offered by insurance companies. Both types of networks are largely comprised of independent businesses outside the dealer franchise agreements. Insurance companies have been developing sophisticated captive networks for more than 30 years, with a focus on cost mitigation. Automaker-certified networks—which are relatively new due to vehicle technology—have focused on developing repairers with a greater focus on upholding quality and safety standards through a commitment to training, equipping, and performing repairs as intended by the vehicle engineers. The contrast is a stark difference between referral networks that are designed to limit cost vs. uphold quality. The automaker networks rely primarily on independent collision repair businesses. Dealer-based collision shops, once very common in the industry, make up the minority of OEM Certified Networks."
While not specifically in reference to Hanvey's or McCarthy's comments, Schulenburg argued that some proponents of the REPAIR Act are ultimately interested in serving not consumers or independent repair shops, but those who profit from suppressed prices.
"In the collision repair market, well-trained, well-equipped repair facilities are not struggling to gain access to collision repair procedures. They are struggling to get some of the Act's supporting coalitions to recognize, embrace and reimburse for the procedures they already have access to," he said. "Consumer choice is not limited by the automakers today; but rather by a select group of REPAIR Act proponents, masquerading as a voice of the independent repair market, despite being comprised of aftermarket part suppliers, manufacturers and automobile insurers, all of whom have a financial interest in pushing consumers to the cheapest possible repair."
The REPAIR Act, filed by Rep. Bobby Rush, D-Ill., has the support of AASA, ACA, the CAR (Consumer Access to Repair) Coalition, and the Specialty Equipment Market Association (SEMA).
The CAR Coalition is a new group comprised of Allstate, LKQ, the Automotive Body Parts Association (ABPA), the Certified Automotive Parts Association (CAPA), the Automotive Manufacturers Equipment Compliance Agency (AMECA), Diamond Standard, the American Property Casualty Insurance Association, AutoZone, KSI Auto Parts and Carparts.com.
"Proponents paint the REPAIR Act as a means to preserve affordability by keeping motorists from being forced to bring their vehicles to the dealership for what they have portrayed as more costly repairs," Schulenburg said.
"What consumers deserve is for post-collision vehicle repairs to ensure that their vehicle is repaired to such a standard that should it be in a subsequent accident, its safety systems will operate the same as the day it left the factory. This expectation is achievable today – but is routinely denied and disregarded in claims practices and objected to in state legislative hearings by many in the insurance and aftermarket community who have helped to develop the REPAIR Act language," he said.
"Consumers have a right to repair as well. They should have the right to a proper and safe repair."
More information
Lawmaker introduces federal 'right to repair' act with support of aftermarket industry
Images
Featured image: Clockwise from upper left, host Pete Meier of Endeavor Business Media and presenters Paul McCarthy of AASA and Bill Hanvey of ACA take part in a webcast devoted to the federal REPAIR Act. (Screen capture via YouTube)
Share This: