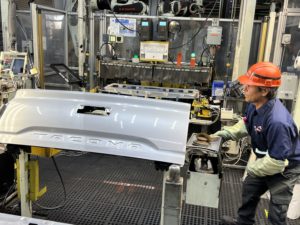 Toyota invests $27M in Long Beach factory, supports Tacoma production in California and Mexico
By on
Announcements | Technology
Toyota is investing $27 million to expand its Long Beach, California, production capabilities, with the addition of a line that can produce blanks directly from both coiled steel and coiled aluminum.
The laser-fed blanking line will allow Toyota Auto Body California (TABC) to increase capacity to cut 5.6 million blanks a year, Toyota said.
The investment will help TABC provide more support for production of the 2022 Tacoma midsize pickup at Toyota facilities in Baja, California, and Guanajuato, Mexico, the automaker said.
"Toyota's roots in California run deep," Chris Reynolds, executive vice president, Corporate Resources, for Toyota Motor North America (TMNA) said in a statement. "This investment demonstrates our continued commitment to doing business in the Golden State, investing in our operations across the United States and building where we sell."
The new line will also support the transition of 25 TABC variable employees to permanent positions with Toyota, the OEM said. The plant, Toyota's oldest in North America, employs more than 350 people.
"Today's investment reflects our team's pledge to produce high-quality products for Toyota vehicles assembled in North America," TABC president Jim Zehmer said in a statement. "We look forward to continuing our critical role in Toyota's continued growth."
TABC is a primary supplier of parts for Tacoma trucks and past model service parts. The plant creates stamped parts, steering columns, catalytic converters, weld sub-assemblies, sheet metal and aluminum components. TABC also assembles stamped parts and welded sub-assemblies, according to Toyota.
In response to a question from Repairer Driven News, Toyota said the investment would have no effect on the availability of collision repair parts.
Asked whether the machinery would support the inclusion of more aluminum body panels on future Toyota vehicles, a spokesperson told RDN, "Our engineers are always looking for ways to incorporate lightweighting efforts when working on our vehicles, however it must meet or exceed all quality and safety standards."
Images
Featured image: A Tacoma tailgate takes form at Toyota's Long Beach, California, plant. (Provided by Toyota)
Share This: