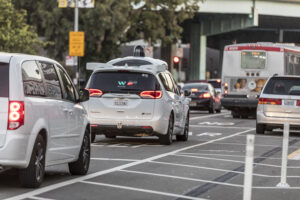 Waymo completes first driverless AV route in San Francisco
By on
Announcements
Waymo made another stride in autonomous vehicle (AV) history last week when, for the first time, a fully autonomous all-electric Jaguar I-PACE completed a route with no human driver behind the wheel in San Francisco. This is only the second city in which driverless rides have been completed.
Google's autonomous driving technology development company said in a press release that the vehicle picked up a Waymo engineer in San Francisco and took them to get their morning coffee, and then to work. There was no mention in the release when the service will be offered in the city without a driver.
"We're particularly excited about this next phase of our journey as we officially bring our rider-only technology to San Francisco – the city many of us at Waymo call home," said co-CEO Tekedra Mawakana, in a statement. "We've learned so much from our San Francisco Trusted Testers over the last six months, not to mention the innumerable lessons from our riders in the years since launching our fully autonomous service in the East Valley of Phoenix. Both of which have directly impacted how we bring forward our service as we welcome our first employee riders in SF."
Waymo AVs use the Waymo Open Dataset and sensors to detect motion and its surroundings. Key points and pose estimation were added in February to the perception and behavior prediction models to capture "important small nuances," like detecting a cyclist's turn gesture. 3D segmentation labeling was also added to detect each pixel of an image and each return of a lidar point cloud and classify it to an object without bounding boxes that leave important information out.
Fully autonomous rides have been taking other Waymo employees around the city since mid-2021, according to Motor Authority, but always with a safety driver aboard. Waymo first offered autonomous rides to the public in Phoenix in 2020, which will soon be expanded to downtown Phoenix.
"Just as we've done before, we'll start with Waymo employees hailing trips with autonomous specialists behind the wheel, with the goal of opening it up to members of the public via our Trusted Tester program soon after," Waymo states in the release. "…Notably, this is the first time any company is simultaneously running fully autonomous ride-hailing operations in multiple cities, and we look forward to being able to serve more riders and continue learning from them."
Waymo co-CEO Dmitri Dolgov said the main focus is "building a safe, robust, and generalizable autonomous driver – the Waymo Driver – whose capabilities and performance transfer well between geographies and product lines."
He touted the company's millions of miles of real-world driving plus billions of simulated miles driven as guiding progress in Phoenix and "sets us up for future expansion of our fully autonomous ride-hailing service."
Waymo's main rival, Cruise, has also been operating AVs without a safety driver in San Francisco.
IMAGES
Featured image credit: JasonDoiy/iStock
Waymo YouTube video provided by Waymo
Share This: