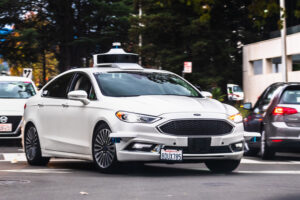 Toyota uses low-cost cameras to develop autonomous vehicle technology
By on
Technology
A Toyota subsidiary said it is developing autonomous vehicle technology that learns from data gathered by low-cost cameras, rather than more expensive lidar units, Reuters has reported.
Woven Planet told Reuters it is able to use low-cost cameras to collect data and train its self-driving system, a "breakthrough" that it hopes will help drive down costs and broaden the use of the technology.
According to the report. Woven Planet found that using a majority of data from low-cost cameras was as effective as high-cost sensor data alone in improving its system's performance.
"We need a lot of data. And it's not sufficient to just have a small amount of data that can be collected from a small fleet of very expensive autonomous vehicles," Michael Benisch, vice president of Engineering at Woven Planet, said in an interview with Reuters.
Benisch, a former engineer at Lyft's self-driving division, which Toyota bought last year for $550 million, said that, as a major OEM, Toyota would have access to "a huge corpus of data, but with much lower fidelity." The technology under development seeks to put that quantity advantage to use.
Reuters said the cameras used by Woven Planet are 90% cheaper than sensors that it used before, and can be easily installed in fleets of passenger cars.
Information from the cameras would be used to build the dataset used to train machine learning models in object detection, identification, localization, and behavior prediction. Over time, the accumulation of data helps to improve the algorithms that AVs will rely on.
The technology is similar to that used by Tesla, which has been using data collected from over 1 million vehicles on the road to develop its automated driving technology. Other companies, like Waymo, use data from expensive sensors like lidars added to a small number of vehicles.
Benisch told Reuters that Toyota would still use multiple sensors such as lidars and radars for autonomous vehicles to be deployed on the road, as this currently seemed to be the best and safest approach.
Images
Featured image: A Lyft self driving car performing tests on a street in Palo Alto, California, on Dec. 5, 2019. Toyota bought Lyft's autonomous vehicle division last year. (Sundry Photography/iStock)
Share This: