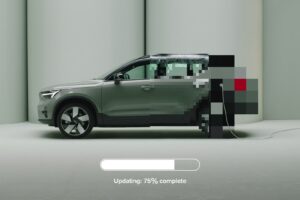 6 Volvo models to receive OTA updates in U.S.
By on
Technology
All new C40 Recharge, XC40 Recharge, XC60, XC60 Recharge, S90, and S90 Recharge model Volvo vehicles in the U.S. can now receive over-the-air (OTA) software updates, according to spokesperson Thomas McIntyre Schultz.
The models are equipped with Google's built-in infotainment system, which allows for "similar updates to vehicles in other markets," McIntyre Schultz said.
"At this time not all new Volvo cars in the US are eligible for over-the-air updates," he said. "We will have more information to share in the coming weeks."

An April 7 Volvo announcement states XC90, S60, and V60 models will receive OTA updates in Australia, Hong Kong, India, South Korea, Malaysia, New Zealand, Singapore, Taiwan, and Thailand to the newest version of Android Automotive OS – Android 11. The upgrade will enable access to navigation, charging, and parking app categories on Google Play.
The update will bring feature improvements, ranging from better energy management through improved climate timers and updates to mobile app functionality and in-car applications, according to Volvo. "The energy management improvements help to maintain appropriate battery temperatures during both cold and warm days, boosting driving range," a Volvo press release states. "Charging has also improved, for example by pre-heating of the battery which lowers charging time. The Volvo Cars app also receives more frequent updates from the car on the charging percentage during an ongoing session."
The update is Volvo's eighth complete car update since the first updates were offered at the beginning of 2021 and will reach more than 190,000 cars worldwide. When asked by Repairer Driven News if the update would expand to all U.S. models going forward, McIntyre Schultz said he can't comment on future products.
Video streaming is expected to be added later this year.
"This is a significant milestone: we're now updating cars of all models in a majority of our markets, bringing the benefits of remote continuous updates to an ever increasing number of customers," said Henrik Green, Volvo Cars chief product officer, in the release.
Volvo develops software and OTA updates in-house and the company expects the volume of cars covered to grow with every new update.
The April 7 announcement also said Volvo's infotainment system with Google apps and services, including Google Assistant and Google Maps, will be built in across all new models.
IMAGES
Featured image: Volvo XC40 Recharge (Provided by Volvo)
Share This: