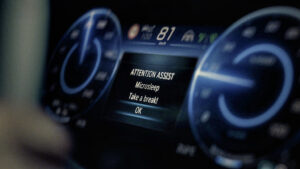 Mercedes-Benz technology, campaign focus on dangers of 'microsleep'
By on
Technology
Mercedes-Benz has produced a short film, "Awake," that focuses attention on the danger of driver microsleep, and on its latest advanced driving assistance system (ADAS) technology designed to help prevent accidents.
Microsleep is defined by the National Sleep Foundation as "when you fall asleep for a period of several seconds." It says that those who have an episode might not even realize they've fallen asleep, and may appear to others to be awake.
According to an AAA Foundation study, an estimated 7% of all crashes in which a vehicle was towed from a scene, and 13% of all crashes that resulted in hospitalization, involve a sleepy driver. Mercedes-Benz said that 26% of drivers surveyed have reported having an episode.
To address the problem, the OEM has announced a new technology, called Microsleep Detection. It analyzes the driver's eyelid movements through a camera on the driver's display and gives visual and audible warnings.
Microsleep Detection, introduced on the new, all-electric EQS SVU, is active from speeds of 12 miles per hour. The manufacturer said it "can detect typical signs of fatigue or increasing inattention during long monotonous journeys and prompts a break with a warning message."
Microsleep Detection is a supplement to the OEM's Attention Assist, a drowsiness warning system that has been available since 2009. Attention Assist monitors more than 70 parameters relating to driving behavior to recognize when a driver is tired.
As driver-assist systems become more commonplace, regulators and safety experts have been promoting better driver monitoring, to make certain that drivers are keeping their eyes on the road. Microsleep Detection and Attention Assist are different, in that they're active whether or not features like lane centering and adaptive cruise control are engaged.
Research on the benefits of driver monitoring beyond driver automation has been "somewhat limited," Joseph Young, media relations director for the Insurance Institute for Highway Safety, told Repairer Driven News.
"We've focused on driver monitoring as part of partial automation because long periods of driver disengagement – and even intentional misuse – are of particular concern with these systems," he said.
Young said the National Highway Traffic Safety Administration (NHTSA) has found that distracted driving factors into more than 3,000 crash deaths each year, "and this is likely a significant undercount.
"Technology that can help keep drivers focused could make a difference in saving lives. Other proven crash avoidance features, like automatic emergency braking, can make a big difference in preventing or mitigating a crash when a driver is distracted or drowsy as well," he said.
The Mercedes-Benz "Awake" film, created in collaboration with the Munich University of Television and Film as part of a public service campaign, shows the danger of microsleep through the dramatization of director Oliver Bernotat's own experience on a road trip.
"Mercedes-Benz supported the project from the outset in terms of content and concept, as safety and innovations have been anchored in the brand's core since the invention of the automobile in 1886," Mercedes-Benz said in a news release.
"It was a great challenge to realize the idea at the highest level. This required a lot of fine-tuning in conception and production. Thanks to the very motivated team and the full confidence of Mercedes-Benz, we were able to realize this short film with an important message together. The end result with the campaign is really unique," the producers, Paul Scholten and Alexander Bergmann, said in a statement.
"We are delighted about the emotionally gripping visual language, with which we address all target groups on the relevant topic of traffic safety", said Natanael Sijanta, director of creative communications and marketing for Mercedes-Benz AG.
Share This: