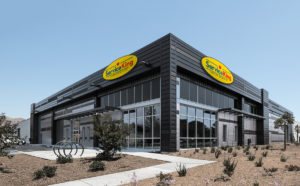 Report: Service King nears out-of-court deal to ease debt burden
By on
Announcements | Legal
Service King is nearing agreement on an out-of-court resolution of its debt burden ahead of a July bond maturity, Bloomberg has reported.
Citing unnamed sources who are familiar with the situation, Bloomberg said the company has been suffering from "rising costs and labor shortages," like the rest of the industry. It said that the plan calls for bondholders led by Clearlake Capital Group to take control and inject $100 million into the company.
The talks have become urgent as deadlines approach to repay Service King's debts. About $375 million of unsecured notes mature in October, and the company invoked a 30-day grace period after missing the April 1 interest payment.
Service King is required to cut its bonds outstanding to less than $135 million by July 1, or else a $775 million term loan could become due. The Wall Street Journal, also citing unnamed sources, reported in February that lenders in the company's $775 million loan had signed nondisclosure agreements with the company to begin negotiations.
Warnings of a cash crunch arose in the third quarter of 2021 after the company depleted its lines of credit and needed a $15 million loan from its sponsors for operating costs, Bloomberg reported. At that time, it warned lenders that it might not be able to repay its debt, raising the possibility of a Chapter 11 bankruptcy filing.
A March 11 period review of Service King by Moody's Investors Service found that, "While demand fundamentals are expected to normalize to historically stable levels in FYE 2021, recent pricing pressure with certain carriers along with higher costs has resulted in an erosion in margins, EBITDA and free cash flow."
The "vast majority" of Service King's revenue comes from its agreements with national and major insurance carriers, according to Moody's.
Neither Service King nor its majority owner since 2014, New York-based Blackstone Inc., responded to a request from Repairer Driven News for comment before our publication deadline.
Service King had projected earnings of around $125 million for 2021 when it refinanced some of its debt last January, but it ended up losing money over that period, the WSJ reported.
In a Jan. 24 announcement of the hiring of airline executive Peter Hunt as its new chief financial officer (CFO), Service King mentioned the "current environment of labor shortages and supply chain disruption" the business is experiencing.
On Sept. 27, Moody's downgraded all ratings of Midas Intermediate Holdco II, LLC (doing business as Service King), to Caa3 from Caa1, which is considered of poor standing and very high risk.
The industry is enduring higher costs that affect all businesses, regardless of scale. Tim O'Day, CEO of Boyd Group, the owner of Gerber Collision, said the company has negotiated an "unprecedented" number of rate increases with a majority of insurers, in reaction to the tight labor market and supply chain issues.
During a report on fourth-quarter and year-end earnings for 2021, O'Day told investors that the rate increases are necessary to address the wage pressures brought about by the continuing shortage of technicians and office workers.
While the issue's effect on Boyd's margins made it a topic for the company's fourth quarter report, O'Day said the need for increases extends to the entire collision repair industry.
"I think this is not just a Boyd issue. This is an industry issue, and it affects our customers," he said. To compete with the mechanical repair industry and other fields, "compensation levels in our industry are going to have to go up. And in order for that to happen, insurers are going to have to pay more for the repairs," he said.
Asked about indications that it had adjusted its posted rates in major metropolitan markets, Caliber Collision issued this statement to Repairer Driven News on Feb. 24:
"The entire collision repair industry is facing unprecedented challenges including substantial skilled labor shortages, double-digit inflationary pressures and supply chain difficulties. These factors are in addition to the continuing industry trend of increased repair complexity and the need for our industry to evolve. Consistent with our purpose to Restore The Rhythm of Our Customers' Lives, Caliber is closely working with our valued carriers and other industry partners to successfully navigate these challenges together to ensure the sustainability of our industry."
More information
Report: Service King opens talks with creditors about restructuring debt
Images
Featured image: A Milpitas, California, Service King is shown. (Provided by Service King)
Share This: