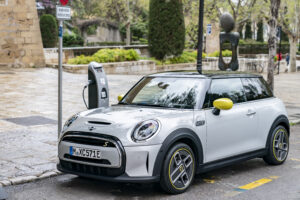 Americans are most likely to view electric vehicles (EVs) as a primary car in the household – a shift from attitudes three years ago, according to a consumer survey recently conducted by MINI USA.
When MINI carried out a similar survey in 2019, respondents identified "commuting car" or "city car" as their preferred uses for an EV.
Commissioned by Engine's CARAVAN Omnibus Surveys, the survey explores consumers' level of knowledge about the EV infrastructure in their regions, as well as personal attitudes toward EV ownership and travel needs.
Younger and female customers were most likely to see an EV as a primary car, MINI said.
Unchanged from the previous survey are attitudes about battery range. Seventy-six percent of respondents said 75 miles is sufficient for everyday driving, an increase of just three percentage points from 2019. That's within the range of every EV now on the market in the U.S., according to the publication Inside EVs.
"Over the last three years electric vehicles have become more mainstream, making great strides in both technological advancements and in consumer perception," Andrew Cutler, Head of Communications, MINI USA, said in a statement. "As MINI is moving to become fully electric by 2030, it is important that we and other EV brands with skin in the game continue to demonstrate that EVs are more accessible and satisfying to drive for everyone."
Respondents' expectations for charging times have changed in the three years between surveys. Sixty-seven percent now believe that charging should take no more than an hour, an increase of 59% from 2019.
"This not only signals an improved perception of available charging technology and its progression over recent years, but an increasing expectation that greater improvements in charging is necessary for rapid EV adoption," MINI said.
EV ownership has yet to become seen as mainstream. Sixty-three percent of responders said they see EV owners as "early adopters," a decrease of just three percentage points over the past three years. "While this pioneering connotation may sound complimentary to some, it highlights a need for more mainstream awareness of the accessibility, daily usage, and convenience of electric vehicles today," MINI said.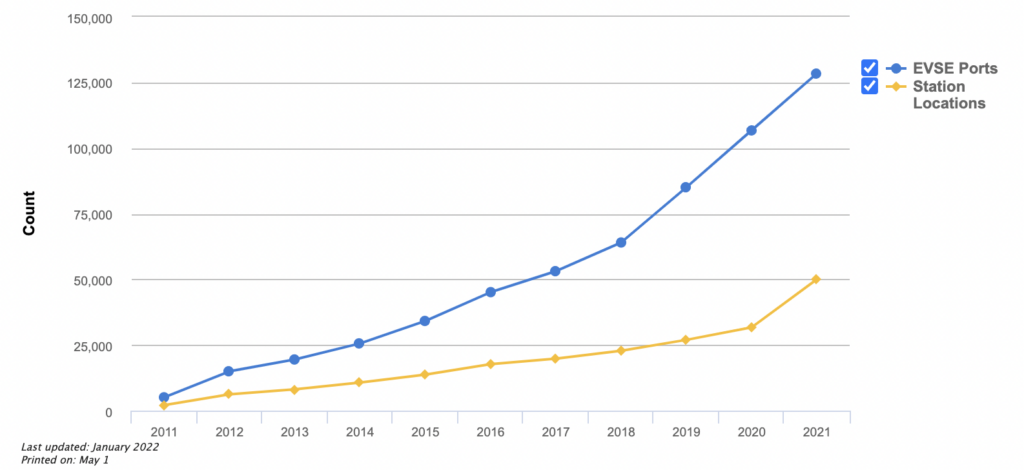 The survey showed that 35% of respondents know where their nearest charging port is, a more than one-third increase over 2019's figure of 26%. According to the Alternative Fuels Data Center of the U.S. Department of Energy, there were 50,054 charging stations in the U.S. in 2021, nearly double 2019's figure of 26,959.
More should be done to promote the $7,500 federal tax credit available to most EV buyers, MINI said. Its survey found that 50% of college graduates consider the credit an important purchasing factor. That figure falls sharply among consumers with little or no college education or who live in low-income households, "where the tax credit could proportionately be more beneficial," MINI said.
Images
A 2022 MINI Cooper SE. (Provided by MINI)
Graph provided by the Alternative Fuels Data Center.
Share This: