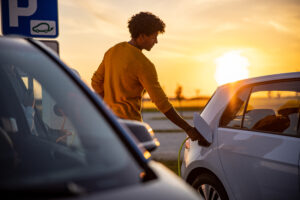 Following some recent bumps in stock values, several sources report Rivian Automotive and other electric vehicle (EV) automakers saw an uptick Thursday in shares "in wild and largely unexplained trading," as CNBC put it.
Rivian Automotive after market close on Wednesday reported a first-quarter loss that was narrower than Wall Street had expected, and Lordstown Motors announced a crucial deal to sell its Ohio factory had closed, according to CNBC.
The stocks were up 15.1% and over 50%, respectively, by Thursday afternoon. Other increases included: Lucid Group by 11.5%, Nikola Corp. by 5.4%, Fisker by 8.8%, XL Fleet by 11.1%, Mullen Automotive by 7.4%, Hyzon Motors by nearly 11%, and battery startup Solid Power by nearly 9%.
CNBC reports that all EV stocks are trading "far below their 2021 highs" with the Nasdaq Composite Index still roughly 30% off its record high.
Tesla shares were down nearly 3% Thursday while Ford's were down 4.4% and General Motors' 5.7%. CNBC attributes Ford and GM share decreases to Wells Fargo analyst Colin Langan cutting the bank's ratings on both to "underweight" late Wednesday night.
Yahoo Finance noted Rivian's stock was down 75% year-to-date, as of Thursday morning. Comparatively, Tesla's stock was down 38% year-to-date, as of Thursday afternoon, according to Yahoo Finance.
In its Q1 shareholder letter, Rivian said there are more than 90,000 R1 pre-orders in the U.S. and Canada, around 5,000 vehicles produced since the start of production (as of May 9), and reaffirmed its 2022 annual production target at 25,000. However, 502 of the 2022 R1Ts were recalled by the OEM on Tuesday because "the Occupant Classification System (OCS) may not deactivate the air bag when a child or child seat occupies the front passenger seat, according to documents filed with the National Highway Traffic Safety Administration (NHTSA).
Founder, Chairman, and CEO RJ Scaringe said during Rivian's Q1 earnings call on Wednesday that there is now "a clear path to launch R2 in Georgia in 2025 with our current cash on hand" and will make the switch to lithium iron phosphate (LFP) battery packs later this year.
"R2 will also leverage many of the cross-platform technologies that will be incorporated into R1 and RCV platforms, including our single-motor drive unit, which we call Enduro, and our next-generation network architecture and associated family of ECUs," Scaringe said.
The R2 platform will be "a more accessibly priced mid-sized SUV targeting global markets," according to the shareholder letter.
CFO Claire McDonough added that during the first phase of the R2 line 200,000 will be produced. The shareholder letter states, "We are now ramping production and deliveries of our R1T, R1S, and EDV 700, and while there have been challenges in ramping these vehicles with the current supply chain backdrop, we couldn't be more energized about the impact we can deliver."
During Lucid's Q1 earnings call last week, CEO and Chief Technology Officer Peter Rawlinson said 360 vehicles were delivered – triple the number delivered in Q4 of 2021.
"In April alone, we delivered well over 300 vehicles demonstrating our accelerated production ramp," he said. "And this growth progression keeps us nicely on track for our 12,000 to 14,000 production targets. We are pleased with the demand we are seeing and now we have more than 30,000 reservations as of today. Note that this 30,000 figure does not include the recent up to 100,000 car deal with the Government of Saudi Arabia, which is entirely incremental."
CFO Sherry House added, "Despite ongoing supply chain disruptions, we continue to see terrific progress in the business."
Both Rivian and Ford could have EV SUV competition from Volkswagen, according to Reuters, which reportedly confirmed that the OEM plans to reintroduce the Scout off-road brand in the U.S. as both an electric pickup truck and SUV. Production is slated to begin in 2026, according to Reuters.
Reuters compared the Scout to Ford's current Bronco and Rivian's R1 pickup and SUV line both in look and functionality. The Wall Street Journal, calls the Scout "the SUV pioneer," and reports that VW hopes to sell up to 250,000 of the vehicles per year in the U.S.
Reuters also reported that VM plans to build 800,000 electric cars worldwide this year and 1.3 million in 2023.
IMAGES
Featured image credit: SimonSkafar/iStock
Share This: