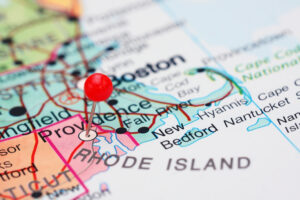 UPDATE: Rhode Island may give insurers more time to appraise vehicles, double damage amount for inspection requirement
By on
Insurance | Legal
Rhode Island senators are considering a bill that would make it an Unfair Claims Settlement Practices Act violation for insurers to fail to have an appraisal performed by a licensed appraiser when a vehicle sustains more than $5,000 in damage.
S. 2784 was introduced by Sen. Roger Picard (D-District 20) in March to amend the act as it currently stands. The bill was unanimously held for further study by the Senate Committee on Judiciary last week.
The act currently requires an appraisal when vehicles are damaged in excess of $2,500 and gives appraisers three business days from the time they receive a request from auto body repair shops that have the vehicle in question at their shop. S. 2784 would give appraisers an extra day and corrects a citation regarding salvage and reconstructed titles. However, the act does allow for the time limitation to be extended by mutual agreement between the shops and insurers.
The definition of fair market value and determining total losses would also change to be defined by the insurance industry in addition to the retail value determined by a nationally recognized compilation of retail values commonly used by the automotive industry, according to the bill.
The only person to testify before the committee on May 19 was Ernie Shaghalian, an insurance agent in Cranston, Rhode Island and member of the Independent Insurance Agents of Rhode Island (IIARI). He spoke on behalf of the association in opposition to the bill.
"It would wipe out one of the best pieces of insurance legislation that ever went through this building," Shaghalian said. "This bill would allow the insurance companies to come up with their own [total loss] calculations, which are always lower. …You really can't do anything if you try to sue the insurance company. It'll cost you a ton of money for a lawyer. Arbitration's expensive."
Shaghalian added that IIARI is also against giving insurers another day for a vehicle to "sit in a body shop before the insurance company has to look at it."
Picard, as sponsor of the bill, didn't speak on it during the hearing.
In a May 16 letter sent to the committee that Repairer Driven News obtained a copy of, the Auto Body Association of Rhode Island (ABARI) said it opposes the bill because it would "roll back" the consumer protections of the act and "have an adverse effect on the consumer."
"Increasing the number of business days to respond to a request from an auto body shop and increasing the damages necessary to have the work appraised, is not in the best interest of consumers," Stephen Alves wrote. "These changes would allow insurers to steer more claims to their preferred repair shops by enticing consumers with promises to start the work sooner at those shops. Changes to the time limits also cause delays with providing customers with rental cars."
ABARI is also against allowing insurance carriers to use their own "compilations" to determine fair market value.
The act was last amended in 2019 when the House and Senate passed companion bills to require insurers to perform physical inspections of vehicles with more than $2,500 in damage.
The amended bills passed in 2019 also made it an unfair claims practice for insurers to refuse to pay body shops for documented charges "as identified through industry recognized programs or systems" for body repair materials in addition to paint and refinishing materials and required insurers to notify vehicles owners in writing how to obtain salvage and reconstructed titles when their vehicles are deemed total losses.
Editor's note: This article has been updated to include ABARI's letter.
IMAGES
Featured image credit: dk_photos/iStock
Share This: