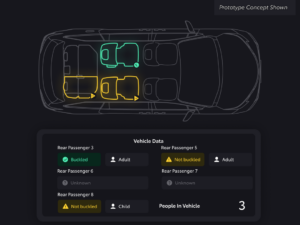 Toyota details radar-based 'Cabin Awareness' safety tech & Mobility-as-a-Service platform
By on
Technology
Toyota has developed and is testing a new safety feature concept and shared details on its autonomous vehicle (AV) Mobility-as-a-Service (MaaS) platform that's currently in use by two AV companies.
The OEM's mobility branch, Toyota Connected North America (TCNA), on Tuesday shared details on its "Cabin Awareness" concept technology that uses millimeter-wave, high-resolution 4D imaging radar to help detect occupants in cars and also, potentially, those that are inadvertently left behind.
A 4D imaging radar sensor is mounted out of sight above a vehicle's headliner and can detect "presence of a life form" in the vehicle, even after the driver exits, according to a Toyota news release.
"Specifically, the Cabin Awareness concept has the capability to sense micro movements, such as a heartbeat, motion and respiration of occupants across three full seating rows, the cargo area and footwells," Toyota says in the release. "It also classifies all occupants according to size, posture and position – supporting advanced safety applications. The platform provides robust sensing even if the occupant is covered with a blanket, a scenario [in] which a passerby would be unable to see the occupant. It differs from other technologies on the market such as weight sensors, that can be prone to false alerts and mis-detects, cameras limited by blind spots or other radar systems with a limited range of passenger detection."
Zack Hicks, TCNA CEO and president and Toyota Motor North America executive vice president and chief digital officer, said in a statement that the concept feature uses "cutting-edge technology" to "bring innovation and advanced technologies to customers' vehicles."
"We are extremely proud of our efforts to take this idea from the drawing board to a full-blown concept, and, hopefully, developing a technology that has the potential to save lives," he said.
Cabin Awareness is being tested in real-world scenarios through Toyota's partner, May Mobility — an autonomous vehicle (AV) company — in its fleet of Toyota Sienna Autono-MaaS (Autonomous Mobility-as-a-service) minivans at its Michigan headquarters. Testing is slated to also begin soon in public AV deployments in Arlington, Texas, and Ann Arbor, Michigan, in addition to more deployments late in the year.
May Mobility announced in April that a portion of its fleet will be modified to become ADA-compliant and accommodate passengers in wheelchairs.
"May Mobility was founded with a mission of making roads safer through autonomous technology – and we've kept safety as our top priority as we've advanced our technology and worked with key strategic partners like Toyota," said May Mobility CEO Edwin Olson, in a statement. "As we move closer to driver-out operations next year and continue to scale our global business with more public AV deployments, technology like the Cabin Awareness concept is essential for our riders."
In the future, one possible application for Cabin Awareness in autonomous shuttles is alerting parents when their children complete a ride or to delay driving to its next stop if it senses someone is still in the vehicle. The concept is also being explored for use in preventing child deaths from being left in hot cars through warning light signals on the instrument cluster, the horn honking, and emergency lights flashing. If those aren't noticed, the owner and designated emergency contacts may get a notification on their phone through the Toyota app as well as text messages.
"The key difference with this system is the improved resolution and accuracy, full-cabin detection and scope of functionality Cabin Awareness provides," said TCNA Managing Engineer Simon Roberts in a statement. "With the precision of these sensors, we're designing Cabin Awareness with the aim of reducing false positives and false negatives."
Cabin Awareness is Toyota Connected's first hardware development for which a team evaluated millimeter-wave suppliers and began working with technology provider, Vayyar Imaging, on its in-cabin monitoring platform. Inspiration for the Cabin Awareness concept came from microwave radar technology created by NASA's Jet Propulsion Laboratory to support underground rescues after a 7.8-magnitude earthquake struck Nepal in 2015, Toyota said.
Going hand-in-hand with Cabin Awareness is Toyota's Autono-MaaS vehicle platform, which TMNA Research and Development Senior Program Manager Beth Loomis describes in the video below as "kind of a marriage between vehicle and autonomy — so a self-driving vehicle and mobility as a service."
TMNA DX and Mobility Vice President Ken Tsuruta said the Sienna Autono-MaaS "will have the capability of having any kind of autonomous driving kit, and will provide Toyota a lot of capability in the Autono-MaaS area."
A vehicle control interface is installed in the Sienna through which the vehicle platform can communicate with the autonomous driving kit.
"We actually get a production vehicle from our manufacturing facility in Indiana and we tear it down in our prototype development lab," Loomis said. "We rebuild the vehicle, including all unique wiring harnesses. We really felt that the best solution was to install all of our Toyota unique parts into the console."
Currently, Toyota has two Sienna Autono-MaaS customers — May Mobility and Aurora Innovation.
May Mobility's goal is to "transform cities using autonomous vehicles," which the Sienna does, Olson said. "It's the first vehicle built from the ground up, ready to be controlled by a computer."
May Mobility Senior Vehicle Product and Experience Designer Michael Piotter said the company believes AVs "can close the gaps in access to transportation," including for those with disabilities.
Aurora's freight truck and Sienna fleets are powered by the same hardware and software, which makes the Siennas "uniquely positioned to handle a lot of the highway complexity by seeing far down the road and handling high speed highway driving capabilities like navigating around construction zones," according to Aurora Ride-hailing Program Manager Veer Nairyani.
IMAGES
Featured image: A Toyota Sienna Cabin Awareness prototype concept is shown. (Provided by Toyota)
Video provided by Toyota
Share This: