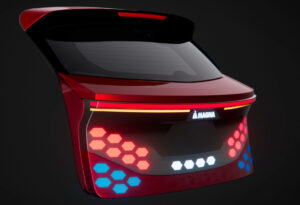 Magna develops hidden lighting for liftgates, says it shouldn't be 'a premium product to repair'
By on
Announcements
Magna has developed a technology for incorporating lighting units into thermoplastic liftgates that remain hidden until lit, giving OEMs another way to differentiate their products.
Called "Breakthrough Lighting," the technology will be ready for production in 2023, Magna product line director Rob Selle told Repairer Driven News.
The technology allows the incorporation of lighting, both functional and decorative, into the panel. The lighting units are mounted behind the painted panel, and can only be seen when illuminated.
"Breakthrough lighting is actually the application, for us, of existing technologies we already had it development," Selle said. The liftgate, which Magna calls a Litgate, "was just meant to showcase what could be done in this particular application," he said.
"It can be applied to a thermoplastic side door. It can be applied even on a front panel for a vehicle. And so it's not just limited necessarily to the rear of the vehicle. This is just showcasing what can be done," he said.
The outer panel of the Litgate prototype is composed of two types of plastic: a tinted polycarbonate panel above, and a painted thermoplastic panel, similar to a bumper cover, below. Magna applies laser ablation to the finish, creating countless tiny pinholes that allow the light to shine through.
In spite of the custom look, Selle said the Litgate should not be more expensive to repair than conventional liftgates.
"We make many thermoplastic liftgates today," he said. "We're using existing materials that are rarely market available in most cases. We believe the solution is cost competitive with existing products. So I do not envision it being a premium product to repair."
"If anything, it may be less in some cases, because it has a modular light solution," he added, pointing out that each of the hexagons in the prototype is a separate, individually replaceable lighting unit.
"If you had some damage that wasn't to the panel itself and just the lights, you would easily be able to replace those modules from the inside through an interior trim panel," he said.
Because the units are protected by the exterior panel, they should be more resistant to low-speed impact than conventional lamps, too.
The shape doesn't have to be a hexagon. Selle said that OEMs could specify whatever shape they wanted for the light modules, including their logo – a bowtie for Chevrolets, for instance.
If a panel suffers cosmetic damage, a body shop should be able to refinish it, as long as it's not in an area where the light is being transmitted, Selle said. Otherwise, the panels can be replaced, just like a conventional headlamp or taillamp.
The design of the liftgate makes the weatherproofing of the individual lighting units unnecessary. Each liftgate is comprised of inner and outer thermoplastic panels that are bonded together, sealing out the elements.
"We refer to them as a dry environment – there is no water penetration inside," Selle said. "So then we have that ability to have those electronics inside the liftgate and not have to worry about the sealing of the lens and the lamps and all those things that you traditionally would have to have in that application."
Selle said Breakthrough Lighting is "what we refer to as bookshelved, ready for market next year."
Will the technology appear on a production vehicle anytime in the near future? "We're having discussions right now with a number of customers," he said. "That's about all I can say."
Images
Featured image: The Litgate prototype, showing what's possible with Magna's Breakthrough Lighting technology. (Provided by Magna)
Share This: