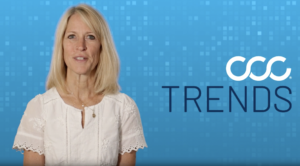 CCC Intelligent Solutions has issued a midyear update of its 2022 Crash Course report, revising a number of key topics included in the original report, including changes in driving behavior, rising repair costs, supply chain disruptions, and labor shortages.
The update can be read in its entirety here, while the original report is available for download here.
Supply chain disruptions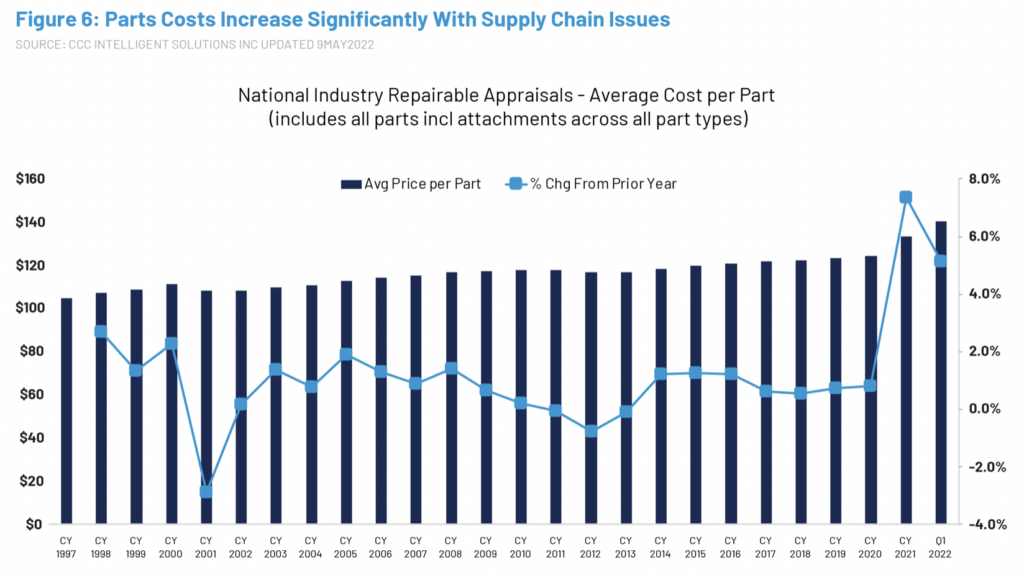 Supply chain issues, worsened by Russia's invasion of Ukraine, and inflation have continued to drive up repair prices, CCC said. It found that the average cost per replacement part increased another 5% in the first quarter of 2022, versus the 7.4% increase experienced in all of 2021.
"In fact, over 50 percent of the increase in average repair costs over the last five years has come from the increase in spend on replacement parts," the report says. "Increased vehicle complexity has also played a role as evidenced by further increases in average replacement parts and the declining share of labor spend for repair operations."
Higher costs are keeping new vehicle prices elevated, "which combined with low inventory, is holding back new vehicle sales, further pointing to tighter supply of used vehicles in coming years," CCC said.
Michael McGarry, the CEO of paint supplier PPG, recently talked about the higher costs his company has encountered, and how it is passing them along to its customers.
McGarry told CNBC that his company has seen a 25% increase in costs in the first quarter of 2022 alone. As a result, it increased its prices by 10% in the last quarter, and is raising them another 10-12% this quarter, he said.
"We're pricing faster than we ever have, and at a higher rate than we ever have," he said.
The Crash Course update notes that many OEMs forecast increased new vehicle production in 2022, expecting that semiconductor chip shortages would be less severe. However, the war in Ukraine, along with higher costs for raw materials, freight, and labor, has led to "even further supply chain disruption, and further challenges inhibiting new vehicle production."
This, in turn, keeps used vehicle prices elevated, despite a recent 5% decrease from peak numbers in December 2021. Manheim's wholesale used vehicle value index was still up more than 60% from April 2019, showing how "used vehicle prices, while softening, are still significantly higher than pre-pandemic and are not likely to return to pre-pandemic levels anytime soon."
Labor shortages continue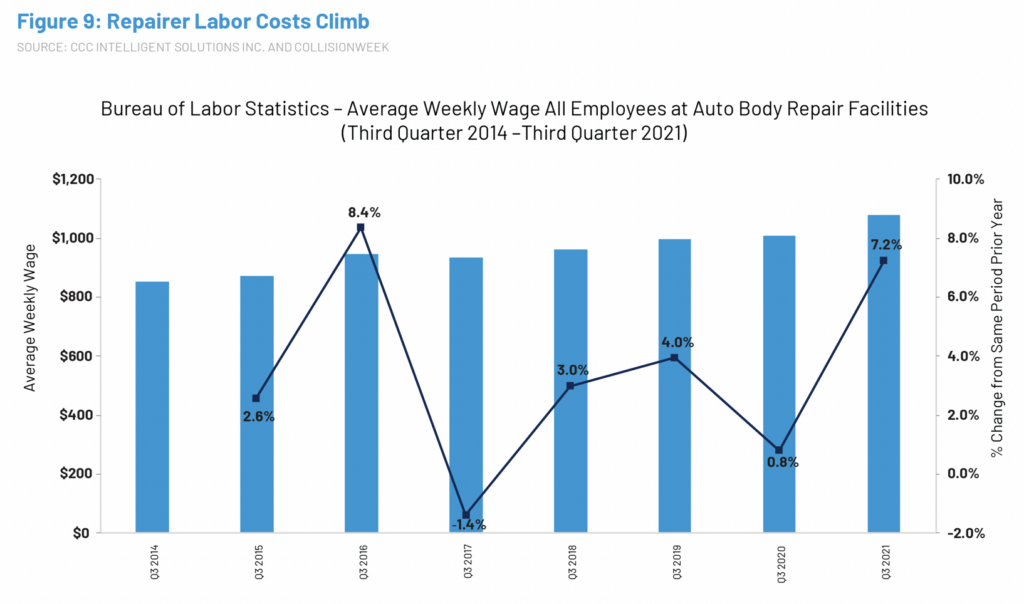 CCC referenced the most recent data from CRASH Network, which shows that nearly 80% of collision repair shops in the U.S. are scheduling vehicle repairs out two weeks or more. While parts shortages are a contributing factor, the shortage of technicians is a "key reason," CCC said.
"The collision repair industry, like many industries, simply cannot find enough technicians to fill the open positions," CCC said, citing a CollisionWeek report based on Bureau of Labor Statistics data showing that shops have raised weekly wages by a national average of 7.2% over the same quarter in 2021.
These bigger paychecks "are now translating to increased labor rates," CCC said. It said that according to CRASH Network, "many shops" have reported approved rate increases of between 6% and 9%. CCC called this "a key factor" behind the climb in repair costs.
Repairer capacity and wages "will continue to be a headwind for some time," CCC said, with the TechForce Foundation projecting a shortage of nearly 20,000 collision repair technicians annually between now and 2030.
Changes in driving behavior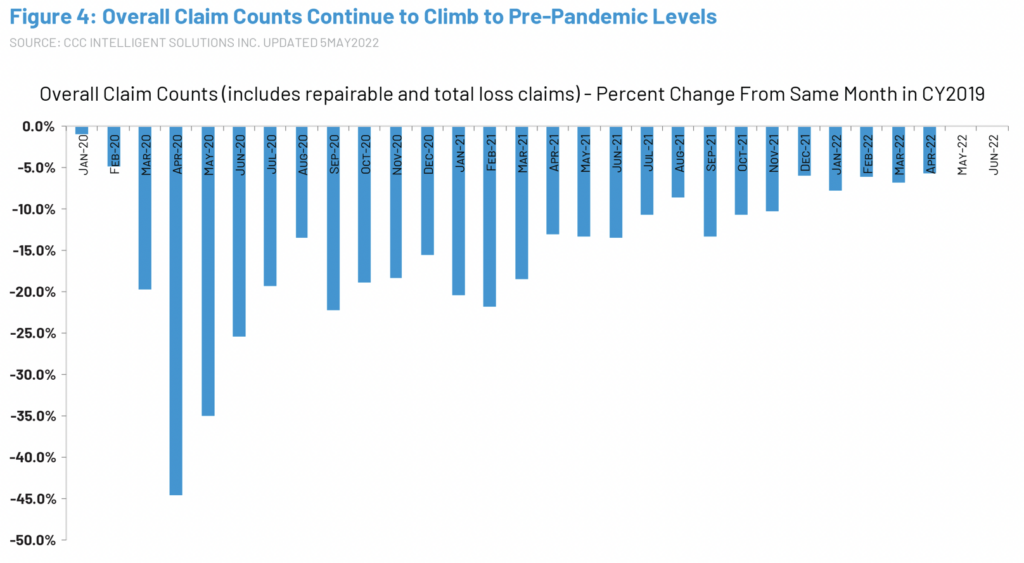 CCC reported that miles driven overall in the U.S. remained near pre-pandemic levels in the first half of 2022, in spite of soaring gas prices and a continuation of remote work.
Based on several sources, including U.S. Department of Labor statistics, CCC estimates that 25% of the workforce is still working remotely. "Data from numerous analysts suggests nearly 40 percent of jobs in the U.S. could be done remote; and office occupancy data from Kastle Systems over 40 percent as of Q2 2022," the update says.
Yet the initial reduction in traffic appears to have stabilized, as people take additional trips during the work day for other things, said Crash Course author Susanna Gotsch in a video accompanying the update.
Congestion levels have also started to rebound, although they remain lower than pre-pandemic, as a result of fewer people commuting to work during rush hour. That means vehicles are often traveling at higher speeds, keeping severity levels elevated.
At the same time, auto claim frequency continues to climb closer to pre-pandemic levels, CCC said.
More information
Crash Course 2022 Mid-Year Update: Gearing Up for What's Ahead
Images
Susanna Gotsch of CCC. (Screen capture from video)
Share This: