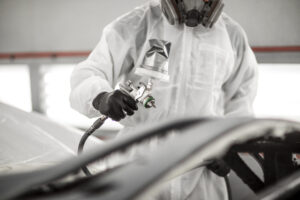 Collision repair shops take steps toward environmental sustainability
By on
Business Practices
After news that Service King recently unveiled its first Leadership in Energy and Environmental Design (LEED)-certified facility in San Antonio, Repairer Driven News looked into what it would take for collision repair shops to receive and maintain the certification as well as why doing so is beneficial for business.
The purpose of the certification, established by the U.S. Green Building Council (USGBC), is "to reduce the environmental harms associated with the materials purchased, installed, and disposed of during maintenance and renovation of buildings," according to the council's website.
Economically, LEED certification helps save money. Sixty-one percent of corporate leaders believe that sustainability leads to market differentiation and improved financial performance, according to USGBC. From 2015-2018, LEED buildings saw an estimated $1.2 billion in energy savings, $149.5 million in water savings, $715.3 million in maintenance savings, and $54.2 million in waste savings.
There are also benefits for employment and employee health, including higher recruitment and retention rates as well as increased productivity, according to USGBC. LEED buildings provide "healthier spaces with cleaner air, access to daylight, and [are] free from harmful chemicals found in paints and finishings."
A 2014 UC Berkeley study found that by building to LEED standards, buildings contributed 50% fewer greenhouse gases (GHGs) than conventionally constructed buildings due to water consumption, 48% fewer GHGs due to solid waste, and 5% fewer GHGs due to transportation, according to USGBC.
To become LEED-certified, a shop would need to earn points by meeting carbon, energy, water, waste, transportation, materials, health, and indoor environmental quality prerequisites and credits. Projects are verified and reviewed by third-party organization Green Business Certification Inc. (GBCI). GBCI awards points and reaching a certain number of points corresponds to one of four LEED certification levels — Certified, 40-49 points; Silver, 50-59 points; Gold, 60-79 points, and Platinum, 80 or more points. More information on the process is available here.
Once certification is earned, recertification is required to "maintain and improve your building while keeping your sustainability investment in place" after three years. Energy, water, transportation, waste, and human experience data from the past year must be submitted then GBCI reviews the submission for possible recertification.
In other environmental sustainability news, the Ohio Air Quality Development Authority (OAQDA) recently approved $2.9 million in bond financing for JAM Best One Fleet Service and Baker's Collision Repair. The funds will help the businesses expand in an "environmentally friendly manner," according to OAQDA Executive Director Christina O'Keeffe.
"These projects will create local jobs and improve Ohio's air quality through the reduction of hazardous emissions," she said in a news release.
JAM Best One Fleet Service provides light mechanical, electrical, and tire retreading services for commercial truck fleets. OAQDA's Clean Air Improvement Program (CAIP) approved up to $2.8 million for JAM's project to merge and relocate two of its locations into a vacant industrial property in Toledo, Ohio, according to the release.
Baker's Collision Repair Specialists is a third-generation, family-owned auto body shop located in Mansfield, Ohio. The Ohio Air Quality Development Authority's Clean Air Resource Center (CARC). approved up to $120,000 for Baker's project to replace a 26-year-old spray booth and add a custom mixing room and vestibule. The new paint booth will have a three-stage intake air filtration system, a mechanical exhaust configuration integrated into the roof, and fire suppression equipment to help minimize pollutants that can leak into the air during the auto repair process, the release states.
IMAGES
Featured image credit: EXTREME-PHOTOGRAPHER/iStock
Share This: