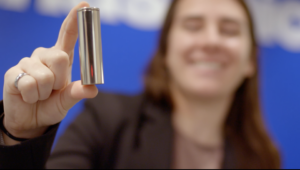 Electronics giant Panasonic has announced that it will invest about $4 billion to establish a new plant for electric vehicle (EV) batteries in De Soto, Kansas, to help meet growing demand among U.S. automakers.
"With the increased electrification of the automotive market, expanding battery production in the U.S. is critical to help meet demand," Kazuo Tadanobu, president and CEO of Panasonic Energy Co., Ltd, said in a statement. "Given our leading technology and depth of experience, we aim to continue driving growth of the lithium-ion battery industry and accelerating towards a net-zero emissions future."
Construction of the battery factory, which will be Panasonic's second in the U.S., will receive financial support from the state's Attracting Powerful Economic Expansion (APEX) state incentive fund. It still requires approval by the Panasonic Holdings Corporation board of directors.
Company officials did not say which OEMs would be supplied with batteries from the new plant.
Five years ago, Panasonic opened the Panasonic Energy of North America battery plant in Sparks, Nevada. PENA has become one of the world's largest lithium-ion battery factories, the company said, with more than 6 billion EV battery cells shipped. That plant, which supplies battery cells to Tesla, will continue to operate.
Kansas Gov. Laura Kelly said, "This project will be transformative for the Kansas economy, providing high-quality, high-tech jobs while bringing a new industry to the state that is forging a more sustainable future." She called it "a significant milestone for Kansas that is sure to drive economic growth and development."
In the meantime, China's Contemporary Amperex Technology Co. (CATC), the world's biggest maker of batteries for EVs, is looking at at least two locations in Mexico for a manufacturing plant that could supply Tesla and Ford, Automotive News has reported.
According to people close to the deliberations, CATC is considering Ciudad Juarez, in the state of Chihuahua, and Saltillo, in Coahuila, Automotive News said. People told the publication that the company is contemplating investing as much as $5 billion in the project.
As vehicle electrification accelerates, battery production in the U.S. and Europe is expected to grow sixfold by 2030, Nico Cuevas, chief executive and founder of graphite producer Urbix, said in a recent essay in Automotive World. In Europe, this would increase annual capacity by enough to produce almost 15 million EVs, or 14% of the global total, Cuevas said.
Cuevas said that growing the demand for raw materials needed for battery production, such as graphite and lithium, is placing a strain on the global supply chain. Tesla, Volkswagen, General Motors, Toyota and Ford have secured future supplies of raw materials, or are in the process of doing so, he said.
Currently, all of the purified spherical graphite needed for EV battery production comes from China, posing a "worrisome prospect," he said. "Depending on a single country for material supply that is deemed critical for clean energy technology is a significant risk, as China is able to restrict the export of processed graphite—for geopolitical reasons or domestic consumption—cutting off other economic powers from essential graphite feedstock."
Images
Featured image: Panasonic plans to begin producing lithium-ion batteries for EVs at a new factory in Kansas. (Provided by Panasonic)
Share This: