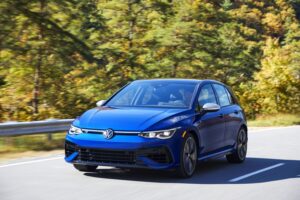 Volkswagen's IQ Drive, a hands-on driver assistance technology introduced in 2021, will be offered as standard or available equipment on all of the OEM's vehicle lines for the 2023 model year, the automaker has announced.
Volkswagen said that the advanced driver assistance system (ADAS) technology will become "one of the most accessible hands-on semi-automated driving systems on the market today."
With Volkswagen selling just over 375,000 cars and SUVs in the US in 2021 alone, repairers can expect to see many IQ Drive-equipped vehicles in their shops.
IQ Drive includes adaptive cruise control with stop-and-go capability, forward collision warning with pedestrian detection, automatic emergency braking, blind-spot warning, rear cross-traffic warning, lane departure warning, and lane-keeping assistance.
Additionally, IQ Drive includes Travel Assist and Emergency Assist systems.
Travel Assist is a Level 2 ADAS that uses the adaptive cruise control and the lane-keeping assistance system to help keep the vehicle centered in its lane and following traffic ahead at a safe distance. The technology was launched in the US in 2021.
Drivers must keep their hands on the steering wheel at all times. If the capacitive-sensing steering wheel determines that a driver has let go of the wheel for more than 15 seconds, Travel Assist will issue a short series of visual and audible reminders to take control of the steering. If these are ignored, Emergency Assist will be activated.
Emergency Assist can bring the vehicle to a safe, controlled stop if the driver is no longer in control. The vehicle will weave slightly to get the attention of other motorists as it brakes to a stop. Like Travel Assist, Emergency Assist was launched in the US in 2021.
Repairers can find detailed information on which vehicles are equipped with IQ Drive, and other features, on the Volkswagen service site, according to I-CAR.
Volkswagen provides a digital "build sheet" that shows what equipment is on the car, and, in some cases, what equipment is not. The OEM uses what it calls PR-Numbers to identify features and equipment on a vehicle.
Access to the PR information comes with a subscription to the Volkswagen pay service site. Since this is specific information, the only way to access it is to provide a VIN. To view the VIN specific PR-Numbers:
Log in to the service site
Click on Service Information (top of webpage)
Click on the Vehicle Identification Number tab (middle of webpage)
Enter a VIN in the empty box (middle of webpage)
Click Search (middle of webpage)
Click on the Vehicle Data tab (middle of webpage)
Scroll down to the PR-Numbers area
This will show a list of the PR-Numbers, along with a description of the associated number. For instance, I-CAR said, on a 2018 Volkswagen Tiguan, the PR-Number 6K2 indicates the vehicle has collision warning and collision braking but not adaptive cruise control. Number 7X0 indicates the vehicle is without park assist.
"These numbers are not limited to advanced driver assistance systems (ADAS), and can include other items such as brakes, suspension, and trim. For example, PR-Number 1JX is listed as: 'Rear shock absorption, basic/sports version, four-wheel drive,'" the site says.
Knowing what systems and features a vehicle came with, and how to locate this information, will help ensure a safe and proper repair.
Volkswagen does not have a position statement regarding pre- and post-repair scanning, but does state when a scan tool is needed. It also specifies when a scan tool is needed within the procedures of the body repair manual.
Images
A 2022 Golf R. (Provided by Volkswagen)
Share This: