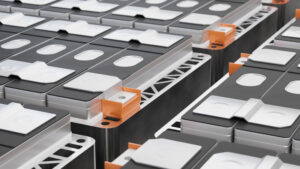 Ford, GM say they have secured enough battery materials to produce millions of EVs
By on
Announcements | Technology
Ford and General Motors have each announced plans to obtain enough battery raw materials and manufacturing capacity to dramatically scale up their production of electric vehicles (EVs).
Ford says it has secured enough materials and capacity to reach its targeted annual run rate of 600,000 EVs by late 2023, and more than 2 million by the end of 2026.
Meanwhile, GM says it now has binding agreements for enough battery raw materials to meet its goal of raising its annual North American EV production capacity to 1 million by 2025.
That would make both OEMs credible challengers to EV segment leader Tesla, which is expected to produce 1.4 million vehicles this year, in spite of its own supply chain issues.
In a July 21 announcement, Ford offered details of its global vehicle portfolio plans to support the production goals of its Ford+ plan. Ford said it expects a compound annual growth rate for EVs to exceed 90% through 2026, more than double the forecast global industry growth.
"Ford's new electric vehicle lineup has generated huge enthusiasm and demand, and now we are putting the industrial system in place to scale quickly," Jim Farley, Ford's president and CEO and president of Ford Model e, said in a statement. The model e team, the branch focused on Ford's electrified vehicle business, "has moved with speed, focus and creativity to secure the battery capacity and raw materials we need to deliver breakthrough EVs for millions of customers."
The OEM detailed its global vehicle portfolio plans supporting these production goals as part of its Ford+ plan. Ford expects a compound annual growth rate for EVs to exceed 90% through 2026, more than double forecasted global industry growth.
Specifically, Ford said it expects to achieve global EV production of 600,000 vehicles a year by late 2023, divided up among the following models: 270,000 Mustang Mach-Es for North America, Europe and China; 150,000 F-150 Lightnings for North America; 150,000 Transit EVs for North America and Europe; and 30,000 units of an all-new SUV for Europe.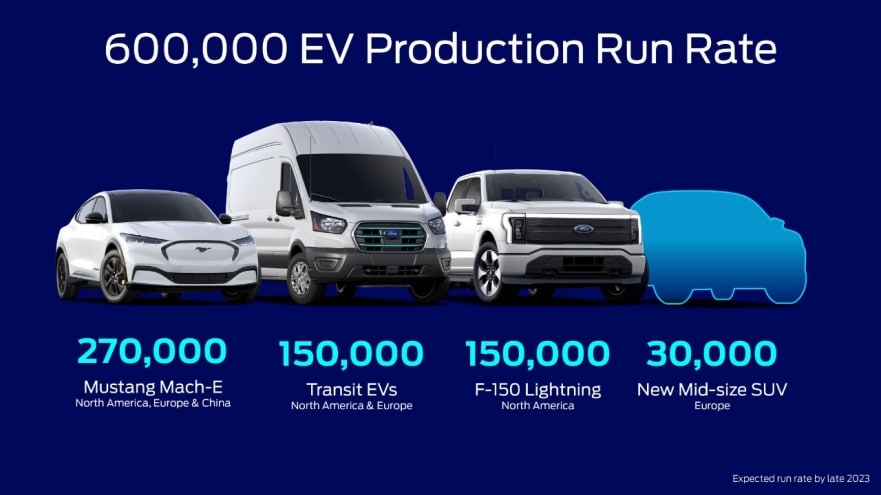 The company confirmed it has secured 100% of the annual battery cell capacity needed – 60 gigawatt hours (GWh) – to support this 600,000 EV run rate by working with leading battery companies around the globe.
In addition, it said it has now sourced approximately 70% of the battery cell capacity it needs to support an annual global production of more than 2 million EVs by late 2026.
"Our team has been actively engaged with partners in the United States and around the world," said Lisa Drake, Ford Model e vice president, EV Industrialization. "We will move fast in the key markets and regions where critical supplies are available, meeting with government officials, mining companies and processors and signing MOUs and agreements that reflect Ford's ESG expectations and underpin Ford's plan to bring EVs to millions."
GM secures raw materials
GM announced agreements with two companies, Livent and LG Chem, that will meet the OEM's requirements for two essential battery materials, lithium hydroxide and cathode active material (CAM).
The lithium hydroxide supplied by Livent, GM said, will be used in the cathodes of battery cells for upcoming EVs using the OEM's Ultium platform. The agreement also includes the transfer of all of Livent's lithium hydroxide processing to North America, GM said.
In a separate deal, LG Chem has agreed to provide a long-term supply of more than 950,000 tons of CAM, which includes nickel, cobalt, manganese, and aluminum, between the second half of 2022 and 2030. GM said that would provide enough material for about 5 million EV battery packs.
"We are building a strong, sustainable, scalable and secure supply chain to help meet our fast-growing EV production needs," said Jeff Morrison, GM vice president, Global Purchasing and Supply Chain.
The agreement with LG Chem "builds on GM's commitment to create a strong, sustainable battery raw material supply chain to support our fast-growing EV production needs," Morrison said. "LG Chem has demonstrated technical expertise, high-quality and mass production capabilities of cathode active materials over the last decade. At the same time, this agreement demonstrates GM's commitment to strong supplier relationships, and compliments our many other recent EV supply chain announcements."
With the Livent deal, "We will further localize the lithium supply chain in North America over the course of the agreement. In addition, it is aligned with our approach to responsible sourcing and supply chain management and demonstrates our commitment to strong supplier relationships," Morrison said.
EV demand strong
According to Ford, "demand signals" among potential EV buyers are strengthening.
The OEM quoted an Ernst & Young survey showing that, for the first time, the majority of consumers who intend to buy a car in the next two years say they will choose an EV or hybrid vehicle. That figure is an increase of 11 percentage points from 2021, and 22 percentage points from 2020. Most of the increase is for fully electric vehicles, it said.
Among commercial owners who don't already deploy EVs, Ford said, 60% of US fleet managers said in a Ford Pro survey they plan to add EVs to their operations within two years.
The Mustang Mach-E "shares the top spot in its segment" among vehicle shoppers, according to a Ford study, while favorable opinion about the F-150 Lightning was second only to the gasoline-powered F-150.
Both GM and Ford have been working to make EVs more accessible, addressing barriers to entry such as charging and cost.
"This is our opportunity to win a whole new group of customers, building their loyalty and advocacy as we grow our market share," said Marin Gjaja, Ford Model e chief customer officer. "We're developing the digital and physical services and experiences those new customers expect when they purchase a product that to them is a new technology purchase. Our aim is to combine the convenience of digital shopping with Ford's expertise, scale and the physical presence of our dealers to create the best possible experience for tomorrow's EV owners."
Images
Featured image by Black_Kira/iStock
Share This: