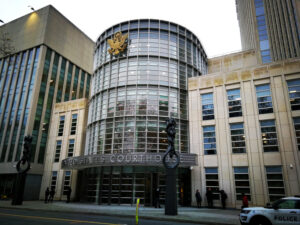 BASF sues Long Island body shop, alleging breach of purchase contract
By on
Legal
BASF has filed a civil suit against a Long Island auto body shop, alleging that the shop failed to keep its agreement with the paint and refinish products supplier.
BASF said it had signed an agreement with Scappy Auto Body of Hicksville, New York, on Feb. 14, 2019, under which Scappy agreed to purchase only BASF Glasurit and RM Refinish products until its minimum purchase requirement of $1,354,500 was met.
In exchange, BASF provided Scappy with $225,000 as a "contract fulfillment consideration," and loaned certain equipment to the shop to use with BASF refinish products, states the complaint, filed in the U.S. District Court for the Eastern District of New York.
If Scappy terminated the agreement "for any reason" before it had met its purchase requirement, the shop was to return the loaned equipment, valued at $35,000, and all or a calculated portion of the $225,000, the plaintiffs claim.
In spite of the agreement, the complaint states, BASF "came to learn that Defendant was purchasing Refinish Products from BASF's competitor, and had been doing so since the February 14, 2019 effective date of the Requirements Agreement."
Buying products from a BASF competitor breached and ultimately terminated the agreement between Scappy and BASF, the plaintiffs allege.
While the contract was in effect, Scappy bought $76,701 in BASF products, leaving a balance due of $1,277,799, BASF said. The terms of the agreement require the shop to return a proportional amount of the $225,000, or $212,258.90.
"BASF has fulfilled its obligations and remains ready, willing, and able to perform all obligations, conditions, and covenants required under the Requirements Agreement," the complaint states.
The plaintiffs said they notified Scappy that it was in default in a letter dated June 27, and told the shop that they would seek "additional damages" if the dispute went to court.  "Despite the foregoing, Defendant has failed to satisfy its obligations under the terms of the Requirements Agreement," the complaint states.
The complaint seeks at least $1,525,057.90 in damages, the sum of the $1,277,799 outstanding purchase balance, $212,258.90 of the "contract fulfillment consideration," and $35,000 for the equipment. It also seeks interest, and payment of costs, interest, counsel fees, litigation expenses, and "such other and further relief as the Court may deem just and proper."
Scappy Auto Body has not yet responded to the suit. Representatives of the company were not available for comment Tuesday afternoon.
Images
The United States District Court in Brooklyn. (DawidMarkiewicz/iStock)
Share This: