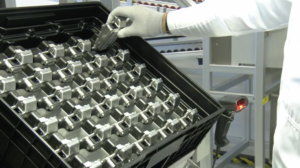 CEO says added features make AEye's 4Sight lidar platform a 'game changer' in autonomous driving
By on
Announcements
Lidar maker AEye has given its 4Sight platform new capabilities, enabling its sensors to broaden or narrow their field of view depending on circumstances, company CEO Blair LaCorte told investors recently. The capability is "a game changer in autonomous decision making" for self-driving vehicles, LaCorte said.
Through the use of its ZoomCam feature, "4Sight can dynamically zoom in on objects on the fly, to add resolution at extremely long distances," he said during an Aug. 15 second-quarter earnings call. "Remember, passive LIDAR systems are limited as they scan with fixed patterns at fixed distances. This new capability not only opens up new markets, but improves confidence in object tracking for existing customers,"
Unlike other lidar systems, AEye's software-defined sensors are capable of moving seamlessly from high-speed, long-distance detection on the highway to complex, low-speed detection in environments such as traffic jams. LaCorte drew an analogy to a smartphone, which can use an operating system to add capabilities to the same hardware through apps.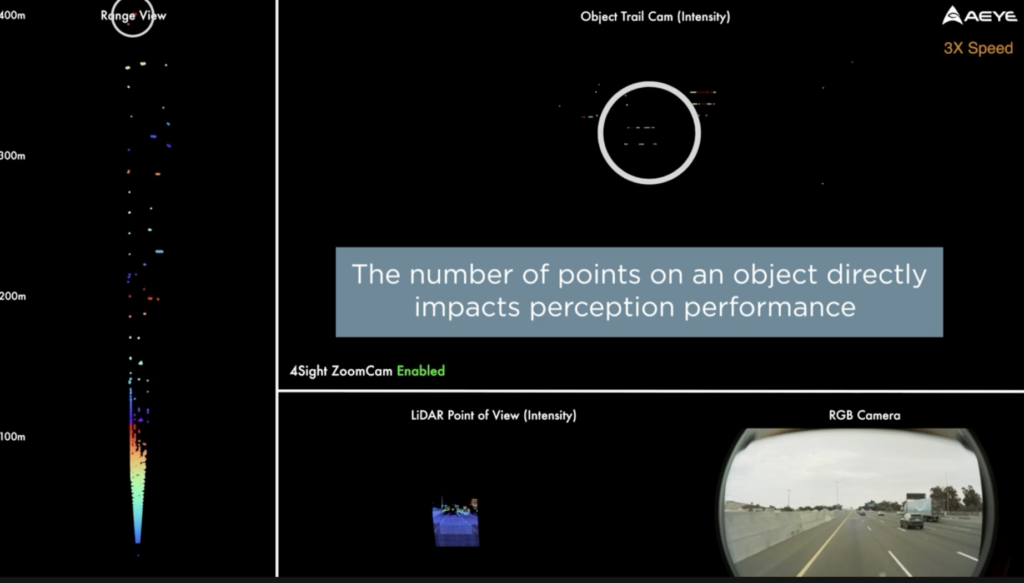 He showed two examples of scans taken on the highway. In the first, an SUV 300 meters away showed up as three points. With the zoom enabled, as shown above, resolution increased to 90 points at a greater distance of 400 meters.
The technology has promise beyond automotive uses, LaCorte added. "Rail trains equipped with 4Sight could have one mode designed for scanning a station or platform, and can use ZoomCam while in transit to detect track obstructions at extremely long ranges to allow adequate train stopping distance. In aerospace and defense, helicopters could utilize ZoomCam for longer ranges to detect wires or birds in their path, and switch to a wider field of view to locate the ground during landing maneuvers."
Also added to 4Sight is a SteadiCam feature, which is "able to put more density where you need it," LaCorte said. "This patented horizon tracking capability, we believe, is a key to adoption of highway autopilot, a popular feature consumers have been requesting from automotive OEMs.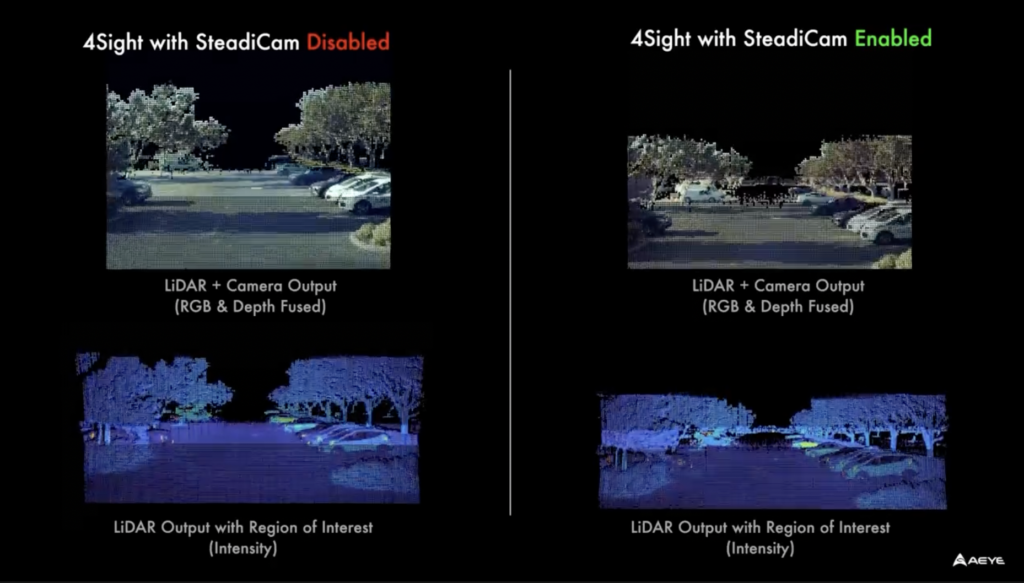 "Similar to what a gimbal does in hardware to help cameras compensate for unsteady movement, 4Sight can dynamically adjust the software for any vehicle or use case. All roads aren't flat, smooth or straight. ADAS and autonomous vehicles require this capability to enable horizon tracking, to compensate for less than optimal road conditions. This becomes even more important for off-road, high-speed or weather-impaired scenarios."
He said Tier 1 suppliers need the capabilities offered by SteadiCam to feel more comfortable offering Level 3 and above self-driving systems.
"You need to be able to have the density to find those small objects on the road. Number two, you need to be able at the distance at those higher speeds to allow lane changing or stopping. Number three, which is I think, probably one of the things that is most difficult for non-adaptive systems, is while you're doing that, you need to also be able to follow cut-ins or wide angle or lateral entry type of activities," LaCorte said.
He said the company sees lidar as part of a vehicle's advanced driving assistance system (ADAS) capabilities, and believes that "cameras and radar aren't going away."
AEye is working with its customer Continental to bring its 4Sight automotive lidar to production. LaCorte said AEye this quarter transferred production of testing samples (B samples) to the Tier 1 supplier, which he called a significant milestone.
"This is the first time a major Tier 1 supplier has transferred into production a licensed long-range lidar technology with the intent of delivering it to their installed customer base," he said.
Continental has said that it expects its HRL131 lidar units, which use AEye's technology, to be ready for series production in 2024.
"We can't talk too much about their business, because it is their product, other than we did allude to the fact that we believe that, given the normal standards, that 2023 is is when the C (near-production) sample will will come out," LaCorte said.
Smart infrastructure market
AEye is also working with "top tier system integration partners" in the rollout of its smart infrastructure lidars. Currently, 4Sight units are being tested in applications such as automatic incident detection, smart tolling, wrong way driver detection, and smart intersections.
"The implementations have been worldwide, from intersections in California and Florida, to pedestrian and bicycle detection systems in Ireland, to highway incident detection in Virginia, and automated tolling applications across Europe," LaCorte said.
"You've already seen a lot of cameras and radar implemented in everything from stoplights to toll roads, and this system actually has tremendous value, either as an addition or replacing those systems," he said. "And most governments around the world, including the new transportation bill from the United States, are actually setting records for funding to initiate these types of activities. So I think you're gonna see in … smart cities, a significant ramp over the next two, three, four or five years."
Images
Featured image: Continental has taken over production of testing samples of its HRL131 long-range lidar at its factory in Ingolstadt, Germany. (Screen capture via AEye)
Share This: