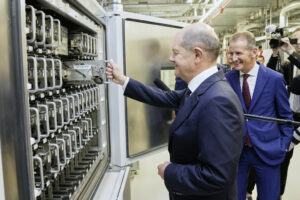 Volkswagen and Mercedes-Benz have reached agreements with Canada to secure access to tariff-friendly raw materials for battery production, Bloomberg reported on Monday.
Quoting people familiar with the situation, Bloomberg said the agreements will be signed Tuesday, during a meeting between German Chancellor Olaf Scholz and Canadian Prime Minister Justin Trudeau. The agreements cover such raw materials as nickel, cobalt and lithium, the news organization said.
The people asked not to be identified because they were discussing confidential information.
Volkswagen's agreement is intended to address supply chain issues for its U.S. factories, and to avoid any problems related to U.S. tariffs and tax regulations, one person familiar with the negotiations told Bloomberg. The action was prompted by enactment of the $430 billion climate, health and tax bill, which in part makes any EVs assembled outside North America ineligible for tax credits, the person said.
Under the Inflation Reduction Act, in order to qualify for federal tax credits of as much as $7,500, electric vehicles (EVs) will have to meet certain new content requirements. Materials will have to come from the 20 countries with which the U.S. has a free trade agreement, which excludes China, and a large percentage of battery components will have to be made or assembled in North America.
The Alliance for Automotive Innovation (AAI), a trade group that represents the manufacturers of the vast majority of vehicles sold in the U.S., has said that the law would make 70% of 72 U.S. electric, plug-in hybrid and fuel-cell EVs that currently qualify ineligible upon President Joe Biden's signing. Included in the law are price caps and rules for sourcing battery and critical minerals.
John Bozzella, CEO of AAI, called the law's purchase initiative "a missed opportunity, especially while raw material and battery supply chains are still coming into place."
Scholz on Monday began a three-day visit to Canada intended to firm up access to new energy supplies as his country moves to end its dependence on Russian oil and natural gas, various news agencies have reported.
Germany and Canada plan to work together in areas such as critical raw materials, Scholz said during a news conference with Trudeau on Monday in Montreal. "I'm very happy that among the many, many declarations which are being signed during our visit, there are also those planned by Volkswagen and Mercedes, for example, in which a closer cooperation in this area will be sealed."
A spokesperson for VW told Bloomberg that the OEM and its dedicated battery company, PowerCo, are working on ramping up their battery activities, "especially reliable and sustainable supply chains."
"This holds true for the very promising North American market as well," the spokesperson told Bloomberg by email.
Scott Keogh, CEO for Volkswagen North America, told CNBC in June that the company is actively looking for places to build at least one more battery and vehicle assembly facility in the U.S. He provided no specifics on where these facilities might be built.
Volkswagen is currently building the ID.4 crossover EV at its factory in Chattanooga, Tennessee, which opened in 2011.
Mercedes-Benz, meanwhile, opened a new battery plant in Bibb County, Alabama in March a few months ahead of the start of production of all-electric Mercedes-EQ vehicles in the U.S.
"The new U.S. battery factory underscores the importance of the United States within the Mercedes-Benz global production network and the status of Alabama as an export hub for luxury SUVs also in the electric era," the OEM said. It said it intended to produce the EQS SUV and EQE SUV in its plant in Alabama as part of a global push to produce all-electric vehicles at seven locations on three continents.
The state-of-the-art battery factory in Bibb County will provide batteries for the new EQS SUV and the EQE SUV, Mercedes-Benz said.
"The opening of our new battery plant in Alabama is a major milestone on our way to going all-electric," Ola Källenius, chairman of the Board of Management of Mercedes-Benz Group AG, said at the time. "With our comprehensive approach including a local cell sourcing and recycling strategy, we underline the importance of the U.S., where Mercedes-Benz has been successful for decades. We're proud to create new, future-proof jobs to build all-electric SUVs 'Made in the USA' at a plant that is such an established part of our production family since 25 years."
Images
Featured image: Federal Chancellor Olaf Scholz puts a test cell in the test chamber at the launch of Volkswagen's PowerCo and start of construction for the Group's first cell factory in Salzgitter, Germany. In the background is Stephan Weil, prime minister of the German state of Lower Saxony. (Provided by Volkswagen)
Share This: