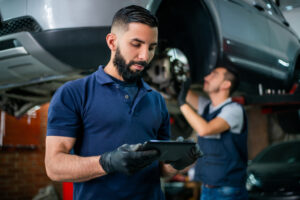 The Institute of the Motor Industry (IMI) has released a report detailing its predictions for automotive sector employment through 2031 in the UK with a grim outlook similar to that facing the U.S.
The most recent data available for which the study is based is from 2021 and was gathered from England, Scotland, Wales, and Northern Ireland.
IMI predicts the UK economy could see a shortfall of 2.6 million workers by 2030 as a result of population aging, COVID-19, and Brexit leading to reduced migration, which IMI says was "previously integral to the UK economy." Wholesale, retail and vehicle repair is predicted to be the second hardest hit sector behind manufacturing.
Overall, the number of jobs in the UK automotive retail sector is forecast to decrease by 2% to 557,484 in 2031. Sixteen percent of the demand is for vehicle technicians. Nearly 26,000 vehicle technicians, mechanics and electricians plus an additional 3,538 vehicle body builders and repairers will be needed by 2031, according to IMI.
"With a current record number of vacancies across the sector and the task to meet the new skills required to meet the green agenda it's certainly …a challenging time," IMI states in its report.
In an IMI news release about the recent findings, CEO Steve Nash said, "The industry faces its biggest skills challenge of the last two decades. We have been lobbying government, the automotive industry and the education sector for a long time to invest in addressing the shortage in qualified EV technicians, and the majority have stepped up to the challenge. But our latest report worryingly reveals that the UK's lack of EV skills are just the tip of the iceberg.
"An aging population is a significant contributor to the dilemma. Many of our older workers are set to retire over the coming years and fewer younger workers are joining the labour force. Without doubt, more needs to be done to attract young blood into the UK's automotive sector."
This is also the case in the U.S. as the automotive industry grapples with how to attract young students into automotive programs and away from other skilled trades. Part of the challenge is the misunderstanding that technicians, repairers and other automotive employees work in dingy and dirty garages whereas the opposite is actually true due to the need for clean and bright environments for ADAS calibrations, diagnostic work requiring computers, and other tasks to repair modern vehicles.
Industry experts recently told Repairer Driven News pay and benefits packages that are competitive with other industries, a positive team dynamic, mentorships, and a "fair and equitable" labor rate for shops are needed to recruit and retain automotive technicians and repairers.
IMI's research also includes a survey conducted by its Diversity Task Force called "Perception of the Automotive Sector." Its purpose was help IMI "understand career misgivings and motivators about the industry." More than 1,600 UK students and 448 youth influencers, including career professionals, participated. Only 16% said they had considered the automotive sector as a career option.
"Over and above common misconceptions about the industry, a lack of understanding about the range of roles, qualifications needed and salary expectations was a key factor," IMI said. "Influencer respondents reported that a lack of local placements meant they were unable to satisfy young people open to pursuing a career in the automotive sector."
In the U.S., TechForce's "2021 Transportation Technician Supply & Demand Report" states demand for collision, automotive, and diesel technicians is strong, with 797,530 needed through 2025 and the shortage continues to worsen.
Comparatively, in the UK by nation, England's largest need is skilled trade workers at 26% followed by sales and customer service and Administrative and Secretarial Occupations tied at 15%. Conversely, Scotland is most in need of sales and customer service workers at 22% followed by Administrative and Secretarial Occupations at 18%, and Process, Plant and Machine Operatives at 15%. The need for skilled trade workers comes in last at 8%.
Wales, like England, also has the highest need for skilled trade workers coming in at 27%, followed by Administrative and Secretarial Occupations at 19% and sales and customer service as well as managers, directors, and senior officials both at 14%. Northern Ireland's highest need is sales and customer service employees at 23% followed by managers, directors, and senior officials at 20%, and skilled trade workers at 15%.
Compared to the technician and repair occupations decreasing, the number of jobs in the UK automotive manufacturing sector is forecast to increase over the next decade from 163,758 in 2021 to 170,709 in 2031, or a net increase of 4%. "Employment replacement demand (due to retirement, migration and occupational mobility) has a requirement of 48,547 jobs. The total net requirement is 55,499, a third of all forecast employment in 2031."
The Northern regions of the UK are forecast to see a net increase in jobs with Northern Ireland as the only country predicted to see an increase in new jobs.
IMAGES
Featured image credit: Hispanolistic/iStock
Share This: