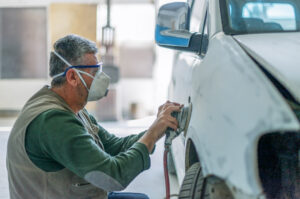 What does it take to recruit and retain automotive technicians including those specialized in collision repair? Industry experts told Repairer Driven News pay and benefits packages that are competitive with other industries, a positive team dynamic, mentorships, and a "fair and equitable" labor rate for shops.
TechForce's "2021 Transportation Technician Supply & Demand Report" states demand for collision, automotive, and diesel technicians is strong with 797,530 needed through 2025 and the shortage continues to worsen.
Ducker Carlisle Principal Eliza Johnson said while she hasn't done much research specifically on non-dealer owned and independent collision repair shop trends, the industry as a whole is suffering from decreased interest by young people, low pay considering high skillset as well as a lack of benefits and defined career paths.
"I think there's become less interest in the field overall for people at a young age and people aren't really getting funneled into the career like they used to be," Johnson said. "There's a lot of encouragement on high schoolers to go to four-year universities and much less focus on trades such as automotive."
Ducker Carlisle's research has also shown "a lack of strong workplace culture that I think leaves a lot of technicians feeling a little bit like they're run ragged, working long hours, and that they're not getting much else out of their work [through] contributing to a culture that's engaging or appreciative of them or values what they're doing and good relationship dynamics within the dealership," she said.
Johnson added that the recruiting and retention issues have to be tackled in separate pieces. To recruit, the industry as a whole and all manufacturers should "reshape" to the public what an automotive career could look like long-term and talk about how the industry is evolving through work on electric vehicles by "reinvigorating" interest at the middle school and high school levels, she said. Creating pay and benefits packages that are competitive, not with other shops, but with other industries should also be considered.
And shops struggling with retention can try building a better team dynamic to ensure a positive work culture, Johnson said. She also said it's important to provide one-on-one mentorships and to help techs establish career paths.
In a recent CNBC report, Kevin Massie, the owner and president of Napa Ford Lincoln in California, said despite in-house training and competitive pay, he's struggling to find service technicians to hire. He has also noticed younger people aren't working in skilled trades.
"We have the demand but we don't have enough supply of service staff to be able to do it whether it be service technicians or service advisors. Every dealership that I know of has similar challenges that we have. There's just not enough technicians."
J.D. Power Automotive Retail Vice President Chris Sutton told CNBC technicians that are paid based on the amount of work they complete may incentivize them to work "quickly or efficiently" but might not account for time spent on other tasks, like diagnosing the problem.
According to Carlisle's annual North American Service Benchmark, labor rates for customer-paid mechanical work are, on average, roughly $155 for premium brand dealerships and roughly $125 for non-premium brand dealerships.
"We see that labor rates have generally increased about 5% every year for the past five years or so – this past year, that is pretty consistent with overall inflation, but in years past is well above CPI [Consumer Price Index] increases. Labor rates have generally been rising fast, and faster than other prices/services," Johnson said.
While automakers' legal challenge of a Massachusetts "right-to-repair" law is "a very important issue," Alliance of Automotive Service Providers Massachusetts Executive Director Evangelos "Lucky" Papageorg told RDN "even if you're given all the information that you need in order to properly repair a vehicle, if you can't get the technicians to do the work because they're not coming into the industry, it does you no good."
"The main reason why technicians are not coming into the collision repair industry is that they are not being compensated for their knowledge and expertise," he said. "The reason they are not is the insurers are not reimbursing at a fair and equitable rate and they have been able to artificially suppress the labor rate here in Massachusetts to an average that has climbed slightly, but is around $40 an hour.
"When you compare the rate on the mechanical side of automotive repair and you see what independent dealerships' mechanical shops collect on an hourly basis from their customers, it's dramatically different. And of course, they're able to then pay their technicians better. The fact of the matter is technicians in our industry can do better in any other industry. As an example, if you can weld in our industry, you can make five times as much welding in another industry. You're just compensated better because the limitation isn't on what that industry is charging or being reimbursed."
Papageorg added that since 1990, carriers have used the Insurance Reform Act of 1988 to control the industry and "pit the collision industry against itself" through referral and, more recently, program shop contracts.
"If the rate had only kept pace with inflation since 1990, the labor rate in Massachusetts would be approximately $74, a rate which would be more equitable in this day and age and allow for better compensation to the technician working on today's technologically advanced vehicles," he said. "There are people in this industry right now that have chosen to start acting just like the medical profession and start to charge co-pays because it's the only way they can entice technicians to their particular business — to be able to pay them better."
The issue has been taken up in the state's General Assembly. HB 4868 was introduced this session "to establish a minimum reimbursement rate to insurance claimants," according to the bill text.
A video by AASP-MA in support of HB 4868 states the bill should be passed "because you can't hire, train, and retain qualified technicians without a fair and reasonable labor rate." It's also impossible to safely and properly repair today's vehicles without being able to pay for the equipment and technology that is required, according to the video.
"No plumber, electrician, or carpenter will work for $40 an hour and mechanical work on your car will cost anywhere from $100 to $200 an hour, depending on the make and model. How can the insurers possibly believe that $40 an hour is sufficient to repair today's high-tech vehicles? …The insurance industry's continued egregious intent to suppress the labor rate has crippled the collision repair industry and leaves the consumer at risk."
IMAGES
Featured image credit: Ergin Yalcin/iStock
More information
Colleges say reaching students before high school is key to future collision tech workforce
Avoiding 'catastrophic failure': CIC discussion sheds light on importance of repair research, documentation
Share This: