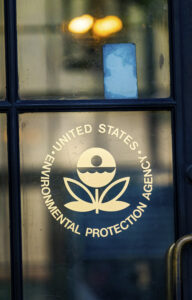 The Environmental Protection Agency (EPA) plans to finalize its revised risk determination on the chemical C.I. Pigment Violet 29 (PV29) sometime this summer, which if it moves forward as proposed, would take a "whole chemical approach" and make regulations based on the assumption that PPE isn't being worn.
EPA spokesperson Cathy Milbourn told Repairer Driven News the agency's next step after that will be to "propose a risk management rule for PV29 as part of the risk management phase of the process."
PV29 is used as a pigment in paints, coatings, and plastics – primarily in vehicles and industrial carpeting. EPA evaluated PV29 under the amended Toxic Substances Control Act (TSCA) and released its final risk evaluation in January 2021, which states PV29 poses "unreasonable risks to workers and occupational non-users from 10 conditions of use." The agency found that there is "no unreasonable risk" to consumers, bystanders, the general population, or the environment.
"The draft revised risk determination proposes to find that PV29, as a whole chemical substance, presents an unreasonable risk of injury to health when evaluated under its conditions of use," Milbourn said. "EPA is proposing to use the whole chemical risk determination approach for PV29 in part due [to] the benchmark exceedances for multiple conditions of use for human health and the irreversible health effects (specifically lung toxicity effects known as alveolar hyperplasia, or an adverse increase in the number of cells in the lungs where oxygen transfer occurs) associated with PV29 exposures."
Still, in March, EPA released its draft revised risk determination for PV29 that also states the chemical poses injury risk. Public comments were received on the draft from March 7-April 21. Fourteen comments are posted on EPA's website including opposition from the Alliance for Automotive Innovation (AAI), American Coatings Association (ACA), and CPMA.
"These risk assessment and subsequent risk determination policy changes, most notably the 'whole chemical approach,' will result in unwarranted unreasonable risk determinations for many safe uses at the assessment stage," AAI wrote. "…Auto Innovators has several concerns about this draft revision, including: (I) specific assumptions about PV29 use and handling in the automotive sector and EPA's apparent disregard for previous comments submitted about PV29 use in the automotive sector, and (II) the application of new policy approaches for risk evaluations and related consequences."
ACA stated in its comment submitted to EPA that "the new policies did not substantively change the risk evaluation."
"The new administration adopted and endorsed the Trump administration's flawed scientific reasoning when finalizing the current revised PV-29 evaluation. To comment on the whole chemical approach and assumption of no PPE, its necessary to briefly review the prior administration's findings."
CPMA commented that "the scope of EPA's new policy regarding worker protection assumptions is unclear."
"Moreover, that policy violates TSCA, which requires EPA to make risk evaluation and risk determination decisions based on the particular circumstances of each condition of use of the relevant chemical, guided by the best available science. In any event, this issue is irrelevant to the PV29 risk evaluation, as the final risk evaluation did not make any 'no unreasonable risk' determinations based on assumptions that workers used personal protective equipment."
An EPA news release from March states that the draft was developed according to EPA policy changes made in 2021 "as well as the Biden-Harris Administration's Executive Orders and other directives, including those on environmental justice, scientific integrity, and regulatory review."
The release also notes that EPA didn't conduct "new scientific analysis on this chemical and the risk evaluation continues to characterize risks associated with individual conditions of use in the risk evaluation of PV29."
"The Agency's goal is to engage with stakeholders to develop a rule for PV29 that is both practical and protective of human health," Milbourn told RDN. "EPA welcomes information regarding effective ways to address the unreasonable risk, including any exposure controls currently in place, also any information regarding essential uses, uses that have been phased out, and how possible regulations can impact the supply chain. Other information that would be useful during risk management includes safer and effective alternatives, either substitute chemicals or alternative processes. EPA will consider the information received and will propose a rule for public comment."
SCRS believes any hazards associated with exposure to PV29 should be identified at the manufacturer level. SCRS Executive Director Aaron Schulenburg wrote in a Feb. 8 letter to the EPA that there are no scientific studies that indicate there is nanoparticle exposure during the application of paint of any medium because collision repairers mix only liquids, not pigments.
The society, CPMA, and others were asked to serve as Small Entity Representatives (SERs) to the Small Business Advocacy Review Panel (SBAR Panel) for the EPA's regulatory action, "Colour Index Pigment Violet 29 (PV29), Rulemaking under TSCA Section 6(a)." The panel hasn't been asked to take any recent action.
Along with his Dec. 15 letter to the EPA, CPMA Executive Director David Wawer included a report by Ramboll US Consulting regarding the "Airborne Particle Size Characterization of C.I. Pigment Violet 29 (PV29), which he wrote shows definitively that workers and occupational non-users at DCL Corp.'s Bushy Park facility aren't exposed to PV29 particles in the ultrafine range that the EPA found to present health hazards.
IMAGES
Featured image: bpperry/iStock
Share This: