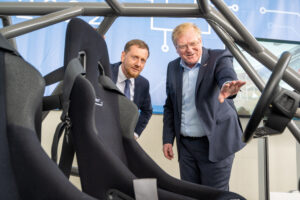 Bosch has announced that it will invest more than $3 billion in its semiconductor business between now and 2026, adding new chip production capacity as well as centers for research and testing.
Stefan Hartung, Bosch's chairman, made the announcement Wednesday during the Bosch Tech Day 2022 in Dresden, Germany.
"Microelectronics is the future and is vital to the success of all areas of Bosch business. With it, we hold a master key to tomorrow's mobility, the internet of things, and to what we at Bosch call technology that is 'Invented for life'," Hartung said.
The investment is specifically targeted at meeting Europe's growing need for microchips, in both automotive applications and the consumer goods industry.
Still, any increase in production should help address the global chip shortage, which AutoForecast Solutions LLC says caused automakers around the world to cancel more than 10 million vehicles from production schedules in 2021.
Some $400 million will go toward expanding manufacturing capacity and converting existing factory space into new clean-room space.
The investment is part of the European Chips Act, under which the German government and the European Union will provide additional funding to support "a robust ecosystem for the European microelectronics industry."
More than $170 million will be spent on the construction of two new development centers in Reutlingen and Dresden. In addition, the company will spend more than $250 million to add 3,000 square meters of clean-room space to its wafer fab in Dresden, adding to its $1 billion investment in creating the fab.
Bosch is also building a new test center for semiconductors in Penang, Malaysia. As of 2023, this center will be used to test finished semiconductor chips and sensors.
"We're gearing up for continued growth in demand for semiconductors – also for the benefit of our customers," Hartung said. "For us, these miniature components mean big business."
Research and Markets has projected that the global automotive chip market, valued at $52.53 billion in 2021, will be worth $92.21 billion in 2026, as autonomous and semiautonomous vehicles reach consumers.
The $3 billion investment will allow Bosch to pursue new areas of innovation. Among these, the company said, is "systems-on-a-chip," such as radar sensors used on automated vehicles to perform 360-degree scans of the surroundings. "Bosch will now be looking to enhance such components, making them smaller, smarter, and also cheaper to produce," the company said.
At its Reutlengen plant, Bosch has begun mass production of silicon carbide (SiC) chips used in the power electronics required for electric and hybrid vehicles. According to Bosch, these chips have helped extend operating ranges by up to 6%.
In the U.S., Congress is considering the U.S. Innovation and Competition Act — bipartisan legislation that would authorize $110 billion for basic and advanced technology research, including semiconductors, over a five-year period. A letter organized by the Semiconductor Industry Association that calls on Congress to pass the bill was signed by more than 100 CEOs.
Images
Featured image: Saxony's Minister President Michael Kretschmer, left, visits Bosch Tech Day 2022 in Dresden, Germany, and talks with Bosch CEO Stefan Hartung. (Provided by Bosch)
Share This: