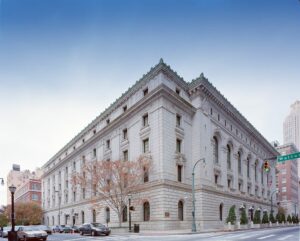 Federal appeals court considers insurer's right to recoup defense costs
By on
Insurance | Legal
A federal appeals court in Georgia is considering an insurer's contention that it has the right to recoup its costs after establishing that it has no duty to defend a policyholder against a lawsuit.
In the suit, Valley Forge Insurance (VFI) seeks to recoup the $2.7 million it spent defending its insured, pharmaceuticals manufacturer Winder Laboratories LLC, after a U.S. District Court judge agreed that Valley Forge and a sister company had no duty to defend Winder.
The issue "is of substantial importance and this Court's ruling will impact interests well beyond those of the parties here," lawyers for three insurance industry trade associations told the 11th U.S. Circuit Court of Appeals in a Sept. 7, 2021 amicus curiae, or "friend of the court," brief.
An amicus brief is a legal brief filed in an appeal by a third party who has a special interest or expertise in a case and is intended to help the court reach a conclusion by providing extra relevant information or arguments.
The appeals court heard oral arguments in the case on Aug. 11.
VFI's appeal involves two rulings by Senior U.S. District Judge Richard Story interpreting Georgia state law. Story ruled that VFI and a sister company had no duty to defend Winder or its CEO against a lawsuit by Concordia Pharmaceuticals Inc, because Concordia's complaint involved no potentially covered claims.
However, Story also ruled that VFI could not recoup any of the money it had already spent in Winder's defense. While the Concordia suit was pending, VFI had sent several letters to Winder, claiming to reserve its right to demand repayment of its costs if it were to prevail. Story ruled that the carrier could not assert that right because it was not specifically spelled out under its policy with its insured.
In his ruling, Story referenced a 2019 treatise by the American Law Institute (ALI), "Restatement of the Law of Liability Insurance." That document adopts the rule that, unless the insurance policy or other agreement explicitly allows recoupment, the insurance company has no right to recoup those defense or settlement expenses from its insured.
VFI, in a motion for oral argument on its appeal, countered that view, asserting that "the majority of state and federal courts nationwide to consider the issue have determined that the insurer is entitled to reimbursement." It is the "minority view" that "the insurer is entitled to reimbursement only if that right is explicitly set out in the insurance policy itself," VFI argues.
The issue has "split federal district courts in this state," and oral argument would help the appeals court decide the issue, VFI said.
It said that Winder is "bound by the terms of the reservation of rights letters because they assented to those terms both by continuing to accept a defense under them for years without objection and by affirmatively acknowledging that the defense was subject to the reservation of VFI's right to reimbursement."
"And there is no unfairness to the insured where the insured never had a right to those payments under the policy. It would be fundamentally unfair to allow the insured to accept the payment of defense costs under a reservation of rights and avoid repaying those costs after a court finds there was no duty to defend," VFI said.
In their friend of the court brief, the Complex Insurance Claims Litigation Association (CICLA), the American Property Casualty Insurance Association (APCIA), and the National Association of Mutual Insurance Companies (NAMIC) make three arguments: allowing recoupment of costs in such cases is "sound public policy;" there is no need for the policies to include a provision spelling out the insurers' right to recoupment of defense costs, and recoupment is supported by established doctrines and is the approach followed by the majority of courts across the country.
More information
Valley Forge v Winder amicus brief
Valley Forge v Winder appellees brief
Images
Featured image: The Elbert Parr Tuttle U.S. Court of Appeals building in Atlanta, Georgia. (Carol Highsmith/The Library of Congress)
Share This: