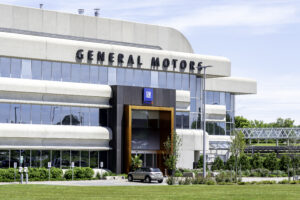 General Motors has confirmed that it is making a $1,500 OnStar Safety & Security option standard equipment on the 2023 Cadillac Escalade and most GMC and Buick vehicles.
Beginning June 1, 2022, most new Buick and GMC retail vehicles will include three years of OnStar and Connected Services Premium Plan, Stephanie Obendorfer, senior communications manager for OnStar and Infotainment at GM, told Repairer Driven News.
"The plan will eventually be included in the Manufacturer's Suggested Retail Price (MSRP) for most new retail Buick and GMC retail vehicles, as of now it remains an itemized option on the Window Label," Obendorfer said in an email. "Additionally, all retail MY23 Cadillac Escalades, including Escalade-V, in the U.S. will also include this plan as an itemized option on the Window Label."
She said the change was made "to enhance our customers' vehicle ownership experience."
"This offering provides customers with a full suite of OnStar and Connected Services for three years, providing them with more time to enjoy services such as remote key fob, built-in Wi-Fi Hotspot for up to 7 connected devices and OnStar safety services," Obendorfer said. "Including this plan on vehicles helps to provide a more seamless onboarding experience and brings customers a valuable package of OnStar and connected services features."
OnStar and Connected Services Premium Plan includes OnStar Safety & Security (including the OnStar Guardian app); Connected Vehicle Plan (including Remote Access, App Access and Unlimited Data Plan); and, the vehicle is so equipped, enabling of Google built-in compatibility. For the Cadillac Escalade, the plan also includes three years of SiriusXM.
Chevrolet is reviewing its own plans to provide OnStar and Connected Services features, but has made no announcement.
It's important for repairers to remember that as such features are added to more and more vehicles, the number of third parties that have access to customers' personally identifiable information (PII) also increases. PII includes name, phone number, address, location and maps history, and more. The Society of Collision Repairs Specialists (SCRS) Education Committee recently recommended that repairers inform customers if their vehicles are deemed total losses that their PII is stored on their vehicle and offer to clear it for them, following OEM procedures, prior to it leaving the shop.
OnStar advisors provide GM owners assistance through Automatic Crash Response, connection to emergency services providers, Roadside Assistance, Crisis Assist, Stolen Vehicle Assistance, and Turn-By-Turn Navigation, according to GM's website. GM's Connected Services, in addition to OnStar, includes the Chevrolet app for entertainment and GPS services and GM Remote Access for security and diagnostics assistance.
IMAGES
Featured image credit: JHVEPhoto/iStock
More information
Get the details on 2 solutions to protect consumer PII & shop repair data
CIC Committee Presentation: 86% of all quoted collision repair data could be available for sale
Share This: