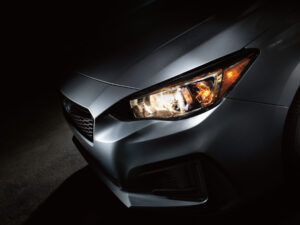 Subaru recalls 188,397 Imprezas over defective headlamps
By on
Announcements
Subaru has recalled 188,397 Impreza vehicles from the 2017-2019 model years to replace headlamps that do not meet federal safety requirements.
Included in the recall are base and Premium models equipped with halogen headlamps. Limited models with LED headlamps are not included.
Subaru said a pair of production issues led to a run of potentially defective parts. During the manufacturing process, a side reflex reflector part was caught in the mold, resulting in damage to the mold. As a result, some reflectors made after the mold damage might have diminished reflective performance.
Later, the mold used in production of the halogen low beam headlamp reflector had become worn to a point where production parts might no longer meet certain performance requirements, the OEM said.
"At certain viewing angles, the left front and right front side reflex reflectors may not properly provide reflected light, which may lower the vehicle visibility to other road users, increasing the risk of a crash," Subaru said. "Additionally, the left front halogen low beam reflector may not properly illuminate the roadway for the driver and/or may cause glare for other road users, increasing the risk of a crash."
Body shops that take in one of these vehicles for repair may want to direct their customer to a Subaru dealer who will replace the front headlamp assemblies free of charge.
Subaru estimates that 100% of the specified vehicles have defective headlamps. That includes 63,696 four-door sedans built between Oct. 19, 2016 and July 24, 2019 and 124,701 station wagons built between Sept. 6, 2016 and July 25, 2019.
The OEM said it was informed by the National Highway Traffic Safety Administration (NHTSA) in July 2019 that testing had indicated that the left front halogen headlamp assembly was not in compliance with Federal Motor Vehicle Safety Standards (FMVSS) No. 108.
Subaru's supplier then replaced a mold insert of the side reflex reflector "as a preliminary countermeasure," and increased the inspection frequency for the affected parts from once per month to once per week.
The OEM filed a Petition of Decision of Inconsequential Noncompliance for relief from notification and remedy requirements in October 2019, but that petition was denied by NHTSA on Aug. 5, 2022. Subaru then decided to proceed with a recall.
Owners and repairers can visit NHTSA.gov/recalls and enter a vehicle's VIN to check for recalls. Owners can also download NHTSA's SaferCar app for Apple or Android, which allows users to enter the vehicle, tires, car seat, or other vehicle equipment and receive notifications of any issued recalls.
Even when working as designed, the Impreza's halogen headlamps earned a marginal rating in testing by the Insurance Institute for Highway Safety (IIHS). With low beams illuminated on the straightaway, visibility was fair on the left side of the road and inadequate on the right side. On curves, visibility was inadequate in all four tests.
With high beams illuminated, visibility was good on the right side of the road and fair on the left side. On curves, visibility was fair on the gradual right curve and inadequate on the sharp right and both left curves.
With optional LED projector headlamps and optional front crash protection, the 2017-19 Impreza was rated a Top Safety Pick+ by IIHS.
Images
A 2017 Subaru Impreza 2.0i Sport. (Provided by Subaru)
Share This: