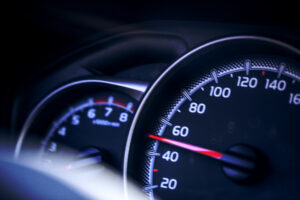 NY bill would mandate vehicle speed assistance, AEB, EDR & more beginning in 2024
By on
Legal | Technology
A bill introduced in the New York Senate earlier this month aims "to mandate certain vehicle safety technology and limit blind spots in vehicles."
Required technologies would include active Intelligent Speed Assistance (ISA); Advanced Emergency Braking (AEB); Emergency Lane Keeping Systems (ELKS); Blind Spot Information Systems (BSIS), specifically for cyclist and pedestrian detection; drowsiness and distraction recognition technology; rear-view camera sensor systems; and Event Data Recorders (EDR) in all New York-registered vehicles manufactured or assembled on or after Jan. 1, 2024.
Intelligent Speed Assistance is designed to aid speed control. For example, Ford UK says its vehicles use a front-facing camera to automatically detect the current speed limit and, if activated, the system adjusts the driver's maximum speed setting to that limit. However, it's still the driver's responsibility to make sure they're following speed limits, Ford says.
The European Transport Safety Council (ETSC) says it's been advocating for the use of ISA for years and notes that a 2014 Norwegian study found it to be the "most effective" in saving lives. The European Union agreed in 2019 to make an overridable version of ISA, along with a number of other vehicle safety measures, mandatory on new models of car sold beginning this year, according to the ETSC. Availability of ISA in U.S. vehicles is seemingly limited, according to HERE Technologies.
Vehicles weighing 3,000 pounds or more and manufactured or assembled on or after Jan. 1, 2024 would also have to meet standards set by the state's commissioner of motor vehicles to ensure drivers have "direct visibility of pedestrians, cyclists and other vulnerable road users" through the reduction of front and side blind spots.
"Traffic violence in New York City skyrocketed in 2021 to levels not seen in years," the bill states. "There were over 270 traffic-related deaths on city streets in 2021 the deadliest year of Mayor [Bill] de Blasio's term. Unfortunately, it was not an outlier. There were also record deaths in 2020, with 243 confirmed traffic fatalities. The unfortunate trends we are witnessing add up to a crisis. Each death is preventable.
"A multifaceted approach to street safety is necessary to keep our pedestrians, cyclists, motorists, and all road users safe. Vehicle technology has advanced significantly in recent years, with advanced safety features now available that have the potential to greatly reduce injuries and deaths on our roadways. We must use every tool available to us to keep New York safe. Studies have shown that Intelligent Speed Assistance (ISA) alone can reduce traffic fatalities by 20%. This in addition with Advanced Emergency Braking (AEB), Emergency Lane Keeping Systems (ELKS), drowsiness and distraction recognition technology, and rear-view cameras would help prevent crashes from occurring in the first place."
Sen. Brad Hoylman (D, WF-District 27) told Streetsblog his bill could address the "patchwork" of advanced technologies available on new vehicles. "We think that, if New York goes first, we could push the marketplace and have an effect across the country," he said.
Hoylman's staff told Streetsblog they are seeking a House sponsor for the bill and will hold hearings on it when the legislature reconvenes in January.
New York City Mayor Eric Adams and New York City Department of Citywide Administrative Services (DCAS) Commissioner Dawn M. Pinnock announced on Aug. 11 the implementation of active ISA technology in 50 city fleet vehicles as part of a new pilot program to reduce speed limits and save lives, according to a news release on the city's website. The program is the latest safety initiative of the DCAS Safe Fleet Transition Plan (SFTP) for city fleet units.
"Speeding ruins lives, so we must take action to prevent it, and New York City is leading by example by implementing new technology to reduce speeds on city fleet vehicles," Adams said, in the release. "Our streets must be livable for everyone, and this technology will ensure that speeding is impossible in city vehicles. We must ensure that everyone can share the street space safely, because traffic safety is public safety."
While such mandates are usually made at the federal level that begs the question that even if New York legislators pass the bill whether or not it can legally be implemented. The bill was referred to the Rules Committee after introduction.
IMAGES
Featured image credit: 123ducu/iStock
Share This: