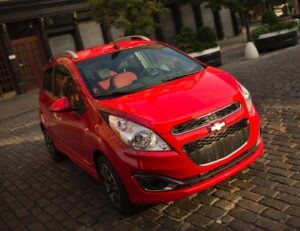 GM hood latches, Ford rearview cameras, Rivian seat belts subjects of safety recalls
By on
Announcements | Technology
General Motors, Ford, and Rivian have launched recall campaigns that affect some 400,000 vehicles, according to the OEM's filings with the National Highway Traffic Safety Administration (NHTSA).
GM announced it is recalling 120,688 Chevrolet Spark and Spark EV vehicles to replace potentially faulty secondary hood latch levers.
Because their protective coating was insufficient, the levers can prematurely corrode at the pivot. If the corrosion is severe enough, the levers can get stuck out of position, failing to properly engage, the OEM told NHTSA.
The recall affects 116,223 Sparks built between Sept. 19, 2011 and Sept. 9, 2015, and 4,465 Spark EVs built between Aug. 28, 2012 and Nov. 11, 2015, GM said.
Because hood latch assemblies may have been damaged by a secondary latch lever that was stuck out of position, dealers will replace both components at no charge.
The recall is related to an October 2014 recall over the same issue. At that time, the remedy was to replace the affected components with parts that had improved corrosion protection.
After receiving field reports of failed latches in vehicles that had received the recall remedy, GM opened a new product investigation on May 10 and later expanded that investigation to include all 2013-15 Spark and 2014-15 Spark EV vehicles in the U.S.
A review of data from warranty claims; Transportation Recall Enhancement, Accountability, and Documentation (TREAD) reports; Vehicle Owners Questionnaire (VOQ) and Vehicle Consumer Complaint (CCC) reports; and legal claims identified 276 global field reports potentially relating to the condition. Included in those reports, received between Jan. 2, 2015 and May 25, 2022, were 22 crash reports, and one report of a minor injury.
GM said it also analyzed customer-pay sales and field-part returns.
Vehicles included in the 2014 recall that have not received the recall remedy will be administratively closed under the old recall number and moved under the new recall campaign.
Dealers were notified Aug. 25. GM expects to notify owners starting Oct. 10.
Although this recall is related to a part supplier's manufacturing process, it can also serve as a reminder to repairers of the importance of following OEM procedures and using recommended materials in refinishing components.
Ford rearview cameras
Ford announced that it is recalling certain 2017-2020 F-Super Duty F-250, F-350, F-450, and 2017-2020 Lincoln Continental vehicles because an anti-reflective coating on an internal lens can degrade leading to a foggy or cloudy rearview image. The affected vehicles are equipped with the OEM's 360-degree camera system or the Ultimate Trailer Tow camera system.
The recall affects 277,040 vehicles from the 2017-20 model years, including 139,131 F-250 pickups, 109,960 F-350 pickups, and 14,850 F-450 pickups produced between Nov. 12, 2015 and March 10, 2020, as well as 13,119 Lincoln Continental vehicles produced between Nov. 30, 2015 and March 10, 2020.
A rear view camera with the suspect lens coating "can begin to exhibit a foggy or cloudy image that will progressively deteriorate over time with continued exposure to UV radiation, potentially resulting in inability to distinguish the rear view camera image," Ford said. It said it knows of no injuries that have occurred because of this defect.
Ford said the affected vehicles were not produced in VIN order, and that the best way to determine if a vehicle is included is to either call Ford's toll-free line (866-436-7332) or contact a local Ford or Lincoln dealer.
Dealers were notified Aug. 29. Vehicle owners will be notified starting Sept. 12.
The OEM said its Critical Concern Review Group (CCRG) in August 2021 began an investigation into an increase in warranty reports for diminished rear view camera image quality in certain Super Duty and Continental vehicles. The investgation identified an internal lens on the Magna Zurich Lite digital rear cameras on the subject vehicles as the problem.
Ford's weathering study showed that the camera lens coating suffered cracking "to a degree that would be expected to impact image quality." It said Magna did not conduct such a test during development of the camera.
As of July 13, 2022, Ford is aware of 7,625 Super Duty warranty reports in the U.S. potentially related to the problem, and 1,236 Lincoln Continental reports.
Rivian front seat belts
Electric vehicle (EV) startup Rivian is recalling its 2022 model year R1S and R1T vehicles, after finding that the front seat belt anchors may have been inadequately attached to the B-pillar. A total of 207 vehicles built between Jan. 28 and Aug. 8 are affected, the OEM said.
Rivian said it has determined that on certain R1T and R1S vehicles, the seat belt height adjuster bolt for the front driver and/or passenger seat may have been cross threaded during the vehicle manufacturing process. "This condition may decrease the strength of the bolt joint causing inadequate attachment of the front seat belts during loading," it said.
Owners of affected vehicles may notice a rattle from the height adjuster area on the B pillar, Rivian said, or excessive movement in the assembly when adjusting the height of the belt.
It said it is not aware of any accidents or injuries related to the flaw. It said it will "inspect and, as necessary, properly secure the seat belt assembly anchorage" free of charge. Owners will be notified beginning Oct. 14.
Images
Featured image: A 2013 Chevrolet Spark parked in New York on Aug. 20, 2012. (Chevrolet News)
Share This: