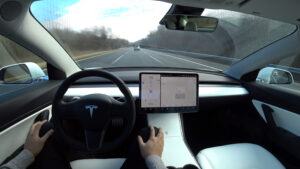 Class action lawsuit: Tesla isn't telling customers about sudden braking 'defect'
By on
Legal
A class action lawsuit has been filed against Tesla over unexpected and random braking, often called "phantom braking," in its vehicles, which is an issue the National Highway Traffic Safety Administration (NHTSA) is currently investigating.
Plaintiff Jose Alvaraz Toledo, the owner of a 2021 Tesla Model 3, filed the suit on Aug. 26 alleging that Tesla is rushing advanced driver assistance system (ADAS) features to market "when the technology is not yet ready and not yet safe."
Alvaraz Toledo contends that he bought his Tesla because of the OEM's "marketed dependability and safety" of its vehicles and wasn't told about a defect with the Autopilot and Automatic Emergency Braking (AEB) features.
"Plaintiff Alvarez Toledo has experienced the Sudden Unintended Braking Defect on several occasions since he started driving his Class Vehicle. Specifically, Plaintiff Alvarez Toledo has twice been operating his Class Vehicle under intended and foreseeable circumstances using the autopilot system, when his vehicle suddenly engaged the brakes and reduced his speed by about half."
According to the complaint, NHTSA "has fielded hundreds of individual complaints in the last three years from drivers of Tesla vehicles" over unexpected slow-downs and stops. Repairer Driven News previously reported that the investigation began after NHTSA received 758 reports of unexpected brake application in certain 2021-2022 Tesla Model 3 and Model Y vehicles.
The suit alleges that Tesla has known about the existence of the braking defect because of pre-production testing, consumer complaints, warranty data, dealership repair orders, and NHTSA investigations. Tesla, which no longer has a media relations department, did not respond to RDN's questions by the publication deadline.
The lawsuit class includes all individuals or entities in the U.S. that purchased, have leased – whether current or past, own or owned a Tesla vehicle that has experienced unintended braking. A subclass of Californians is also represented in the suit under the same qualifications as the U.S. class. The vehicles includes are primarily 2021-2022 Model 3s and Model Ys but aren't necessarily limited to those, according to the complaint.
The plaintiff claims Tesla has:
"knowingly falsely concealed, suppressed, and/or omitted" the defect in information about its vehicles;
breached its express warranty;
breached its implied warranty of merchantability;
breached its implied warranty under the Song-Beverly Act;
violated the Magnuson-Moss Warranty Act, which "provides a cause of action for any consumer who is damaged by the failure of a warrantor to comply with a written or implied warranty;"
violated California's Consumer Legal Remedies Act by  stating the vehicles "had characteristics and benefits that they do not have, represented that the Class Vehicles were of a particular standard, quality, or grade when they were of another, and advertised the Class Vehicles with the intent not to sell them as advertised;"
violated California's unfair competition law; and
has unjustly profited from the sale and lease of its vehicles.
The warranty breaches detailed in the suit are a result of Tesla allegedly refusing to repair or replace its vehicles with the defect "despite the fact that the Class Vehicles are under a comprehensive warranty… Defendant promised to repair or replace defective components arising out of defects in materials and/or workmanship, such as the Defect, at no cost to owners or lessors of the Class Vehicles."
"As a direct result of Tesla's wrongful conduct, Plaintiff and the other members of the Class have suffered damages, including, inter alia: (1) out-of-pocket expenses for repair of the Defect; (2) costs for future repairs or replacements; (3) sale of their vehicles at a loss; (4) diminished value of their vehicles; and/or (5) the price premium attributable to the Autopilot feature."
Tesla states on its website that, "Autopilot enables your car to steer, accelerate and brake automatically within its lane. Current Autopilot features require active driver supervision and do not make the vehicle autonomous."
However, the suit alleges that the defect "causes the Class Vehicles to detect non-existent obstacles, triggering a braking response and causing the Class Vehicles to abruptly decelerate or stop completely, despite no need for this action."
"The Defect presents a safety hazard that distracts the Class members and renders the Class Vehicles unreasonably dangerous to consumers because it severely impacts a driver's ability to control vehicle speed as expected under normal driving conditions and maintain an appropriate speed based on traffic flow, thereby increasing the risk of a rear-end collision."
It's also noted in the complaint that Tesla's owner's manuals hint at the risk of false activations of AEB but only in small text. "Several factors can affect the performance of Automatic Emergency Braking, causing either no braking or inappropriate or untimely braking, such as when a vehicle is partially in the path of travel or there is road debris," a Model Y manual states. "It is the driver's responsibility to drive safely and remain in control of the vehicle at all times. Never depend on Automatic Emergency Braking to avoid or reduce the impact of a collision." 
In May 2021, Tesla chief executive Elon Musk said planned modifications to the automated driving system would address "phantom braking," which some Tesla drivers have long complained about, according to Reuters.
In NHTSA's initial round of data and reports collected through its 2021 Standing General Order (SGO), 273 crashes involved a Tesla out of the 392  Level 2 ADAS-equipped vehicles that were involved in reported crashes.
The complaint states that after the death of a Tesla driver in 2016, which was reportedly the result of neither he nor Autopilot detecting a truck crossing the highway ahead of him, the automaker posted on its blog that the "accident" was a "statistical inevitability."
Tesla stated that at the time of the accident and when it reported the death to NHTSA, "That given its nature as a driver assistance system, a collision on Autopilot was a statistical inevitability, though by this point, not one that would alter the conclusion already borne out over millions of miles that the system provided a net safety benefit to society."
A jury trial is demanded. The suit also seeks an order awarding statutory, compensatory, treble, and punitive damages; injunctive relief enjoining the "illegal acts" and allegations made, an order of restitution, and all other forms of equitable monetary relief.
Tesla has also been accused of falsely advertising its Autopilot and Full Self-Driving advanced driver assistance system (ADAS) features in California, which led to the passage of legislation in the state on Tuesday to "prohibit a manufacturer or dealer from deceptively naming or marketing" ADAS features including collision avoidance systems or partial driving automation feature. If signed by Gov. Gavin Newsom, the new law would also require dealers or manufacturers "to provide the buyer or owner with a consumer notice that describes the functions and limitations of those features."
IMAGES
Featured image: Jan. 15, 2022: Close-up of a white Tesla Model 3 driving down a road on autopilot. (Credit: Aranga87/iStock)
Share This: