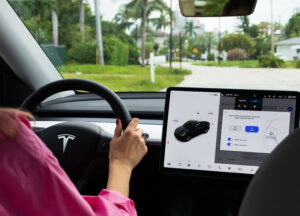 NHTSA upgrades Tesla Autopilot investigation, closes GM steering probe without recalls
By on
Announcements
The National Highway Traffic Safety Administration (NHTSA) has upgraded its investigation of Tesla's Autopilot feature and closed an investigation of sticky power steering in some General Motors SUVs.
NHTSA opened a preliminary evaluation of the Tesla issue on Aug. 13, 2021, which was "motivated by an accumulation of crashes in which Tesla vehicles, operating with Autopilot engaged, struck stationary in-road or roadside first responder vehicles tending to pre-existing collision scenes."
The Associated Press and several other news outlets reported in May that NHTSA is investigating a Tesla crash that killed three in California for possibly involving a partially automated driving system.
NHTSA said the Autopilot evaluation – now upgraded to an engineering analysis – would "assess the technologies and methods used to monitor, assist, and enforce the driver's engagement with the dynamic driving task during Autopilot operation."
The upgrade means the administration will "extend the existing crash analysis, evaluate additional data sets, perform vehicle evaluations, and to explore the degree to which Autopilot and associated Tesla systems may exacerbate human factors or behavioral safety risks by undermining the effectiveness of the driver's supervision."
Information obtained from Tesla and 12 other unnamed OEMs since Aug. 31 shows "a significant number of complaints and crashes involving vehicles equipped with systems designated as Level 2," according to NHTSA. Level 2 automation is defined by the Society of Automotive Engineers (SAE) as requiring constant supervision to steer, brake, or accelerate when necessary. Tesla characterizes Autopilot as being "designed to support and assist the driver in performing the driving task," NHTSA says.
An estimated 830,000 Teslas are affected including 2018-2021 Model 3s, 2014-2021 Model Ss, 2015-2021 Model Xs, and 2020-2021 Model Ys. 
As of June 8, when the evaluation was upgraded, there had been 14 reported crashes/fires, seven incidents that caused 15 injuries, and one fatality that involved a fatality. NHTSA found that in the majority of the 16 first responder and road maintenance vehicle crashes it determined were related to advanced driver assistance system (ADAS) malfunction, Forward Collision Warnings (FCW) was activated immediately before impact and that subsequent Automatic Emergency Braking (AEB) intervened in about half of the collisions.
"On average in these crashes, Autopilot aborted vehicle control less than one second prior to the first impact," NHTSA said. "All subject crashes occurred on controlled-access highways. Where incident video was available, the approach to the first responder scene would have been visible to the driver an average of 8 seconds leading up to impact. Additional forensic data available for eleven of the collisions indicated that no drivers took evasive action between 2-5 seconds prior to impact, and the vehicle reported all had their hands on the
steering wheel leading up to the impact.
"However, most drivers appeared to comply with the subject vehicle driver engagement system as evidenced by the hands-on wheel detection and nine of eleven vehicles exhibiting no driver engagement visual or chime alerts until the last minute preceding the collision (four of these exhibited no visual or chime alerts at all during the final Autopilot use cycle)."
During the preliminary evaluation, NHTSA reviewed 106 Tesla crashes not limited to first responder scenes and found that the primary cause appeared to be related to "the operation of the system in an environment in which, according to the Tesla owner's manual, system limitations may exist, or conditions may interfere with the proper operation of Autopilot components."
In half of the crashes NHTSA found that drivers were "insufficiently responsive" by not intervening or "intervening through ineffectual control inputs."
"A driver's use or misuse of vehicle components, or operation of a vehicle in an unintended manner does not necessarily preclude a system defect," NHTSA said. "This is particularly the case if the driver behavior in question is foreseeable in light of the system's design or operation. For systems labeled as SAE Level 2 ADAS, important design considerations include the ways in which a driver may interact with the system or the foreseeable ranges of driver behavior, whether intended or unintended, while such a system is in operation."
Reuters reports that the National Transportation Safety Board criticized Tesla's "ineffective monitoring of driver engagement" in 2020 following a 2018 fatality that involved Autopilot. The board also said NHTSA had provided "scant oversight," according to Reuters.
GM investigation closed
NHTSA began investigating "instances of a momentary increase in steering effort" on June 1, 2020 after 2010-2012 Chevrolet Equinox SUVs and GMC Terrains were driven in a straight line at a sustained high speed for 30 minutes or longer. It was discovered that the problem was caused by an issue with the steering gear.
"The steering gear contains a servo unit that includes a worm gear with a worm and a worm wheel. General Motors (GM) stated that the primary root cause of the increased steering effort is the supplier's inconsistent application of grease in the interface between the worm and the worm wheel. The grease may have been applied in a location on the worm wheel that didn't interface with the worm, depriving the worm gear of proper lubrication."
Because GM provided "special coverage" to replace the steering gear the power steering issue in 2014 for the SUVs and reprogramming of the steering gear control module for its 2011-2014 Chevrolet Cruze and Volt, 2012-2014 Buick Verano, and 2013-2014 Chevrolet Malibu, a recall hasn't been issued.
"Considering the low complaint and warranty rates of steering rack replacement as well as the field exposure time for the subject vehicles, the potential safety consequences of this issue are very low," NHTSA said. "To date, there have been no reported crashes, injuries, or fatalities related to this issue. ODI [Office of Defects Investigations] has not identified a safety defect or defect-related failure trend in the subject vehicles. In view of the Special Coverage, low rate of failure, and low potential hazard to drivers, this Preliminary Evaluation is closed. The agency reserves the right to take additional action if warranted by new circumstances."
More than 617,100 Equinox and Terrain SUVs were found to be affected by the steering issue but only 591 complaints have been filed and 14,429 GM warranty claims have been made, according to the NHTSA.
IMAGES
Featured image: Tesla Model Y interior (Credit: Alexander Lyakhovskiy/iStock)
Share This: