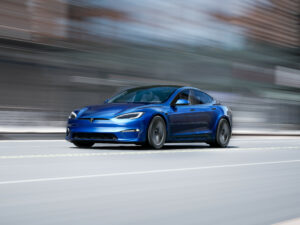 Tesla's Autopilot feature under scrutiny by NHTSA in fatal California crash investigation
By on
Announcements
The Associated Press and several other news outlets have reported the National Highway Traffic Safety Administration (NHTSA) is investigating a Tesla crash that killed three in California.
NHTSA didn't respond to Repairer Driven News' request for investigation documents by the publication deadline.
The investigation centers on whether the 2022 Tesla Model S was operating on a partially automated driving system on May 12 when it crashed into a curb and hit construction equipment on the Pacific Coast Highway in Newport Beach. Police found two men and one woman dead inside the totaled car and three construction workers were injured, according to The Orange County Register.
The investigation is part of a larger inquiry by the agency into crashes that involved advanced driver assistance systems (ADAS), including Tesla's Autopilot, according to the AP. Since 2016, the agency has sent teams to 34 crashes during which ADAS was either in use or suspected of operating, 28 of which involved Tesla.
Reuters reports that 35 investigations are ongoing into Tesla vehicle crashes possibly involving ADAS, and of those, Autopilot use has been ruled out in three.
NHTSA told Reuters on Wednesday that it opened another special crash investigation in April involving a 2016 Tesla Model X collision in Florida that caused a minor injury, which may have involved the use of an ADAS.
NHTSA requires that OEMs report to them crashes involving automated driving systems (ADS) and Level 2 ADAS.
NHTSA documents released to the AP show that 15 people died in the crashes that the administration is investigating, 14 involving Teslas, and at least 15 more were hurt, according to the AP.
In February, Tesla recalled 53,822 vehicles equipped with a test version of its Full-Self Driving software that can allow the vehicle to roll through four-way stop signs.
NHTSA has investigations underway into Teslas on Autopilot crashing into emergency vehicles parked along roadways and is investigating Autopilot braking for no apparent reason, according to the AP.
On its website, Tesla states that Autopilot doesn't make its vehicles autonomous. "Autopilot enables your car to steer, accelerate and brake automatically within its lane. Current Autopilot features require active driver supervision and do not make the vehicle autonomous."
Tesla also warns that Full-Self Driving software still requires driver attention. "The future use of these features without supervision is dependent on achieving reliability far in excess of human drivers as demonstrated by billions of miles of experience, as well as regulatory approval, which may take longer in some jurisdictions. As these self-driving capabilities are introduced, your car will be continuously upgraded through over-the-air software updates."
The Orange County Register also reports that a judge ruled Thursday a trial can proceed against a Tesla Model S driver in a 2019 crash that left two people dead in Gardena. Prosecutors said the Tesla's Autosteer and Traffic Aware Cruise Control were active when it blew through a red light and struck the Honda, according to the publication.
IMAGES
Featured image: Tesla Model S (Photo provided by Tesla)
Share This: