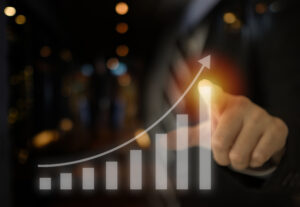 Insurance industry moves up to No. 4 in new business application growth; Digital processes becomes 'huge trend'
By on
Insurance
Swyft Filings' recently released "2021 State of Swyft Industry Report" found digital transformation to be a "huge trend" in several industries last year, including insurance, which saw a 24.37% increase in new business applications submitted year over year, moving it from No. 18 in 2020 to No. 4 in growth rank.
"As domestic travel and life outside of the home came to a halt at the start of the pandemic, a greater reliance on e-commerce, automated services, and fast delivery certainly affected growth trends in 2021 and will continue to remain relevant well into the future," the report states.
Swyft Filings CEO Alan Godfrey wrote in an article published by PropertyCasulty360 that tech trends included applied artificial intelligence (AI), cloud storage, trust architecture, and automation.
"While each of these trends is powerful in its own right, their combined use can result in an insurance company experiencing enhanced production, operations and customer service," Godfrey wrote. "New insurance companies have an advantage over established businesses. They can set up shop with these powerful forces from the inception, making the insurance industry even more enticing to newcomers. When running marketing analyses and feasibility studies, potential business owners can factor in the many powerful digital tools at their disposal for opening a successful business. AI is one area that insurance companies are exploring more frequently and successfully."
Swyft's report found that pandemic-related global supply chain shortages and ongoing labor shortages also affected industries and business filing growth in 2021.
"In 2021, businesses had to — and will need to continue to — place investments in technology and adapt to rapidly changing worldviews to stay competitive within their respective industries," Swyft said.
Within its report, Swyft cites a July 2021 midyear insurance outlook survey conducted by Deloitte that attributes a lot of the industry's overall growth during the year to insurance carriers "reaping the exponential benefits of the technological investments and operational efficiencies they were forced to make to adapt to the pandemic in 2020."
Of the 100 insurance chief financial officers and senior finance executives Deloitte surveyed, 69% said they had moved beyond "the respond and recover phase" and were starting to pivot or had already shifted to "thrive mode by adopting a proactive, growth-focused approach."
"Insurers should be capitalizing on the innovations and operational flexibility adopted during the pandemic to accelerate their transformation to a more agile, customer-centric business while aspiring to a 'higher bottom line' that addresses emerging environmental, social, and governance (ESG) expectations among stakeholders," Deloitte wrote.
Swyft also notes Deloitte's stance by stating that there must be a balance moving forward "between automation and maintaining a human touch with consumers will be among insurance businesses' top priorities."
"Because insurance providers had to become more agile in the wake of COVID-19, they had operations in place in 2021 that allowed them to be more flexible, efficient, and customer-centric," Swyft's report states. "And this growth likely opened the door for new business formation opportunities throughout the year."
Godfrey wrote in his article that "robust analytics designed to enhance current operations and inform future decisions… gave potential business owners even more incentive to enter the insurance field."
While profits made by auto insurance carriers were already booming at the time of the survey and continue to, 52% of respondents to Deloitte's survey said they had cut discretionary spending, often in areas such as talent, and 6% canceled or postponed long-term technology projects while 96% were accelerating digital transformation initiatives.
"Riding what was once the future wave that became the present, insurance companies began focusing heavily on enhancing efficiency and improving customer experience," Swyft notes in its report. "These initiatives show no signs of slowing down."
Deloitte found the top two actions prioritized by respondents to support financial and operational stability through the implementation of new technology over the next 6-12 months were by enhancing efficiency (70%) and improving customer experience (68%).
IMAGES
Featured image credit: utah778/iStock
More information
Consumer group criticizes auto insurers over 'massive' salaries paid to top executives
Berkshire chairman notes Progressive ahead of GEICO with telematics; GEICO sees Q1 underwriting loss
Share This: