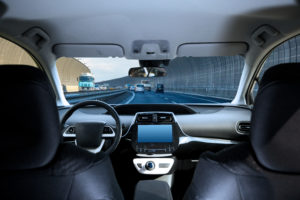 NHTSA comment period open on AV crash data collection order; Push & pull centers on motorist safety, use of data
By on
Collision Repair | Legal | Technology
While the National Highway Traffic Safety Administration (NHTSA) cites its Standing General Order (SGO) on autonomous vehicle (AV) crash data reporting as a way to timely notify the public of potential safety defects AV industry lobbyists are concerned about misinterpretation by the public and proprietary information being released.
A public comment period is open until Jan. 28 on NHTSA's request for an extension of its June 2021 emergency approval to collect incident reports for certain crashes involving automated driving systems (ADS) and Level 2 advanced driver assistance systems (ADAS). Reports involving vehicles with the more advanced SAE Levels 3-5 of vehicle autonomy must have been engaged during or less than 30 seconds prior to the collision.
The policy's inclusion of mass-market ADAS means collision repairers could see increased scrutiny of their work by automakers and regulators.
"Given the rapid evolution of these technologies and testing of new technologies and features on publicly accessible roads, it is critical for NHTSA to exercise its robust oversight over potential safety defects," the order states.
It specifically addresses Automated Driving Systems (ADS) and Level 2, or partial automation, advanced driver assistance systems (ADAS).
The order says ADS "present new and unique risks" to motor vehicle safety because of their altered operation and lists potential hazards from the design and performance of sensors, software algorithms and operational design.
NHTSA told RDN in June that there aren't requirements for the how OEMs are made aware of a reportable crash. "However, once they are aware, for example, through remote data collection (telemetry), vehicle data measurements, a dealership, news media, customer contact, etc., they have specific timeliness and information requirements to report."
Ariel Wolf, general counsel for Self-Driving Coalition for Safer Streets, wrote in a Nov. 29, 2021 letter to NHTSA Chief Counsel Ann E. Carlson that the coalition agrees with NHTSA's access to information that will "allow it to achieve its statutory mandate of reducing 'traffic accidents and deaths and injuries resulting from traffic accidents.'"
The coalition works with legislators, regulators and the public to "realize the safety and societal benefits of AVs," according to its website.
"However, the Coalition has significant concerns that the reporting process established by the SGO may generate flawed data of questionable utility to the agency while placing a heavy reporting burden on AV developers that could unintentionally impede deployment of safety-enhancing ADS technology."
The Alliance for Automotive Innovation takes the stance that "advances in automation help vehicles to detect and respond to the surrounding environment, providing new opportunities for safety and mobility." In April 2021, President and CEO John Bozzella told the U.S. Senate's Committee on Commerce, Science and Transportation as well as the Subcommittee on Surface Transportation, Maritime, Freight and Ports that the technologies should be developed on a national level to reduce uncertainty, as outlined in the alliance's "Policy Roadmap to Advance Automated Vehicle Innovation."
"The Roadmap outlines the auto industry's AV policy priorities and includes fourteen specific recommendations that can be implemented by federal policymakers over the next four years to facilitate the testing and deployment of AVs at scale," Bozzella said. "These recommendations are focused on reforming regulations, harmonizing policies, and laying the foundation to achieve longer-term objectives – including expanding the number of exemptions that DOT [Department of Transportation] can provide on a case case-by by-case basis – with safety oversight and full enforcement powers, which can then provide the data necessary to support future Federal Motor Vehicle Safety Standards for AVs."
Auto Techcelerators founder and CEO Frank Terlep said there are two types of data in all vehicles – whether AV or not – black box and telematics. Obtaining black box data for non-AVs, which likely is the case for AVs, requires certification and approval, he said. Telematics data is shared between manufacturers, third parties and insurance companies. Terlep's guess for why AV manufacturers wouldn't want to share their crash data is over fear of resulting legal issues.
"An AV, at least in my lifetime, will probably be owned by the manufacturer or the fleet and won't be owned by a consumer," he said. "So then the question becomes why wouldn't the fleet want to share that with NHTSA?"
Terlep said NHTSA may over time ease up on data collection but, at least for now, that won't be the case because there are too many unknowns and new technologies to learn about.
IMAGES
Featured image: metamorworks/iStock
Share This: