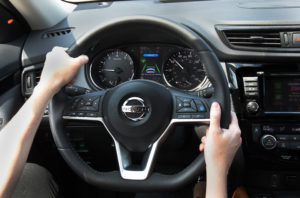 The National Highway Traffic Safety Administration on Tuesday ordered automakers to report all "Level 2" advanced driver assistance system crashes to the agency.
The policy's inclusion of mass-market ADAS means collision repairers could see increased scrutiny of their work by automakers and regulators.
The Society of Automotive Engineers defines Level 2 partial automation as a vehicle able to control itself longitudinally and laterally but still completely supervised by the human driver. NTHSA also Tuesday ordered OEMs to report crashes involving vehicles with the more advanced SAE Levels 3-5 of vehicle autonomy. However, the ADAS or autonomous system must have actually been engaged during or less than 30 seconds prior to the collision.
"NHTSA's core mission is safety. By mandating crash reporting, the agency will have access to critical data that will help quickly identify safety issues that could emerge in these automated systems," NHTSA acting Administrator Steven Cliff said in a statement Tuesday. "In fact, gathering data will help instill public confidence that the federal government is closely overseeing the safety of automated vehicles."
Level 2 active driving assist systems are on all kinds of vehicles today. Tesla's Autopilot is perhaps the most famous example, but multiple other OEMs already offer similar technology or plan to do so on their fleets. Some — such as GM's Super Cruise — even permit the driver to take their hands off the wheel.
Even though the driver still retains full responsibility for a Level 2 vehicle's operation, the feds said they still want to hear when that ADAS gets into a crash.
"Within one day of learning of a crash, companies must report crashes involving a Level 2 ADAS or Levels 3-5 ADS-equipped vehicle that also involve a hospital-treated injury, a fatality, a vehicle tow-away, an air bag deployment, or a vulnerable road user such as a pedestrian or bicyclist," NHTSA wrote in a news release Tuesday. "An updated report is due 10 days after learning of the crash.
"… Every month, companies must report all other crashes involving an ADS-equipped vehicle that involve an injury or property damage."
Thus, if your body shop fixed a vehicle with Level 2 ADAS and it's in another crash, it's possible the car would make NHTSA's database.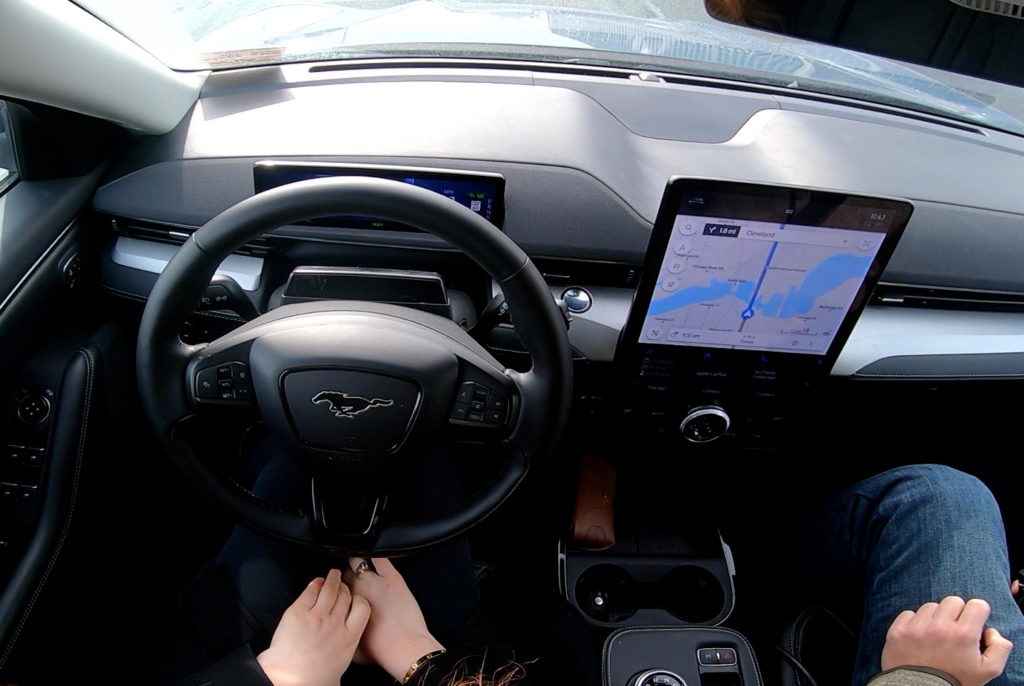 "These data will help the agency identify potential safety issues and impacts resulting from the operation of advanced technologies on public roads and increase transparency," NHTSA wrote. "Access to ADS data may show whether there are common patterns in driverless vehicle crashes or systematic problems in operation. …
"NHTSA's oversight is not limited to the specified crashes discussed in the order or the information submitted under its reporting obligations. NHTSA's review and analysis will include all information and incidents relevant to any potential safety defects. Additionally, NHTSA may take further actions on any individual crash, including sending a Special Crash Investigations team and requiring the company to provide additional information. NHTSA may also open defect investigations, as warranted."
NHTSA is keeping the definition of an OEM hearing about a crash pretty loose, but the requirement that the alleged crash must be prefaced by or involve a Level 2-5 system in use would seem to limit the potential workload for the automaker.
"Notice" is defined more broadly than in 49 C.F.R. § 579.4 and means information you have received from any internal or external source and in any form (whether electronic, written, verbal, or otherwise) about an incident that occurred or is alleged to have occurred; including, but not limited to vehicle reports, test reports, crash reports, media reports, consumer or customer reports, claims, demands, and lawsuits," NHTSA's standing general order states. "A manufacturer or operator has notice of a crash or a specified reporting criterion (i.e., a resulting hospital-treated injury, fatality, vehicle tow-away, air bag deployment, or the involvement of a vulnerable road user) when it has notice of facts or alleged facts sufficient to meet the definition of a crash or a specified reporting criterion, regardless of whether the manufacturer has verified those facts."
It's unclear whether existing OEM connected crash detection systems can actually convey the operational status of the ADAS or autonomous system. That would certainly seem to be a way for an automaker to cut right to the chase and know precisely which crashes are reportable and which it can ignore.
We asked NHTSA if it was requiring automakers to take more active steps to hear about crash, such as soliciting crash stories from customers or configuring crash detection to capture reportable scenarios. The agency said no.
"We have no requirements for the means by which a manufacturer is made aware of a reportable crash.  However, once they are aware, for example, through remote data collection (telemetry),  vehicle data measurements, a dealership, news media, customer contact, etc, they have specific timeliness and information requirements to report."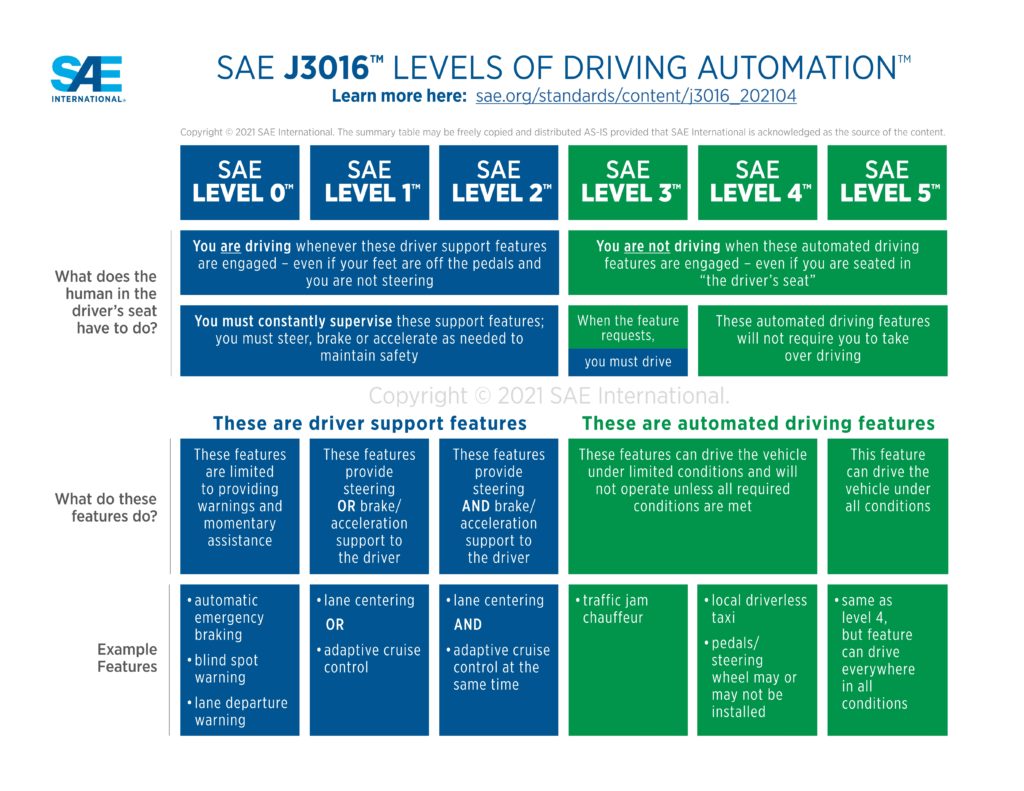 As noted above, SAE Level 2 tech is fairly widespread today or will be soon. But SAE Level 3 "ADS" capability is also likely to soon reach mass-market vehicles repairers might be called upon to fix. The technology allows the human to actually cease paying attention for a while, but they must be ready to take over when the vehicle can't handle a situation. Unlike Level 2 autonomy, the motorist would be allowed to stop watching the road, but they probably couldn't take a nap, get intoxicated or leave the driver's seat.
One likely near-term Level 3 use case will be a vehicle able to drive itself on an Interstate but which hands control back to the driver — or refuses to activate in the first place — if it's time to take the off-ramp or external conditions get too much for the car to handle. Volvo, for example, is going to start sticking lidar on vehicles in 2022 with plans to offer a "Highway Pilot" feature soon.
"Soon, your Volvo will be able to drive autonomously on highways when the car determines it is safe to do so," Volvo Chief Technology Officer Henrik Green said in a statement last year. "At that point, your Volvo takes responsibility for the driving and you can relax, take your eyes off the road and your hands off the wheel. Over time, updates over the air will expand the areas in which the car can drive itself. For us, a safe introduction of autonomy is a gradual introduction."
Japan has approved Honda's Level 3 Honda Sensing Elite system, which Honda says would permit a Honda Legend EX hybrid to deal with bumper-to-bumper expressway traffic while the driver watches a video. Legends with that capability became available for limited leasing in March.
More information:
"NHTSA Orders Crash Reporting for Vehicles Equipped with Advanced Driver Assistance Systems and Automated Driving Systems"
National Highway Traffic Safety Administration, June 29, 2021
Official NHTSA Standing General Order 2021-01
NHTSA, June 29, 2021
"Standing General Order on Crash Reporting for Levels of Driving Automation 2-5" Q&A
"SAE International and ISO Collaborate to Update and Refine Industry-Recognized SAE Levels of Driving Automation"
SAE, May 3, 2021
SAE J-3106 autonomy Levels 0-5 infographic
SAE, May 3, 2021
SAE J-3106 autonomy Levels 0-5 official standard
SAE, April 30, 2021
Images:
Nissan's ProPILOT Assist Level 2 ADAS system is shown in this 2017 image. (Provided by Nissan)
Ford's hands-off, eyes-on Level 2 ADAS system BlueCruise is shown. (Provided by Ford)
The Society of Automotive Engineers in May 2021 released this updated chart of its J-3016 standard defining autonomy Levels 0-5. (Provided by Society of Automotive Engineers)
Share This: