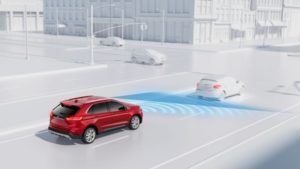 A Ford and State Farm yearlong study of advanced driver assistance system build data appears to provide further confirmation that such technology can lower the risk for insurers — and therefore the business coming to body shops.
Drilling down to build data revealed that some Ford, Lincoln and Mercury vehicles dating back to 2010 had good enough technology that their owners deserved a discount, based upon a Ford news release and a similar one issued by State Farm. Ford said State Farm had reciprocated for the build data by sharing claims data related to vehicle features.
"We're finding solutions for the future by grounding everything in data, research and insights," State Farm operations Vice President Craig Isaacs said in a statement. "What's unique about this project is we're not just looking at the make and model of a vehicle, but ultimately to the individual safety features on each vehicle."
Ford said the study results "lowered the overall cost of vehicle ownership for many of the companies' shared customers." It said State Farm adjusted premiums accordingly in the first half of the year, "with savings of up to 20%."
"Our new build data API piloted with State Farm is another way we're using data to help our customers get the most out of their Ford, at a lower total cost of ownership," Ford digital insurance manager Tim Meek said in a statement. "What's more, State Farm can access build data back to 2010, which means second and third owners also benefit."
Ford's news release said State Farm could use build data to study links to frequency and severity. The severity question is particularly interesting in that conventional wisdom holds that ADAS lowers frequency raises severity by adding more parts to buy and new operations to restore the tech. But research from CCC and Honda also has found the potential for ADAS to lower severity by mitigating the crashes which do happen.
Ford didn't respond to an inquiry seeking more details about the correlation between build data and risk reduction and what the research showed regarding severity specifically.
Reached with similar questions, State Farm said it had nothing more to share — "it's all in the press release," a spokeswoman wrote.
There's a couple of lessons here for body shops.
First, it's not just new vehicles which have ADAS — Ford models dating back to 2010 might also have carried it, based on the news release.
Second, the technology is capable of reducing frequency and/or severity to a degree that State Farm's actuaries are comfortable betting on it. This is potentially bad news in terms of shops' future Ford-related collision revenue.
There is one silver lining here: Shops and the nation's No. 1 insurer should experience less friction regarding the repair bills which do arise with Ford vehicles. State Farm adjusters certainly ought to be receptive to OEM procedures necessary for restoring tech now officially factored into their employer's risk.
More information:
"STATE FARM®, FORD COME TOGETHER TO IMPROVE THE SAFETY AND OVERALL COST OF VEHICLE OWNERSHIP"
Ford, June 29, 2021
"State Farm®, Ford Come Together to Improve Safety and Overall Cost of Vehicle Ownership"
State Farm, June 29, 2021
Featured image: An unspecified piece of advanced driver assistance system technology on a Ford Edge is visualized. (Provided by Ford)
Share This: