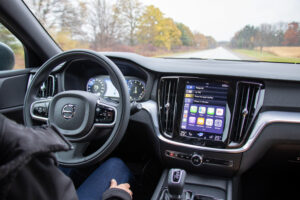 NHTSA's initial data on ADAS crashes not definitive of systems' safety
By on
Technology
The National Highway Traffic Safety Administration (NHTSA)'s initial round of data and reports collected through its Standing General Order (SGO) issued last year found that Level 2 (L2) advanced driver assistance systems (ADAS)-equipped vehicles were involved in 392 crashes and vehicles with Levels 3-5 automated driving systems (ADS) were involved in 130 crashes.
However, there may have not actually been that many crashes since the same crash may have been reported more than once. "For example, the vehicle manufacturer and the Level 2 ADAS equipment supplier may both be named in the General Order," NHTSA states in the Level 2 ADAS summary report. "This means that a single crash may have multiple reports from multiple entities. Consequently, the overall number of reports submitted does not equate to the total number of incidents and is not a meaningful safety metric."
The same can also be the case for SAE Levels 3-5 ADAS data. Level 2 crash data was collected between July 20 and May 15. Levels 3-5 data was collected between July 13 and May 15. All data collected may also be incomplete or unverified but NHTSA notes that prior to its 2021 SGO, sources of timely crash notifications were limited to those discovered through media reports, vehicle owner questionnaire input, voluntary direct company outreach, and early warning reporting that were "generally inconsistent across manufacturers, including developers."
It's also important to note that the reported crashes are "categorized based on what driving automation system was reported as being equipped on the vehicle, not on what system was reported to be engaged at the time of the incident." NHTSA noted the data is "the first of its kind." Data could also be skewed by some OEMs having the ability to provide NHTSA with "robust data more quickly" because their vehicles have telematics capabilities, according to the reports.
L2 ADAS are increasingly common features on many new vehicles and include lane centering assistance and adaptive cruise control. Drivers have to remain engaged and alert at all times when using the systems because they aren't designed or able to perform "critical operating components of the driving task," according to NHTSA. The Society of Automotive Engineers (SAE) defines Level 2 as requiring constant supervision to steer, brake, or accelerate when necessary.
ADS-equipped vehicles, which are able to perform the complete driving task in limited circumstances, are not currently sold to consumers. They are in limited use on public roads around the country for testing various mobility types, including ride-hailing, shuttle services, and delivering goods. SAE defines Level 3 automation as requiring the driver to take over when asked. Levels 4 and 5 will not require the person seated in the driver's seat to take over.
Crashes involving a Level 2 ADAS-equipped vehicle are reportable if the ADAS was in use at any time within 30 seconds of the crash, if the crash involved a vulnerable road user, or resulted in a fatality, a vehicle tow-away, an air bag deployment, or a person being transported to a hospital for medical treatment. Levels 3-5 crashes are reportable if ADAS was in use at any time within 30 seconds of the crash and the crash resulted in property damage or injury.
Now that initial data has been released, NHTSA will release data updates monthly.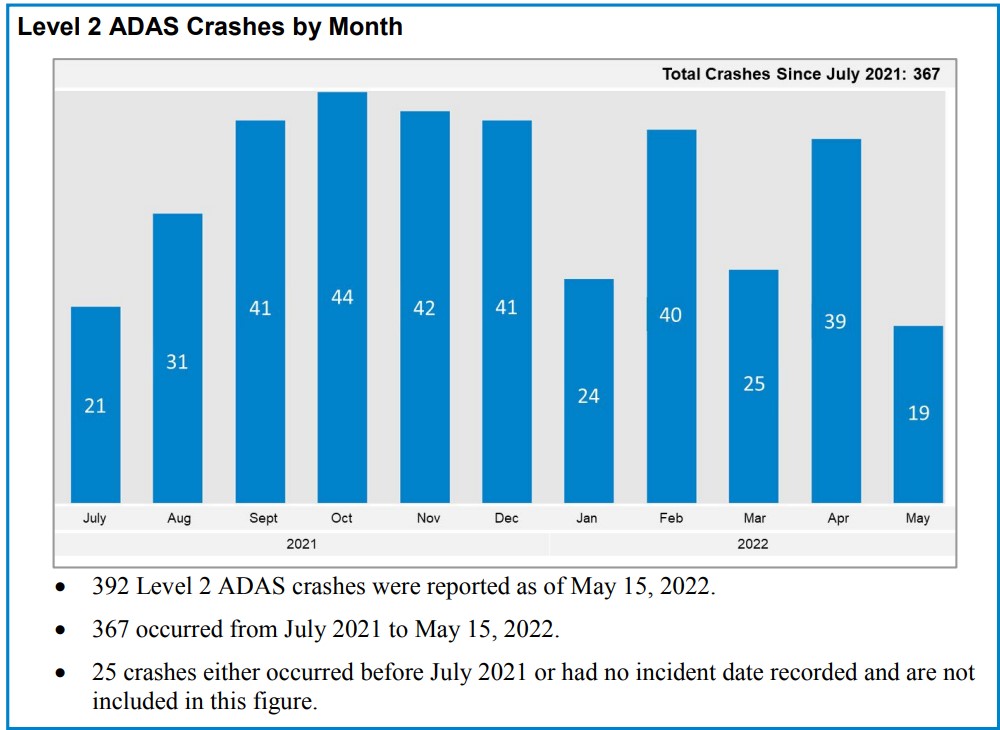 Tesla reported the majority of the crashes, 273, with Honda at No. 2 reporting 90. Other OEM crash data that was reported was minimal.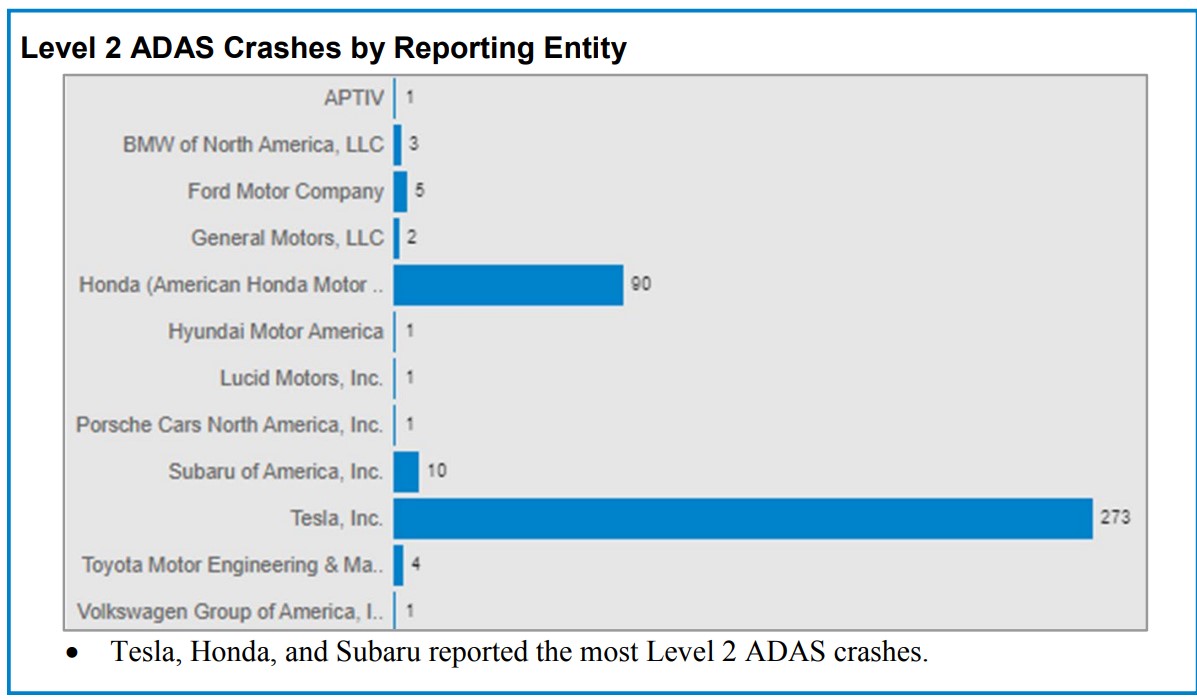 Of the 98 crashes wherein crash severity was reported, there were six fatalities and five serious injuries. In 294 of the crashes reported, the injuries sustained were unknown.
Crashes mostly involved other vehicles (116) but four involved vulnerable road users — one cyclist and three pedestrians. Of the damages reported to the ADAS-equipped vehicles, most sustained front-end damage. Crashes occurred in nearly every U.S. state with the most in California (125), Florida (34), Texas (33), and New York (30).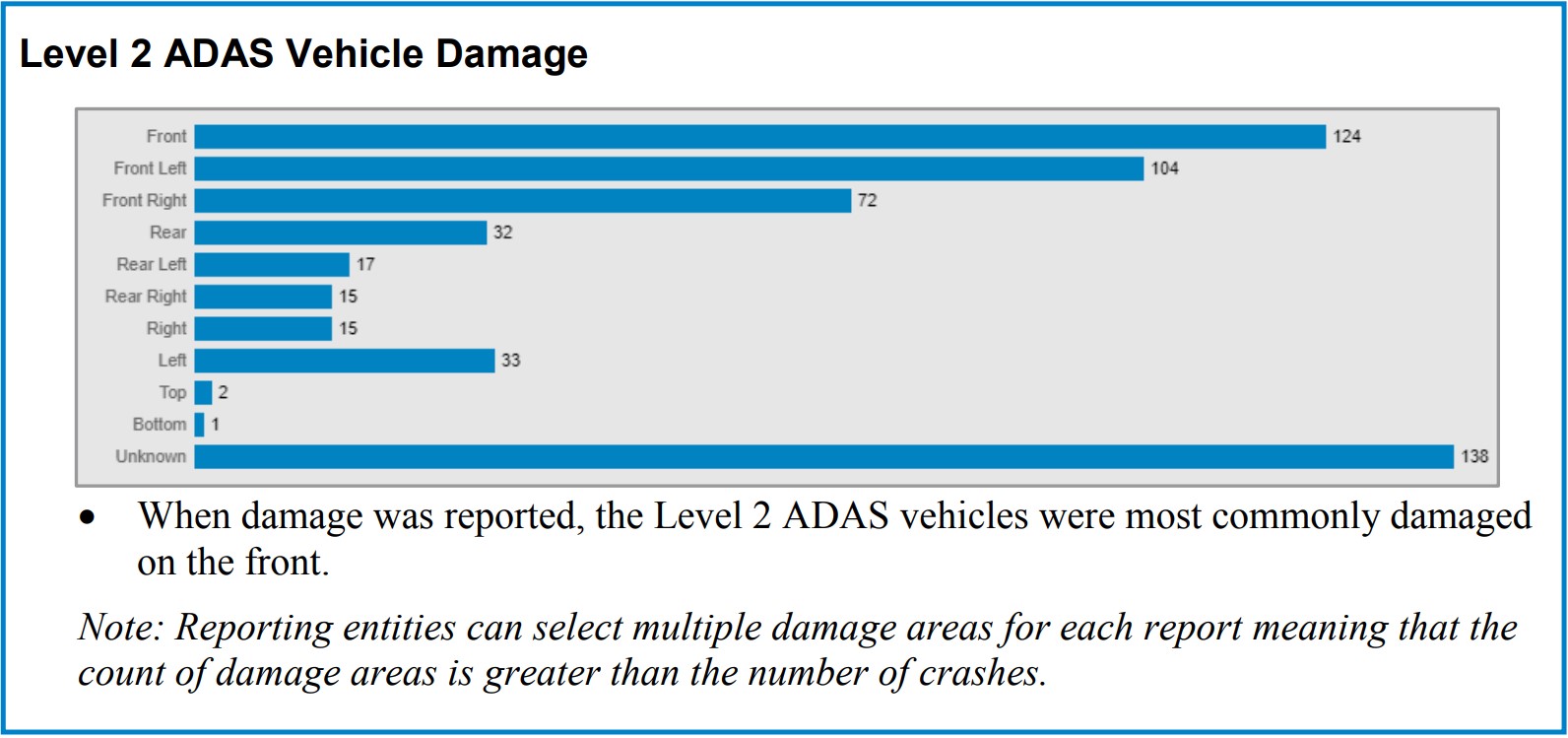 A separate summary report on Levels 3-5 ADS crashes states the highest number of crashes occurred in March and April of this year. Waymo (62), Transdev Alternative Services (34), and Cruise (23) reported the most ADS crashes. General Motors, Zoox, and Argo AI were close behind at 16, 12, and 10, respectively.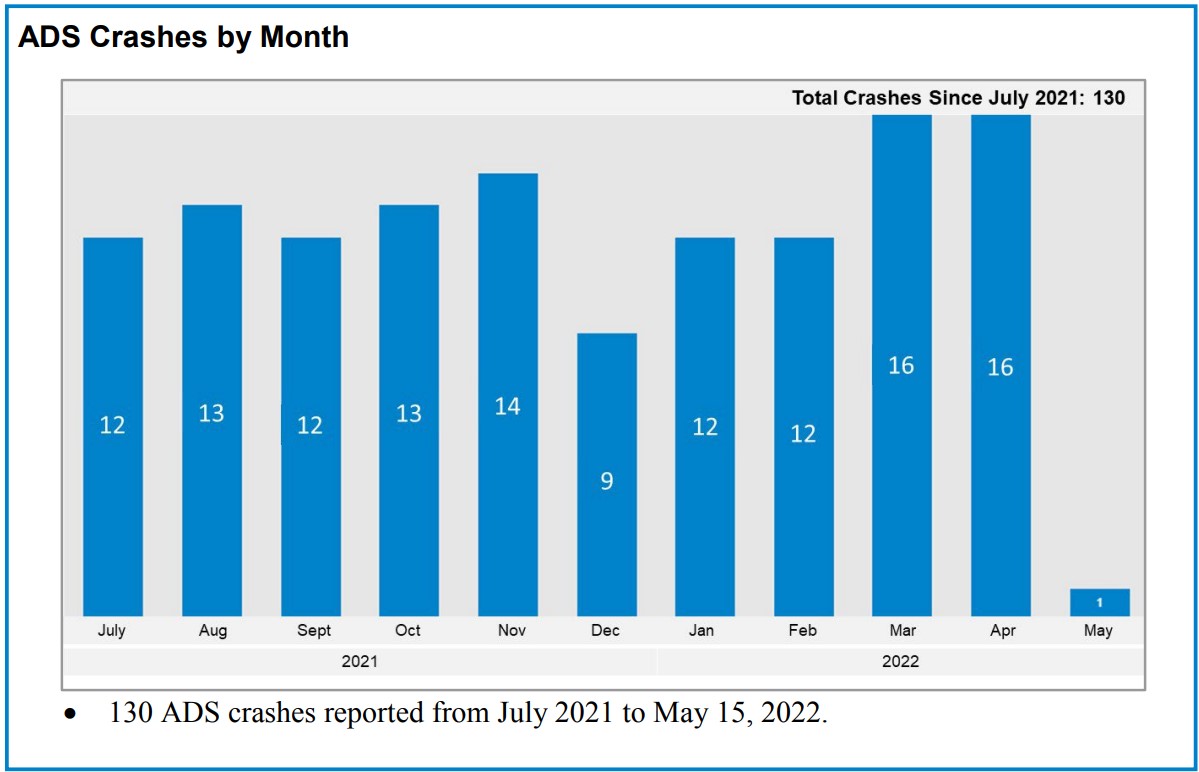 One of the reported crashes caused serious injuries and 108 of them didn't report any injuries. Most crashes, like the Level 2 ADAS-equipped vehicles, were with other vehicles (108) but more Levels 3-5 ADS-equipped vehicles collided with vulnerable road users — seven with cyclists, seven with electric scooters, two with motorcycles, and two with non-motorists.
Opposite of Level 2 ADAS-equipped vehicles, Levels 3-5 vehicles were most often damaged in the rear. Crashes were reported in 12 states with 90 occurring in California and one to 12 crashes taking place in each of the other states — Nevada, Arizona, Wyoming, Colorado, Texas, Michigan, Indiana, Kentucky, Pennsylvania, Georgia, and Florida.
NHTSA Administrator Steven Cliff said in a statement that the release of the data is "part of our commitment to transparency, accountability and public safety."
"New vehicle technologies have the potential to help prevent crashes, reduce crash severity and save lives, and the Department is interested in fostering technologies that are proven to do so; collecting this data is an important step in that effort," he said. "As we gather more data, NHTSA will be able to better identify any emerging risks or trends and learn more about how these technologies are performing in the real world."
IMAGES
Featured image: Volvo V60 (2020) in self-driving mode (PilotAssist) driving down a road on a rainy day in Brantford, Ontario, Canada. (Credit: JL Images)
All other images taken from NHTSA's Level 2 ADAS and Levels 3-5 ADS data report summaries
Share This: