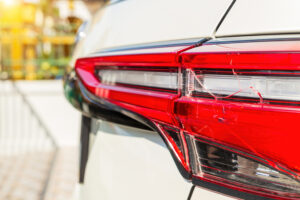 State Farm says it will test expanded use of aftermarket parts in Texas, Oklahoma
By on
Insurance
State Farm has told its direct repair program (DRP) shops in Texas and Oklahoma that it will test the reintroduction of aftermarket bumper covers, headlamps and tail lamps when adjusting estimates and settling claims, people familiar with the issue have told Repairer Driven News.
The nation's largest auto insurer says that the program, called the "2022 Non-OEM Parts Expansion Test," is intended to address supply chain issues, people told RDN. The test is to begin on June 20, and to run for eight weeks, they said.
Contacted by RDN about the test, the carrier responded, "State Farm has nothing to share with Repairer Driven News."
State Farm had suspended the specification of aftermarket parts in 1999, after two Illinois courts found that it had deceived policyholders by specifying the use of non-OEM parts for collision repairs and breached its contract with the plaintiffs.
The decision in Avery v State Farm, which would have awarded the plaintiff class $1.056 billion, was overturned by the Illinois Supreme Court on a technicality in 2005, after which State Farm announced that it would, in a limited capacity, "consider resuming the use of aftermarket parts, a practice it suspended after the 1999 ruling."
A subsequent suit, alleging that one of the justices who voted with the 4-2 majority in Avery had received $4 million in campaign contributions from State Farm and should not have heard the appeal, was settled for $250 million in 2018.
This week, the carrier told parties involved that that it was reintroducing the use of non-OEM parts, a move that it said is "expected to improve customer experience and efficiency as some essential auto parts remain in short supply causing delivery and repair times to be adversely impacted," people familiar with the matter told RDN.
According to State Farm materials shared with RDN, all non-OEM headlamps, tail lamps and bumper covers specified will have to be certified by the Certified Automotive Parts Association (CAPA). Components that display the name or logo of an OEM or vehicle will not be eligible for non-OEM replacement.
In the materials, the carrier tells shops that it promises customers "will be satisfied with the fit, qualities and performance of these parts." Any concerns are to be relayed to CAPA, and the offending part should be replaced with one "that repairs the vehicle in a quality manner," the materials state.
Recent data shows that, in general, OEM parts use has increased during the supply chain interruptions repairers have encountered over the past three to 12 months. There's evidence that in at least some cases, it is the unavailability of aftermarket parts that has forced the use of OEM parts, and not the other way around.
In its 2022 Crash Course report, CCC Intelligent Solutions said that the share of replacement part dollars was split at 64.4% OEM, against 35.6% aftermarket in 2021, an increase of 2.8 percentage points from 2020 and the highest rate in 10 years.
In a May 11 first quarter earnings call, Tim O'Day, CEO of Boyd Group, told investors that supply chain issues had forced Gerber Collision to make greater use of OEM parts.
"We continue to face supply chain disruptions, which resulted in a negative impact on margin as a higher percentage of parts were sourced from non-primary suppliers in order to complete repairs, and our mix of OE parts relative to alternative parts increased," he said during the call.
"If an aftermarket or alternative part's not available to complete a repair, we can rely on the OE part, but if the OE part's not available, we have to set the repair aside and look for other work to work on," he said.
O'Day estimated that the percentage shift from aftermarket parts to OEM parts has been relatively minor – "in the single digits." But because aftermarket parts are more profitable, he said, "it has a margin impact."
State Farm chose not to explain to RDN how its test might help with supply chain issues, or to reveal the current OEM versus aftermarket parts breakdown in its settled claims.
Burl Richards, president of the Auto Body Association of Texas (ABAT), told RDN his shop is not a State Farm DRP shop, and that he was not familiar with the carrier's test.
In general, he said, "ABAT's position is to always follow the manufacturers' recommended processes and guidelines first. Any decision other than that will up to the repairer and they must decide if they are willing to accept that liability."
State Farm, which has paid its CEO, Michael Tipsord, $40.5 million in bonuses since the start of the pandemic, has been increasing its rates in response to higher claims costs.
In Texas, the carrier was permitted to raise its rates 9.7% in April, collecting an additional $64 million, according to an analysis by S&P Global Market Intelligence.
"Auto claim costs are increasing in part due to a rise in the cost of labor, materials and supply chain-related issues," spokeswoman Angie Harrier told Crain's Chicago Business in an email, responding to questions about increases in Illinois. "State Farm isn't immune to some of these industry trends."
As Berkshire Hathaway chair and CEO Warren Buffett recently noted, State Farm is not a publicly-traded company, but a mutual insurer, technically owned by its policyholders. As such, it has no shareholders and doesn't face the same profitability pressures.
More information
State Farm, plaintiffs to settle $7.6B aftermarket parts-judge case for $250M
Millions of State Farm insured with non-OEM parts get class-action status in $7.6B judge conflict case
Images
Featured image by Kriengsak Tarasri/iStock
Share This: