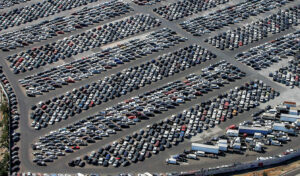 Record high prices for replacement vehicles are depressing the volume of total losses, even as driving activity and accident frequency and severity continue to rebound to pre-COVID-19 levels, the co-CEO of Copart told investors on Thursday.
"Contrary to consistent long term trends, we have observed declining total loss frequency on a sequential and year over year basis," Jeff Liaw said during a Q4 2022 earnings call.
"Our selling prices have kept pace or more than kept pace with the strong used car price environment on a percentage basis. But the persistent lack of replacement vehicle availability and record high retail transaction values continue to reduce assignment volume for us relative to what it otherwise would be," Liaw said.
Total loss frequency for the second calendar quarter of 2022 was approximately 16.9%, compared with 19.7% for the same period in 2021. "If vehicles had been totaled at the same rate as of last year, we would have observed insurance industry volumes 15% higher than we then what we actually experienced," he said.
"In simple layman's terms, in a world in which replacement vehicles are harder to come by, total loss settlements are a less attractive resolution to an auto accident claim than they otherwise would be."
As data providers such as CCC Intelligent Solutions have pointed out, new vehicle production has been significantly hampered by semiconductor chip shortages, supply chain issues, and the rising prices of labor and raw materials. This, in turn, has driven values for used-cars to record levels, although the trend has been begun to ease.
Gavin Renfrew, vice president, global accounting at Copart, noted that the Manheim Index of used-car prices has declined from January's record level of 236.3, but remains "historically elevated," ending July at 219.6, an increase of 12.5% year over year.
"Purchased vehicles continue to comprise an increasing percentage of our overall revenue mix, driven by both strong used car values and growth in volume, particularly in our cash for cars business in the U.K., and from expansion in Germany," Renfrew said. He said U.S. purchased vehicle revenue for the quarter was up 39.3% over the prior year, and up 61.8% for the fiscal year.
Liaw said Copart's U.S. unit sales rose 4% year over year, and that the company's insurance business had also increased from the fourth quarter of 2021, thanks to a combination of share gains and continued recovery in driving activity and accident frequency and severity.
"Seasonally adjusted miles traveled for the month of May for example, in the U.S. is up about a percentage point versus last year. Gasoline consumption statistics mirror the same themes as well," he said.
Liaw predicted that the decline in total loss frequency will be temporary. "The 40 year trend is unambiguous. We believe firmly that the market will revert to the historical norm of steadily rising total loss frequency in the months and years ahead," he said. "And in fact a number of other variables — accident severity, repair duration, repair labor costs, rental car costs, part costs — should to contribute to that reversion and long-term trend as well."
Historically, he said, total loss frequency has increased from just 4% in 1980 to 20% in more recent years, as a result of two factors: increasing vehicle complexity, which makes vehicles more costly to repair, and Copart's auction liquidity and global buyer base, which makes totaling vehicles more efficient.
"While we will all no doubt struggle to predict precisely when supply chain bottlenecks will clear and new vehicle production will return to historical levels, we do anticipate and eventual unwinding of these conditions which will lead to moderation of used vehicle values," Liaw said. "We may well see a moderation of ASP [average selling price] in that environment as well but we'll almost certainly benefit from volume recovery or volume increases as well."
Copart is investing in growth beyond insurance total losses, Liaw said, seeing a 6% growth in business in rental cars, corporate fleets, financial institutions, and the company's own powersports division.
"Our growth across the full spectrum of vehicles enhances our auction liquidity and returns for our sellers. The more cars we sell on behalf of dealers, rental car companies, fleet managers and the like, the more our insurance companies sellers will benefit as well," he said.
More information
"Copart Reports Fourth Quarter Fiscal 2022 Financial Results"
https://www.copart.com/content/us/en/press-releases/copart-reports-fourth-quarter-2022-results
Images
Featured image: An aerial photo of a Copart auction site in Texas. (Provided by Copart)
Share This: