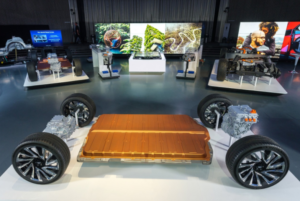 General Motors and Stellantis have announced plans to boost their electric vehicle (EV) supply chains and sustainability efforts beginning as soon as next year.
GM has partnered with Lithion Recycling to establish a "circular battery ecosystem" using Lithion's battery recycling technology. In a joint news release, the companies said the collaboration will focus on using recycled battery materials to produce new batteries and potentially toward purchasing other battery materials as well as a "joint investment" in the research and development of battery recycling and future design.
Lithion's technology and operations will reduce greenhouse gas emissions by more than 75% and water usage by over 90% compared to mining battery materials, as demonstrated by a third-party lifecycle analysis, according to the release.
"Working with GM marks a key step in Lithion's commercial development and pioneers a needed breakthrough in the electrification of transportation by enabling a cost-effective and sustainable circularity in the EV battery industry," said Benoit Couture, president and CEO of Lithion, in the release. "This partnership underscores our commitment to enable the transition to a low-carbon economy amidst the fight against climate change."
In August, Ultium Cells — GM's joint venture with LG Energy Solution — opened its first U.S. battery cell plant. Two additional plants are under construction. A fourth plant is also planned, which will bring GM's projected total U.S. battery capacity to 160 gigawatt hours. GM has binding agreements to secure all of its battery raw material to reach annual planned capacity in 2025, including lithium, nickel, cobalt and full cathode active material supply.
"GM is aggressively scaling battery cell and EV production in North America to reach our target of more than 1 million units of annual capacity by 2025, and we plan to eliminate tailpipe emissions from all our new light-duty vehicles by 2035 – so we are building a supply chain and recycling strategy that can grow with us," said GM Global Purchasing and Supply Chain Vice President Jeff Morrison, in the release. "In Lithion's technology, we see the opportunity to recover and reuse raw material in our Ultium battery packs, making the EVs we produce even more sustainable and helping drive down costs."
Lithion will launch its first commercial recycling operations in 2023 with a capacity to process 7,500 metric tons of lithium-ion batteries per year.
Stellantis announced last week that it will begin vehicle reconditioning and dismantling and parts remanufacturing at its Mirafiori Complex in Italy beginning next year. The operations are slated to be expanded globally. Future plans also include quadrupling extended life revenues of parts and services and multiplying recycling revenues by 10 times come 2030 compared to 2021.
And as part of its Dare Forward 2030 strategic plan toward vehicle electrification and decarbonization, Stellantis and its joint venture partner, Punch Powertrain, signed a new agreement to increase production of electrified dual-clutch transmissions (eDCT) for the automaker's hybrid and plug-in hybrid electric vehicles.
The new Mirafiori e-Transmissions Assembly site is expected to start production in the second half of 2024.
Stellantis' Melfi facility, together with Sochaux in France, will host the new electric platform called STLA Medium, specifically designed for the battery electric vehicle (BEV) market with "a high level of flexibility." It's expected to achieve a range up to 700 kilometers (440 miles).
IMAGES
Featured image: GM's all-new global platform on display at the Design Dome. (Credit: GM)
Share This: