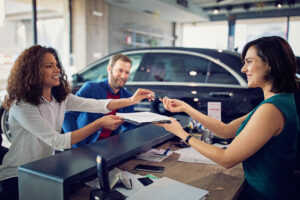 New vehicle September sales forecast to increase, annual rate remains down
By on
Market Trends
Despite inflation continuing to loom, J.D. Power reports new-vehicle retail sales are expected to increase by the end of the month compared to September 2021 sales but the annualized sales rate remains "well below historical norms."
According to a joint forecast from J.D. Power and LMC Automotive, retail sales of new vehicles are expected to reach 958,948 units, a 5.4% increase compared to last September. Nearly 3 million sales are projected for Q3, which is 4.2% below Q3 2021. Non-retail transactions for this month are projected to reach 161,331. The combined projections of retail and non-retail add up to an 11.8% increase over September 2021.
"Traditionally, September is a high-volume sales month as manufacturers implement promotions for Labor Day to clear out old model-year vehicles and start sales of the new model-year products," said J.D. Power Data and Analytics Division President Thomas King, in a news release. "This September, while holiday promotions were nearly nonexistent, modest improvements in vehicle production allowed manufacturers to tap pent-up consumer demand.
"The result is a retail sales pace that shows a modest increase from a year ago but still falls below its potential due to tight vehicle availability. Although rising interest rates are putting pressure on affordability, transaction prices still rose and consumers spent more money on new vehicles this month than any previous September on record."
He added that a "deeper dive" into the month's results "shows that while demand continues to exceed supply, several key financial results are either showing slower growth or have plateaued."
For example, transaction prices rose 6% year over year, which King called "an impressive increase," but noted that growth was up 10% earlier this year.
"Dealer profits have declined modestly from their peak—down just more than $300 from three months ago—while trade-in equity has stabilized at just under $10,000 for the past two months," he said. "Overall, this points to some deterioration in per unit pricing and profitability in the coming quarters, as rising interest rates and economic conditions affect demand, coupled with a likely gradual improvement in vehicle availability. That said, future improvements in vehicle availability will increase future sales volumes, offsetting deterioration in per unit pricing and profit."
In CCC Intelligent Solutions' latest "CCC Trends" report, released in August, Insights & Analytics Senior Director Susanna Gotsch wrote that as the height of the COVID-19 pandemic wore down dealers and consumers rushed into the used car market. That was due to a decrease in new auto production, which led to inflation of both new and used car prices, she said.
"New vehicle sales fell in 2020 with the pandemic, but not as much as initially feared. Sales actually fell further in 2021 due to low inventories from semiconductor chip shortages, coming in at only 15 million in 2021, and 2022 sales are forecasted at 14.4 million. Tight inventories and automakers focused on using the semiconductor chips on their most profitable vehicles have driven up the average new vehicle MSRP to over $45K. Higher raw material prices are also driving up the cost of EV's which are seeing broader adoption in the face of high gasoline prices.
"…Used vehicle sales on the other hand hit an all-time record in 2021 of 40.9 million – up 10 percent from 2020. But forecasts for used sales in 2022 suggest they too will fall, to about 37.1 million, as high prices and lower inventories keep more consumers on the sidelines."
J.D. Power and LMC Automotive found that September is on track to be the 16th consecutive month that retail inventory closes below 1 million units. "Dealerships are continuing to pre-sell vehicles in their delivery pipeline. This month, 53% of vehicles will be sold within 10 days of arriving at a dealership, while the average number of days a new vehicle is in a dealer's possession before being sold is on pace to be 20 days—down from 23 days a year ago."
"The lack of inventory, coupled with strong demand, continues to allow manufacturers to maintain a low level of discounting," King said. "…Higher prices coupled with a rising interest rate environment are elevating monthly loan payments."
He added that production constraints are expected to continue in October and "may result in a somewhat lumpy fourth quarter as partially built vehicles in storage are completed and released in batches to the retail channel."
EV Outlook
J.D. Power Electric Vehicle Practice Vice President Elizabeth Krear says EV consideration is wavering as gas prices continue to fall and interest rates rise.
"The percentage of shoppers that are 'very likely' to consider buying or leasing an EV in the next 12 months is 26.3%, down 1.7 percentage points from July. Although these shoppers are easing off the pedal a bit, the percentage of shoppers who are 'somewhat likely' to purchase an EV in the next 12 months increased 2.5 percentage points in August."
She noted that continued increases in new EVs that come on the market mean "more customers are finding EVs that meet their needs, leading to more competition between brands and within segments on the path to greater EV adoption."
IMAGES
Featured image credit: praetorianphoto/iStock
Share This: