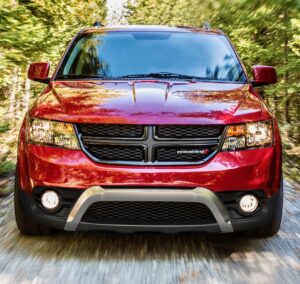 FCA recalls 83,000 Dodge Journeys over headlamp issue
By on
Announcements
Fiat Chrysler Automobiles (FCA) has recalled 83,453 model year 2017-18 Dodge Journey vehicles over amber side reflectors that do not meet federal standards, as well as 16,604 headlamp assembles that were sold as replacement parts.
In its filings with the National Highway Traffic Safety Administration (NHTSA), the OEM says that a remedy is under development. FCA has advised its dealers that the recall is estimated to launch in the fourth quarter of 2022.
Asked what steps collision repairers should take if an affected Journey with a broken headlamp arrives in their shop, Stellantis told Repairer Driven News, "Safety-recall completion is the purview of certified dealers. And safety-recall remedies are provided free of charge."
"We are unaware of any injuries, accidents, warranty claims or customer complaints related to this campaign. However, we urge affected customers to follow the instructions on their recall notices. All such correspondence lists multiple options for reconciling recalls," Stellantis said.
FCA is recalling the vehicles because the right and left headlamp assemblies may not reflect brightly enough to satisfy the requirements of Federal Motor Vehicle Safety Standard (FMVSS) 108. The part numbers for the right assembly are 05116288AC and 68200084AB, and for the left assembly 05116289AC and 68200085AB.
For the same reason, FCA has also recalled certain Mopar headlamp assemblies sold as replacement parts. These have part numbers 05116288AC, 05116289AC, 68200084AB, and 68200085AB.
"We ask that you please take the time to ensure that your personnel are aware of this communication and are prepared to execute a customer friendly process for inquiries regarding involved vehicles," FCA said in a notice to dealers posted on the NHTSA website.
The issue arose during a routine audit conducted by Transport Canada, which regulates road, rail, marine, and air transportation in that country. "Transport Canada conducts routine audits of vehicles produced for the Canadian market to ensure that vehicles comply with all Canadian Motor Vehicle Safety Standards," the agency told Repairer Driven News. "During a routine audit inspection of the headlamps for certain Dodge Journey models, Transport Canada identified a non-compliance to the front side reflex reflector photometric requirements of Canadian Motor Vehicle Safety Standards 108."
Transport Canada informed FCA and engaged in a review of the headlamps on the subject vehicle. FCA found that a noncompliant amber side index reflector was introduced into vehicle production on Aug. 2, 2017 at its Toluca Assembly Plant in Mexico. By July 6, 2018, the noncompliant reflectors were no longer in use.
On Aug. 7, 2019, Transport Canada advised FCA that a recall was required. This recall was entered in Transport Canada's Motor Vehicle Safety Recalls database under recall number 2019-388.
The OEM agreed to "notify owners by mail and instruct them to take their vehicle to a dealer to replace the headlight assemblies."
On April 5, 2019, FCA filed a petition for "inconsequential treatment" with NHTSA. This was denied on Sept. 12, 2022.
Images
Featured image: A 2018 Dodge Journey Crossroad. (Provided by Fiat Chrysler America)
The amendments in this final rule will clarify that a manufacturer of replacement equipment providing a defect or noncompliance notification pursuant to this regulation can inform the purchaser of the replacement equipment of the manufacturer's intent to remedy the defect or noncompliance by refunding the purchase price of the replacement equipment. NHTSA is amending this regulation so that the regulation conforms to changes in the defect and noncompliance remedy provisions in the National Traffic and Motor Vehicle Safety Act (Safety Act) contained in the Moving Ahead for Progress in the 21st Century Act (MAP– 21).
\
Share This: