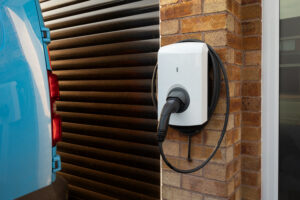 GM now offering 'cohesive energy management' for home, commercial & EV customers
By on
Technology
General Motors has introduced Ultium Home and Ultium Commercial, which the OEM says, in combination with Ultium Charge 360, creates "a holistic ecosystem of energy management products and services that will be housed under a new business unit called GM Energy."
GM Energy's products and services are designed to offer "cohesive energy management" for home, commercial, and EV customers. Products and services include bi-directional charging, vehicle-to-home (V2H) and vehicle-to-grid (V2G) applications, stationary storage, solar products, software applications, cloud management tools, microgrid solutions, hydrogen fuel cells, and more, according to a GM news release.
GM Energy's services will also enable the sale of energy from EV and stationary storage batteries back to utilities during peak, high energy consumption periods "unlocking even more potential value for customers and increasing resiliency for the electrical grid."
"The reliability of the U.S. electrical power grid has never been more important," said Travis Hester, vice president of GM EV Growth Operations, in the release. "GM Energy has the opportunity to help deliver sustainable energy products and services that can help mitigate
Customers will be able to "simply and efficiently" manage their energy consumption through GM's energy software applications. GM has already enrolled EV customers in managed charging programs through the Energy Services Cloud, with multiple utilities across four U.S. states and growing.
Among companies that have agreed to work with GM Energy is SunPower, which plans to work with GM to develop and offer a home energy system consisting of integrated EV and battery solutions, solar panels, and home energy storage. The system will be available alongside the retail launch of the 2024 Chevrolet Silverado EV, expected to begin production next fall.
Another initiative includes a V2H pilot project between GM Energy and Pacific Gas and Electric Company (PG&E) that is planned to enable residential customers to use their compatible EVs, along with a bi-directional charger, as backup power for essential home needs during short-term power outages. The two companies anticipate expanding V2H to a subset of residential customers within PG&E's service area in 2023.
"GM Energy's mission is to offer customers access to a full suite of energy products and services, including solutions beyond the vehicle, accelerating the seamless transition to an all-electric future," Hester said. "With the expansion of our enterprise business through GM Energy and one of the most comprehensive portfolios of energy management products and services available, we will help to reduce the barriers of entry for sustainable power and further accelerate the mass adoption of EVs."
As part of GM Energy, Ultium Charge 360 will continue expanding its existing portfolio of integrated public charging networks, mobile apps, and additional product and service offerings over time, the release states.
"The massive scale of GM Energy's solutions will allow us to better address current challenges with grid infrastructure, energy storage and energy management head on," said Mark Bole, GM vice president and head of V2X Battery Solutions, in the release. "By leveraging GM's flexible technology platforms and the power of Ultium, we're able to provide resilient and accessible energy solutions for all customers and the grid, helping to further advance the all-electric future."
More information about GM Energy and the available offerings through Ultium Home, Ultium Commercial, and Ultium Charge 360 is available at gmenergy.gm.com/.
Reuters reports that Tesla's energy generation and storage business, which includes solar panels and stationary batteries, lost $129 million last year on revenues of $2.8 billion.
"Our competition in this space on the (automaker) side is really only Tesla, which is a strong energy management company," Hester told Reuters. "There are a lot of analogies you can draw with Tesla."
He added that GM sees a total addressable market of $120-$150 billion in energy storage and management but declined to provide a revenue projection for GM Energy, according to Reuters.
IMAGES
Featured image: Close-up of a type C domestic electric vehicle charging unit installed on the wall of a house. (Credit: ChrisHepburn/iStock)
Share This: