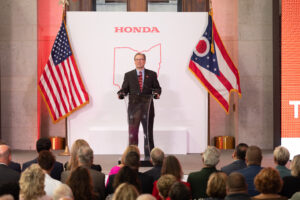 Pursuing its goal of eliminating gasoline-powered vehicles from its North American lineup by 2040, Honda has announced two major investments in Ohio, including $700 million to re-tool several of its existing plants for production of electric vehicles (EVs) and $3.5 billion with LG Energy Solution (LGES) to establish a previously announced joint venture (JV) facility to produce the batteries to power them.
The JV battery plant, which will supply battery modules for Honda and Acura vehicles, will be located in Ohio's Fayette County, about 40 miles southwest of Columbus, Honda said. It said construction will begin in 2023 and should be completed in by the end of 2024, with mass production of lithium-ion cells beginning by the end of 2025.
Honda plans to begin production and sales of Honda EVs in North America in 2026, based on its new Honda e:Architecture. The OEM previously said it plans to build some 800,000 EVs in North America by 2030. It anticipates that EVs will account for 40% to 50% of its total production in the market by that date.
The company said that the revamped facilities and new battery plant "will serve as a new EV hub in Ohio, and play a key role in developing the company's knowledge and expertise in EV production that will be shared across Honda's North American auto production network in the coming years."
"We believe the plan we just revealed will have a similar far-reaching impact on our future. These investments will establish the foundation for Honda in the electrified era, as we begin producing EVs and the batteries that will power them in the U.S.," Bob Nelson,
executive vice president with American Honda Motor Co., said in a statement.
Honda said the investments in its Marysville Auto Plant (MAP), East Liberty Auto Plant (ELP), and Anna Engine Plant (AEP) will create more than 300 new jobs. The re-tooling will enable AEP workers to produce the battery case, to be combined with the battery modules from the JV plant on a sub-assembly line at MAP, with the complete battery unit then installed in EVs built at both MAP and ELP.
"This is a very challenging time for our entire industry, but also a very exciting time as Honda invests in full electric vehicle production in the Buckeye State," Nelson said. "Honda has built hybrid-electric vehicles in Ohio for a number of years, and the experience and expertise of our associates in manufacturing, product development, and purchasing will serve as an important foundation as we transition to the electrified future."
Honda said it produced and sold a record of more than 100,000 electrified vehicles in the U.S. last year, including the Accord Hybrid, CR-V Hybrid, and Insight hybrid sedan.
Cumulatively, Honda said it has invested nearly $24.6 billion in its North American manufacturing capabilities, including more than $3.6 billion over the past five years. The company works with nearly 800 original equipment suppliers in North America with cumulative parts purchases of more than $535 billion.
The OEM plans to bring its first all-new, fully electric vehicles to market in 2024. Named the Honda Prologue and the Acura ZDX, the vehicles are being co-developed with General Motors, using GM's global Ultium EV platform.
Images
Featured image: Bob Nelson, executive vice president with American Honda Motor Co., announces the company's plan to build a North American "EV hub" in Ohio. (Provided by American Honda)
Share This: