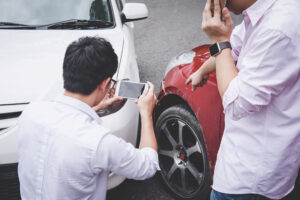 Entegral touts new 'Smart Assist' AI as means to simplify claims process & reduce cycle times
By on
Insurance
Entegral, Enterprise Holdings' integrated software solution, has announced the launch of Smart Assist — a vehicle claim assistance product designed for use with mobile devices that is meant to automate auto collision insurance claims with customer control.
The new software as a service (SaaS) was launched Sunday with a demo at Guidewire Connections 2022 in Las Vegas.
"Smart Assist helps digitize and automate the post-accident process and claims journey by putting more control directly into the hands of customers after a collision," Entegral Vice President Joe Rector told Repairer Driven News. "Stakeholders in the repair process benefit from reduced effort, increased efficiency and speed to innovation."
Entegral is an integrated and open platform that facilitates communication and collaboration among tens of thousands of collision repair shops, insurance providers, vehicle manufacturers, and other industry professionals around the world, according to an Entegral news release. However, only body shops that have Entegral profiles, which the company has more than 23,000 of, will be displayed through Smart Assist as options for policyholders to choose from. The profiles are free to create shops don't have to be affiliated with any insurers to have a profile.
Enterprise Holdings, owner of Enterprise Rent-A-Car and other rental car companies, launched Entegral in 2019 "to help simplify the post-accident process, reduce claims cycle times and enhance the overall customer experience," according to the release. Entegral is now used by more than 70 insurance and body shop customers across North America and the United Kingdom. Entegral wouldn't provide the names of insurance companies that use Smart Assist.
Entegral touts Smart Assist as "a groundbreaking self-service application that provides control and transparency to the vehicle owner from first notice of loss through the completion of the claim." The first step in using Smart Assist is a text message sent from the insurer to the claimant inviting them "to participate in their own claim journey intuitively and interactively."
Rector explained to RDN exactly how Smart Assist works. "With Smart Assist, a claims representative can create a claim and invite the vehicle owner to open the digital triage mobile responsive web browser where they can participate in their own claim journey intuitively and interactively by adding details (including photos) to the incident. With AI damage analysis provided through Tractable, users can seamlessly select a local repair facility and rental vehicle that meets their needs."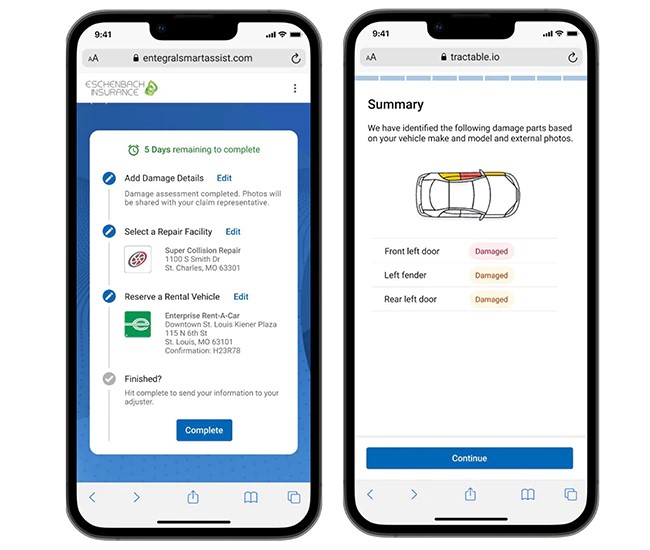 "Managing the full lifecycle of an auto claim is complex for everyone involved – not to mention incredibly stressful for the vehicle owner," Rector said in the release. "By connecting people, systems and data on an open platform, Entegral is simplifying and harmonizing the automotive claims experience for industry partners and vehicle owners alike. The launch of Smart Assist illustrates how we're continuing to invest in advanced solutions to improve claims processing. By removing inefficiencies from the process, we enable partnerships to come to life and expedite the accident recovery timeline."
Artificial intelligence (AI) damage analysis is provided through Entegral's new partnership with Tractable to streamline the selection and assignment of both vehicle repair and replacement rental and improve the customer and employee experiences in the claims process, according to Entegral. Tractable represents the first of many partnerships that Entegral plans to create "to expand functionality for solutions under the Smart Assist product."
AI has begun transforming the P&C industry, according to a recent webinar hosted by PropertyCasualty360. Insurance practitioners discussed changes in the industry and how Gradient AI has been beneficial to their companies. Gradient AI is the leading provider of AI solutions for the insurance industry, according to PropertyCasualty360.
MEMIC Senior Vice President of Underwriting Greg Jamison said AI "boosts performance by identifying and quantifying countless complex relationships between variables." Builders Mutual Insurance Vice President of Claims Ken Bunn said larger, more risky files are getting the attention they need. Builders has been using Gradient AI for a year.
Ward Benchmarking Partner Jeffrey Rieder shared that the P&C insurance industry is seeing an increased level of turnover and retirements and for most organizations, overall employee turnover is four to five points higher than prior to the COVID-19 pandemic. In response, carriers are changing how they attract and recruit employees, including work arrangements with flexible hours, remote work, and/or a hybrid of remote and in-office work, and are offering broader benefits programs. Insurtechs are also now competing with employee recruitment at traditional carriers, he said.
IMAGES
Featured image credit: Pattanaphong Khuankaew/iStock
Screenshot of Smart Assist in use. (Credit: Entegral/Enterprise Holdings)
Share This: