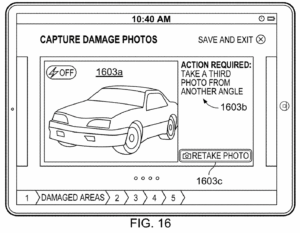 Allstate has been granted a U.S. patent for an automated, mobile damage assessment and claims processing technology that could calculate estimates and settle claims without the involvement of human adjusters.
The patent covers the handling of photos and videos transmitted to a server from a smart phone or other mobile device. The server gives feedback about the acceptability of the photos or video, and may have the mobile device capture additional photos and video "until all of the data are deemed accurate."
The server would be able to send "a graphical visual aid overlaid on the real-time image" of the phone, to help the user obtain "accurate" photos of the damage.
Several rounds of image analysis and data exchange between the server and the smart phone might be needed to accurately determine the amount of damage sustained by a vehicle. Once the server determines that the damage has been "fully characterized," it can calculate an estimate and transmit a settlement. If it cannot calculate an accurate estimate after several rounds of data exchange, the server can refer the claim to a human adjuster.
The server may also tell the user how long it will take to repair or replace the vehicle. Damage inspection and appraisal "may be completed in thirty minutes or less," the patent says.
Because automation would allow claims adjusters to inspect damages remotely or otherwise reduce their involvement, "less time and money may be spent to transport these adjusters to inspection locations," the patent states.
In addition, the server would be able to interface with repair shops and other third parties. Shops would be able to use the device as "a portal … to view and learn more about damage associated with an insured item while the damage is still being assessed through a claims adjustment process."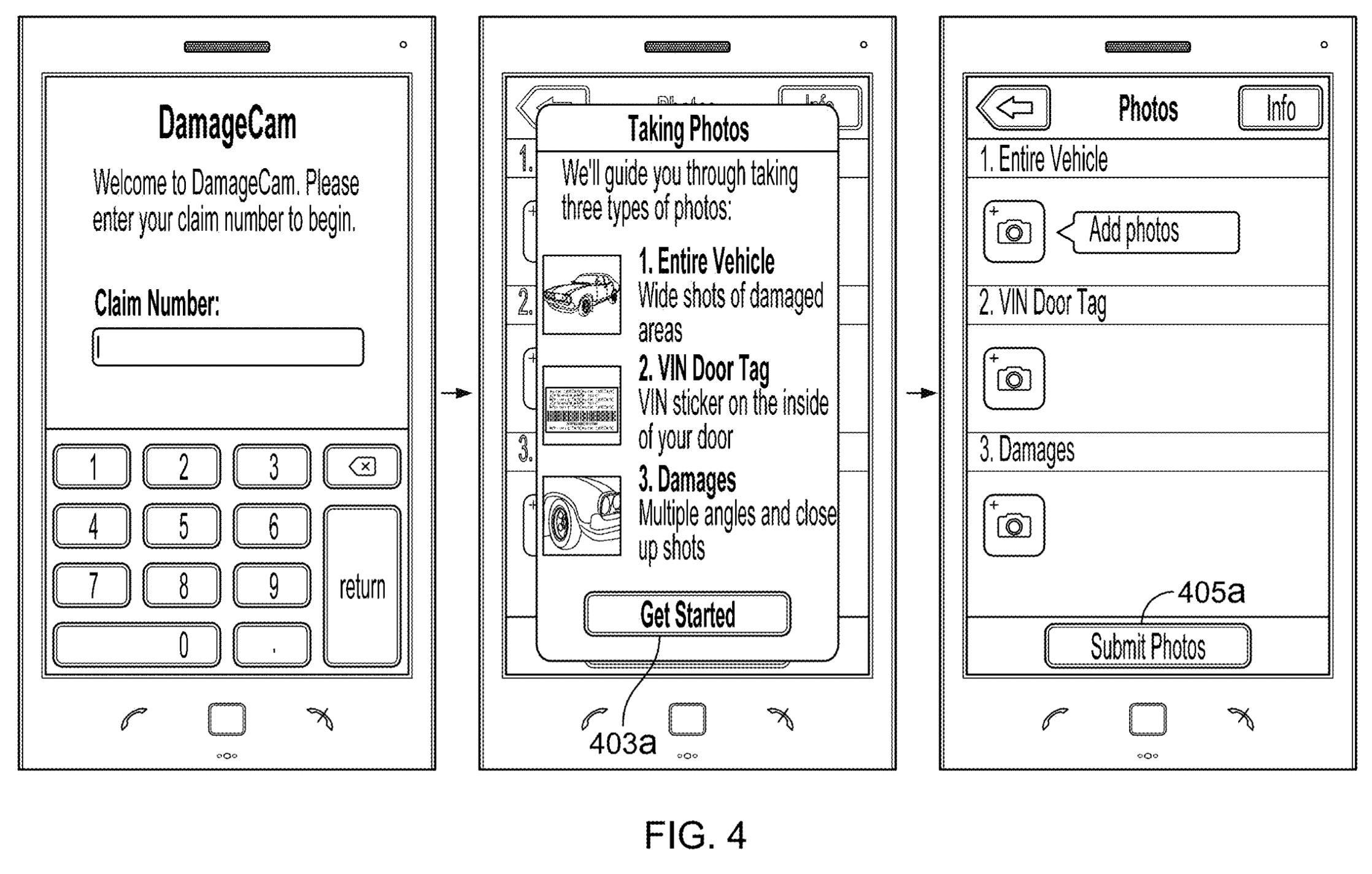 The system is designed for "analyzing damage to process claims and pre-claim consultations associated with an insured item, such as a vehicle," to provide "a streamlined and efficient process for claims management," according to the patent.
Patent number 11455691, titled "Processing Insured Items Holistically With Mobile Damage Assessment And Claims Processing," was published earlier this month by the U.S. Patent and Trademark Office.
According to the patent, the automated process "may utilize various hardware components … and related computer algorithms to generate image data related to damage associated with an insured item, determine if the image data conforms to a predetermined set of criteria, analyze the image data to assess loss associated with the insured item, and determine if a payment is appropriate to the claimant as compensation for assessed loss."
Some types of claims would be excluded from the automated process. Among these are comprehensive claims, total losses, claims involving bodily injury, and vehicles with "undercarriage/mechanical damage."
The technology may use "machine learning," using the history of claims processed by the server and the knowledge of human adjusters "to accurately process future claims. In this way, [the server] may use machine learning to evolve its cost and/or repair estimation procedure based on past experience."
More information
Processing Insured Items Holistically With Mobile Damage Assessment And Claims Processing
Images
Featured image: Figure 16 shows a display screens that displays an image of damage being captured by a user device. (U.S. Patent and Trademark Office)
Figure 4 shows a series of initial display screens displayed when a user starts a damage assessment and claims processing application stored on a mobile device. (U.S. Patent and Trademark Office)
Share This: