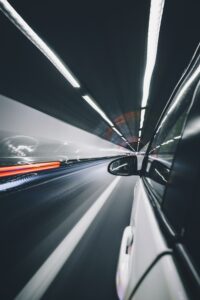 As vehicles become more and more akin to smartphones on wheels it's no surprise that faster internet connectivity and cloud-connected services are craved by motorists and researched more and more by OEMs, even above and beyond 5G, which is in different stages of availability across the U.S., to 6G.
In fact, Market Research Future predicts that by the end of 2040, 6G market valuation will reach $340 billion. Key players include Nokia, Samsung Electronics, Huawei, Ericsson, Cisco, AT&T, LG Electronics, Qualcomm, Ciena, Microsoft, HPE, Intel, Telnyx, Apple, and Google. But what does that mean for the automotive industry and collision repairers? Likely even more advanced driver assistance systems (ADAS) in addition to the already-common lane change assist, blind spot monitoring, automatic emergency braking (AEB), adaptive cruise control, and others as well as hands-free, voice-activated infotainment options for GPS, video streaming, and more.
"Enhancements, such as radar for advanced driver-assistance systems (ADAS) capabilities, engine and driver/passenger observability and control functions, and battery management for EV powertrains, go hand in hand with connectivity advances," Electronic Design reports. "These include cloud connectivity, infotainment, and enhanced vehicle-to-everything (V2X) connectivity functions. By providing ubiquitous connectivity, 5G is enabling the vehicle itself to become a connected entity. As cars become increasingly connected and software-oriented, vehicle-to-cloud (V2C) connectivity is enabling a greater range of operational and security functions."
AT&T phased out its 3G network earlier this year "to invest in 5G and improve its network." Along with the move, some in-vehicle functions were nixed and collision repair centers may also be facing issues. T-Mobile, following its purchase of Sprint, also shut down its 3G network this year and the last of Verizon's will be done away with by Dec. 31. Those issues may likely grow as OEMs move past 5G into even more advanced connectivity. New announcements for smartphones with 5G rose by 164% by the end of 2020 and cataloged 5G devices increased by 60%, according to Tech Republic.
Automakers are widely utilizing cloud connectivity to provide over-the-air (OTA) software updates as well as paid subscription services for component functionality and updates.
Smart infrastructure, part of V2X connectivity, is also being researched and developed in the U.S. and abroad for the safety of motorists and pedestrians. For example, Ford Europe and some of the OEM's engineers in California have conducted trials of connected vehicle technology using geofencing, or a virtual geographical boundary, in Germany that "could one day do away with the need for speed limit signs completely," according to a Ford news release.
The U.S. Department of Transportation (USDOT) said in September it will make $160 million in grants available annually over the next five years for smart infrastructure technology to improve the nation's transportation infrastructure and make communities safer, including funding for vehicle automation and connectivity technologies.
Electronic Design contends that 6G capabilities would boost the safety efficacy of ADAS through increased radar sensing of the environment surrounding vehicles and objects in their paths and will be necessary to handle increased bandwidth use by autonomous vehicles (AVs).
"The aim is to improve driver awareness of obstacles and potential dangers, thereby reducing stress and accident rates," Electronic Design states. "V2X also hastens traffic flow by giving an advanced warning (and mitigation options) of traffic congestion, intelligent speed assistance, and facilitating access to parking spaces."
Market Research Future anticipates the 6G market will "grow quickly due to the growing use of holographic technology in a variety of applications, including communication, telemedicine, office design, and entertainment games, which allows users to interact with projected content." The automotive industry has so far stepped into a similar realm through virtual reality (VR) vehicle sales, such as those offered by Lucid Motors as well as the OEM's visualizer app that's in development for use by repairers at its service centers and certified collision repair shops.
"North American wireless technology leadership is being achieved by private sector activities, with a significant emphasis on 6G development in the region," Market Research Future writes. "Furthermore, growing innovation combined with a significant impact on consumer quality of life is likely to boost the expansion of the North America 6G market in the near future. …The region is well renowned for its rapid adoption of cutting-edge technologies like as the Internet of Things (IoT), wearable technology, and others."
McKinsey & Co. reported in research released in August that "5G/6G cellular, wireless low-power networks, low-Earth-orbit satellites, and other technologies support a host of digital solutions that can help networks increase geographic coverage, reduce latency, reduce energy consumption, increase data throughput, and increase spectrum efficiency." Altogether, that means "higher-quality network access for consumers and unlocked new use cases for industrial players."
The research firm also predicts that by 2025 there will be about 51.9 billion connected devices worldwide compared to 43 billion in 2020. Tech Republic reports that the Global Mobile Suppliers Association found, as of May 2022, that 493 operators in 150 countries had invested in 5G technology and 200 companies had technology that could be used for 5G.
Coming in at No. 2 in McKinsey's top four industries most affected by connectivity advancements is automotive and assembly below telecommunications and before aviation, travel and logistics and healthcare, respectively. "Innovative automotive players of the future will introduce self-driving, connected vehicles packed with features that depend on high-quality network access even in remote locations Private 5G, industrial Wi-Fi, and LPWA networks support Industry 4.0 solutions that lift productivity, lower energy consumption, and reduce costs in factories."
The research firm noted Volkswagen, Michelin, and Bosch as "leading players" that "have already leveraged advanced connectivity to optimize their operations."
One recent example of next-gen communication and technologies specific to automakers is Hyundai Motor Group's strategic partnership expansion with KT Corp. "to lead the future mobility market."
The OEM said it aims to push for comprehensive and extensive cooperation in next-generation communication infrastructure, including joint research with KT on 6G autonomous driving technology and Advanced Air Mobility (AAM) communication networks based on satellite communication.
"In addition to joint advanced research on future technologies, the two parties will also diversify their business partnership areas in 5G communication network-based, customized connected car services and security communication module technology collaboration by exchanging existing core competency of respective party," a Hyundai news release states.
Most, if not all, automakers offer some form of semi-automated driving and/or ADAS and infotainment features including, amid others, Ford's BlueCruise and General Motors' Super Cruise. Some are also venturing into energy supply options, including solar panels and stationary batteries from Tesla for energy generation and storage as well as GM's bi-directional charging, vehicle-to-home (V2H) and vehicle-to-grid (V2G) applications, stationary storage, and more.
IMAGES
Featured image credit: Alessio Lin/Unsplash
Share This: