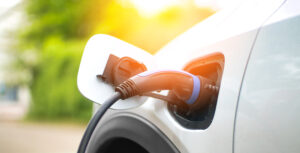 During a special session of the Collision Industry Conference (CIC) on July 20 attendees ventured around four "Adventure Stations" to catch a glimpse into advanced driver assistance system (ADAS) and electric vehicle (EV) repair handling, charging, and OEM network infrastructure.
I-CAR Technical Programs and Services Director Dirk Fuchs and Technical Products and Curriculum Director Bud Center demonstrated an EV low voltage system cart that replicates the high voltage systems that are in EVs and is used in their training courses.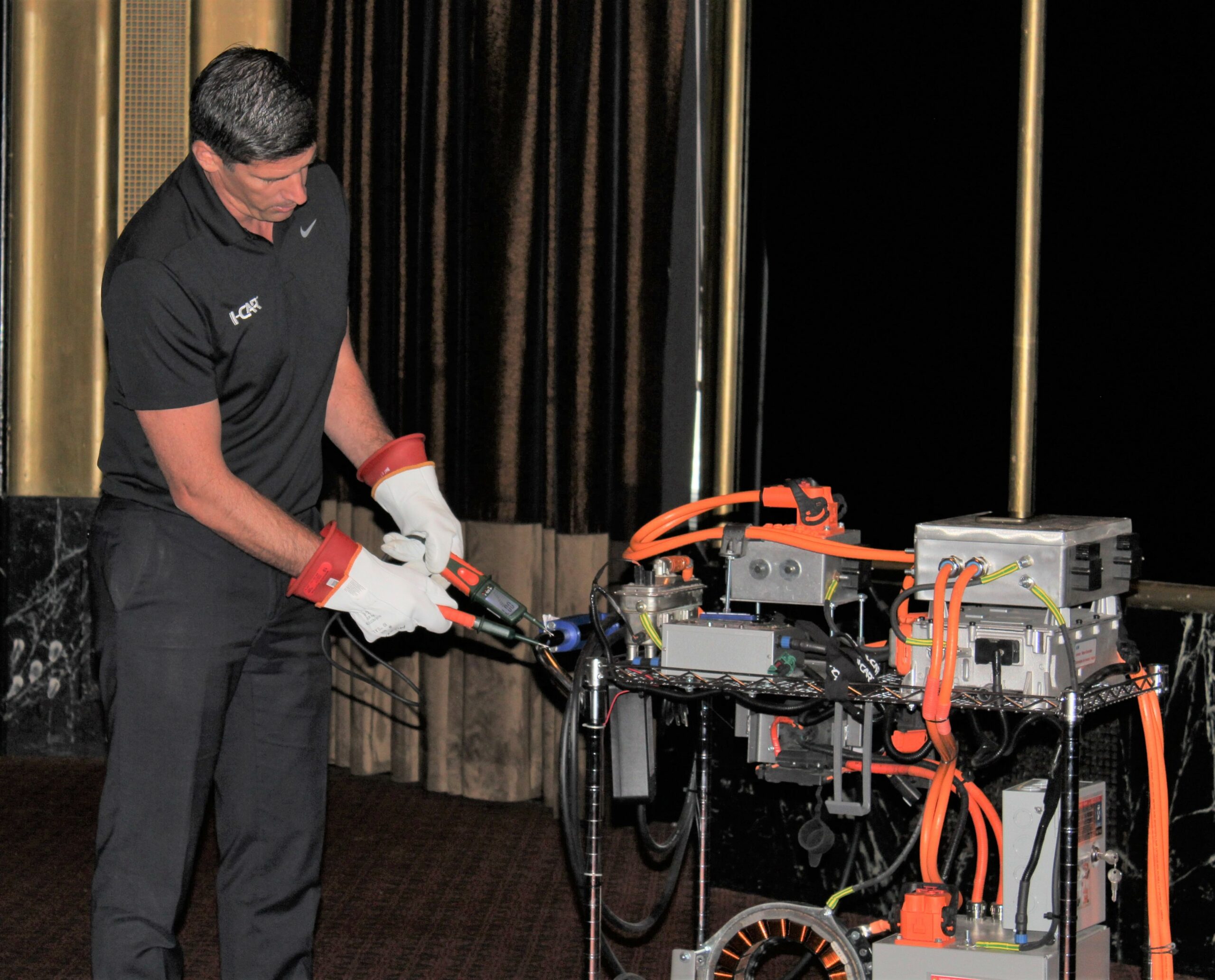 When an EV comes into a collision repair shop, Fuchs cautioned that, to avoid injury, repairers should look with their eyes and not their hands until a high voltage expert says it's safe to touch. He also recommended wearing gloves as standard PPE for first examining a damaged EV. Another safety measure is to ensure there is at least 16 feet of space around the vehicle, he said.
Fuchs stressed the need for repairers to verify their voltage tools are working correctly before checking for voltage in EVs. Every EV takes a certain amount of time to power down, which based on previous CIC sessions, is usually 15 minutes to an hour. It's important, however, for repairers to always follow OEM repair procedures and instructions on how to properly power down batteries for every EV that comes in their shop due to variations in methods and to ensure safety.
Another station included an overview of EV charging options by Angela Lee, who works in EV business development for Autel – an EV charger provider. She compared the electricity that powers EVs to a water hose — voltage is the pressure of the water, the current is the size and flow of the hose, and power is the amount of water. Therefore, power, or watts, equals voltage times current, or amperage, she said.
Batteries for every car allow for different charging speeds depending on the battery size, the voltage for acceptance, the vehicle's state of charge, and environmental temperatures. And most EVs on today's roads have 400-volt systems but the EVs that will come to market likely will have 800-1,000 volts, which will change how fast the EVs charge.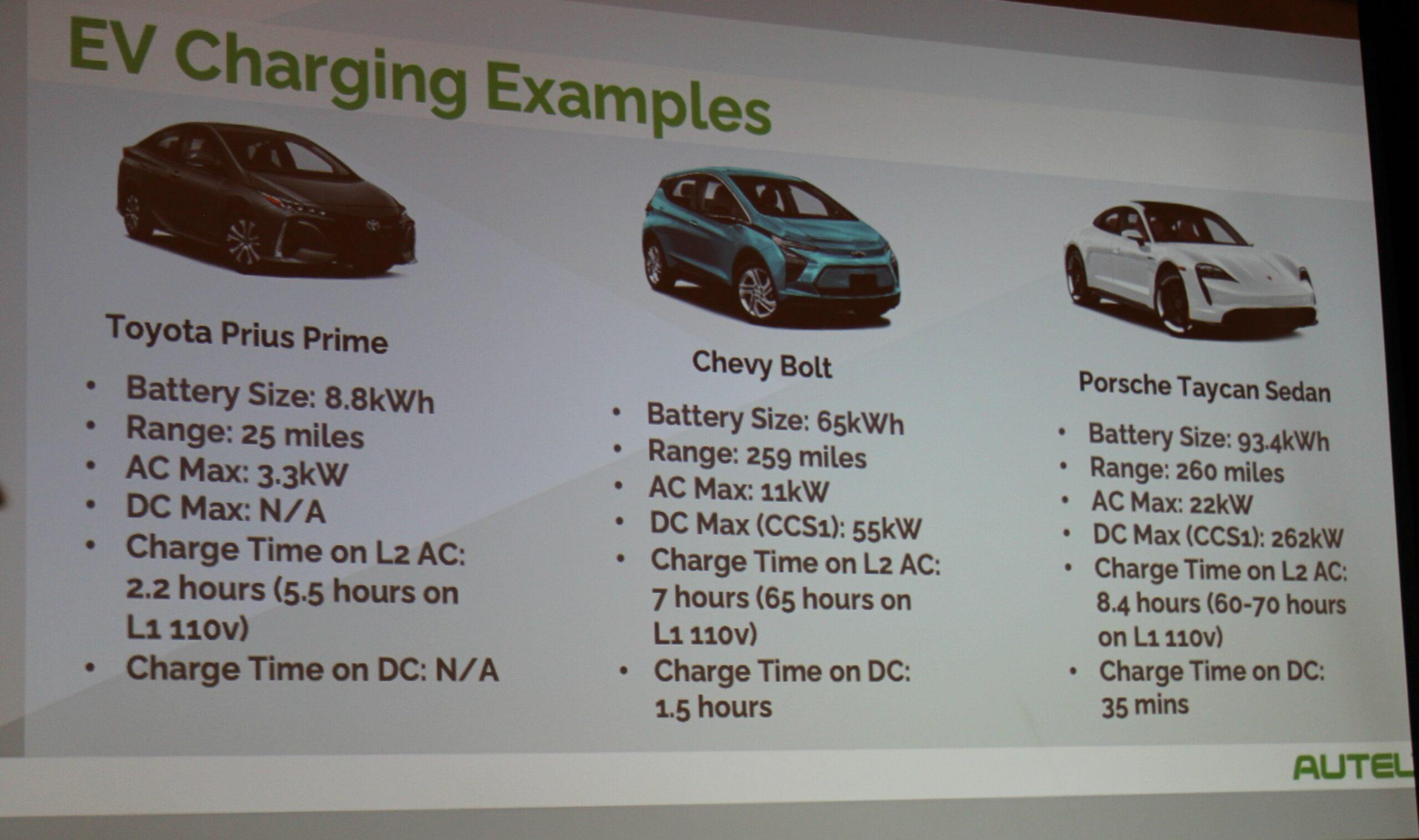 Lee cautioned that, due to high demand, if businesses in the U.S. Northeast want to install a DC fast charger any time within the next year they should start talking to their power company now because the process can take six months to a year.
At his station, Lucid Motors North American Body Repair Program Operations Manager Jake Rodenroth previewed a visualizer app that's in development by the OEM for use by repairers at its service centers and certified collision repair shops. 
The app pulls up a schematic of the Lucid Air and shows everything on it from body structure, chassis and powertrain, high voltage and low voltage battery systems to electronics and ADAS components. Repairers will be able to pull up the app and zoom into what components they need to see to determine where and how they fit and in the body structure, see down to the grain of the aluminum cast.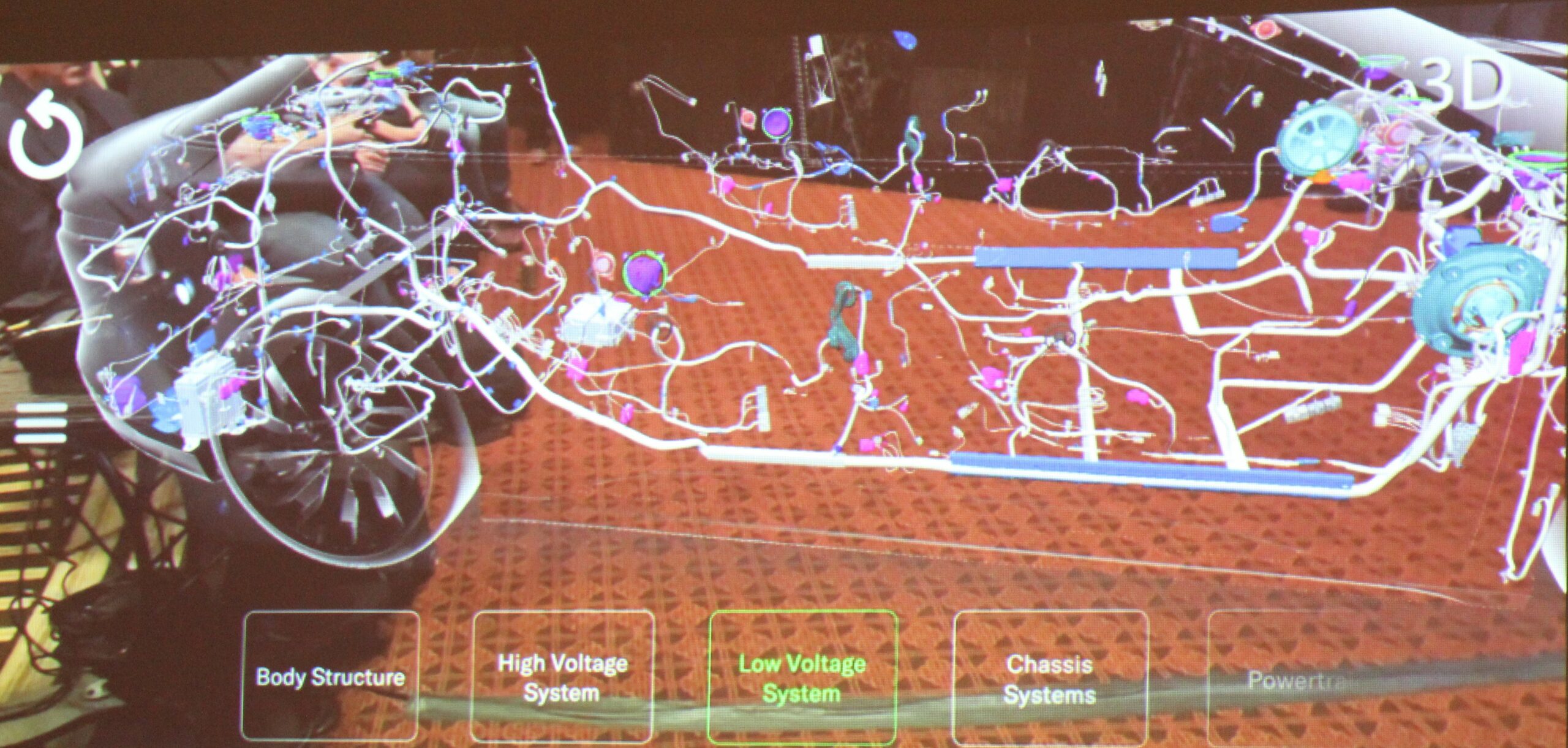 Repairers will be able to see every connector and its location within millimeters of where it's actually at on the real vehicle, Rodenroth said.
Repair procedures can also be pulled up on the app. "Quite literally, they can just here and watch and plug through it," Rodenroth said. "It will give us what the direction is and what we want you to do, what the required tools are, and what equipment you're going to need."
The proper areas to jack the vehicle up is an option to look at too, as well as which parts need to come off. Parts that should be removed will turn yellow, for example.
Another facet of the app will be parts selection. Rodenroth said users will be able to select the parts they need and put them in their carts to order. "We'll have some integration with the estimating systems as well to where you could arguably walk out to a Lucid Air, start selecting things, [and] export it to your management system," he said.
Lucid should have more details about when the app will be released at the 2022 SEMA Show in November, Rodenroth said.
The fourth session, with Auto Techcelerators CEO Frank Terlep and Buck Zeise of LaMettry's Collision, where ADAS calibrations are conducted in addition to collision repairs, centered on ADAS calibrations as a business venture for repair shops.
Terlep said ADAS calibrations will be a $1.7 billion business by 2025 and about 4,500 calibration centers will be needed worldwide but there are six challenges that come with the work, he said.
Some of the challenges that come with ADAS calibrations are having enough space to conduct them as well as the proper equipment and trained personnel, Terlep said.
Eighty percent of current collision repair facilities don't have the required space to properly perform ADAS calibrations, Terlep said. According to Zeise, the bare minimum necessity is 4,000 square feet for 10 or more ADAS calibrations or repairs per day. It also takes an investment of $150,000 to $300,000 to get started, they said.
"It does become very expensive, you have to be prepared for that but with a good business model, you can make good money doing this," Zeise said.
The equipment — including targeting systems, diagnostic tools, alignment systems, vehicle lifts, and more — and all with several types of options complicate the process as does finding and training employees, Terlep said. Terlep and Zeise said amid the already-existing technician storage in the automotive industry as a whole, ADAS calibration-trained employees will be even harder to come by. Zeise noted it would be best for shops to train employees and then have those employees train other workers.
Zeise said ideal shop lights for ADAS calibrations use 300- to 400-lumen bulbs that can be dimmed down to 10% so the space can be "bright as day" but also can be dimmed down "to reduce glare to enhance the calibration process."
The floors also must be neutral-colored, flat, and level floors. Zeise recommends having an epoxy coating on them as well so measurements can be written on them with dry erase markers. The walls should be covered in matte paint in beige, gray, light gray, or white.
Zeise said both OEM and aftermarket calibration targets have blind spots so everything should be verified, including the targets. And Terlep stressed that repairers should write very detailed repair plans and "document every aspect of the ADAS service/calibration process as if you were going to court tomorrow."
IMAGES
Featured image credit: deepblue4you/iStock
I-CAR's Dirk Fuchs demos an EV battery system cart during July's CIC special session.
Angela Lee, with Autel, provided some examples of current EVs with comparisons of their charging capacities. 
A photo of one of many schematics that will be available in a repairer-focused app that Lucid is developing. 
Share This: